Hallmark's Alison Sweeney Has A Touching Anniversary Tradition With Her Husband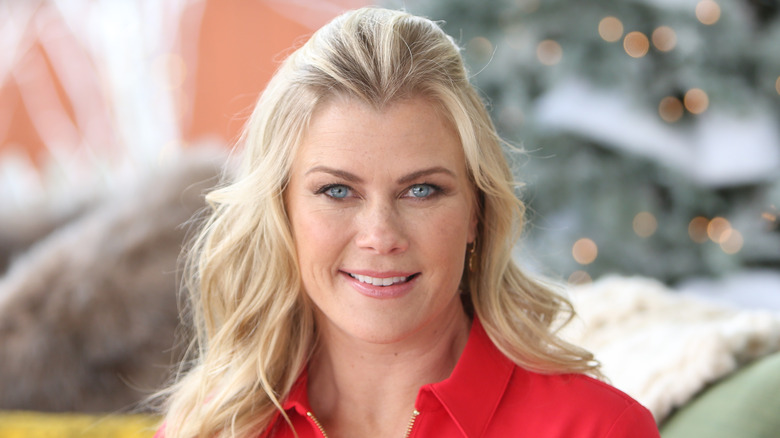 Paul Archuleta/Getty Images
Alison Sweeney may be known for her work as the maneater Sami Brady on the soap opera "Days of Our Lives," but in reality, the actor has a sweet and long history with her husband, Dave Sanov. In fact, the couple has a very cute backstory, as they've known each other since they were children. Sweeney and Sanov met at a very young age due to the fact that their parents are good friends. "We've actually known each other our whole lives," Sweeney previously told Access, admitting that Sanov was her childhood crush.
However, the two went their separate ways and made lives and careers for themselves. Sweeney entered the world of acting and entertainment, while Sanov headed to college and eventually became a police officer. Of course, the two didn't forget about one another, and after Sweeney asked her mother to help her reconnect with Sanov, the couple began dating. They tied the knot in 2000, and now share two children together, a son Ben and a daughter Megan.
Now, after more than 20 years of marriage, Sweeney and Sanov are still going strong, and one reason could be a touching tradition that they perform on their anniversary each year.
Alison and Dave do a marriage evaluation on their anniversary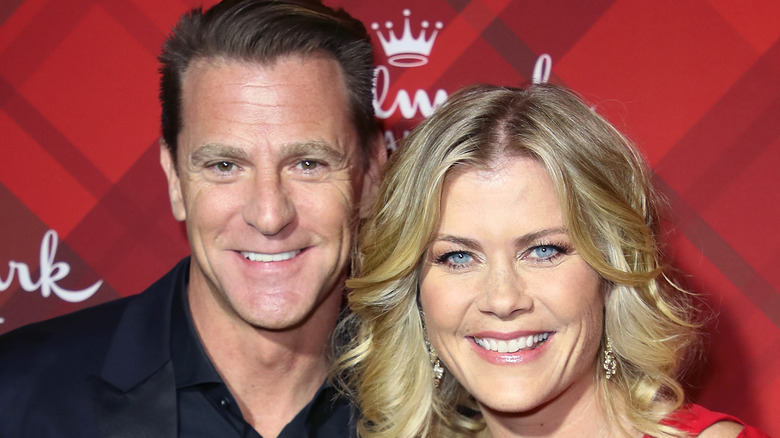 David Livingston/Getty Images
Alison Sweeney may be a busy working mother, as she has a lot on her plate by popping in and out of Salem as Sami Brady on "Days of Our Lives," as well as her starring roles in Hallmark movies. However, she makes her marriage a priority. The actor has previously opened up about how she and her husband Dave Sanov keep things working and honest in their relationship, and it stems from their sweet anniversary tradition where they open up about their true thoughts and feelings regarding their marriage. Sweeney previously got candid about the tradition during an interview on "The Ellen DeGeneres Show."
"We kind of started the tradition toward the beginning of our marriage ... your anniversary is such a lovely night and there's usually happy emotions so we kind of had the thought of talking about the good things we've been doing in our marriage — what we really liked about how it was going — and then also maybe a bit of a job evaluation — things that could use improvement, things we could work on. It's sort of a free zone where you're not going to get angry, you're not going to get sensitive and we both sort of have one thing that we want to work on," she admitted.
Of course, Sweeney has proven that she's dedicated to her family in the past, and even stepped away from her soap career to spend more time with her loved ones.
Alison Sweeney and Dave Sanov's also have a solid parenting relationship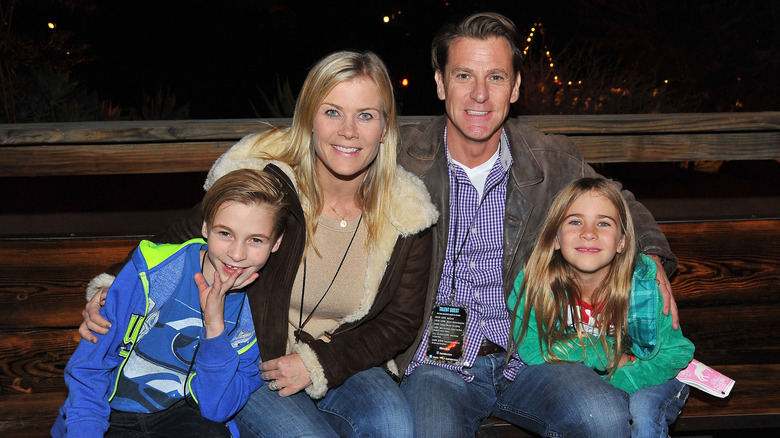 Jerod Harris/Getty Images
Despite loving her acting career, Alison Sweeney revealed that she needed to step back from her role on "Days of Our Lives" so that she could spend more time with her family. Sweeney previously admitted that she wanted more time at home with her two children, doing traditional mom tasks like helping them with homework and cooking them dinner. Of course, when it comes to parenting, Sweeney and her husband Dave Sanov have that down as well.
"My husband and I are a united front. If one of us makes a rule, the other always backs it up. We don't want them to think they can play us off each other," the Hallmark star previously told Good Housekeeping, adding that there is plenty of fun and laughter in their home as well. "We always have music playing, and when a good song comes on, we say, 'Dance break!' and everybody stops what they're doing, and we just rock out," she revealed. "We have hilarious videos that'll be great blackmail footage when the kids are older."
It seems that Sweeney and Sanov have found a great balance between work, marriage, and parenting, and it may just be because they take the time each year on their anniversary to be honest with each other.