How Many Children Does Hallmark Star Alison Sweeney Have?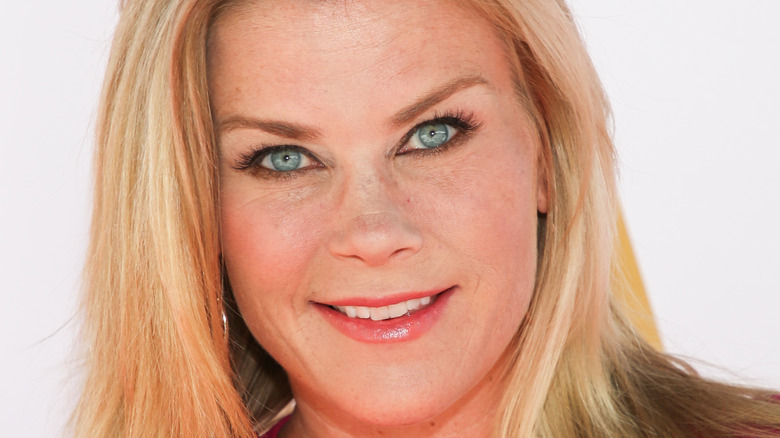 Paul Archuleta/Getty Images
Alison Sweeney has been a fixture on television since she was 4 years old, when she started appearing in commercials for brands like Kodak. At 16, she landed the role that would change her life: Sami Brady DiMera on "Days of Our Lives." While growing up in front of the camera wasn't easy, Sweeney credits her family for keeping her on solid ground.
"I was really lucky. I'm from LA so it wasn't a big fish out of water story, and my parents are super grounded and normal and real and tough and strict," she told Fox News. "I was never left out on my own to figure that out. I was always really guided by my brothers and my parents, who were all very loving."
As a result, Sweeney has gone on to find professional success beyond the soap world. She hosted "The Biggest Loser" from 2006 to 2015 and has become a staple on the Hallmark Channel, starring and producing in movies like "Murder, She Baked," "The Chronicle Mysteries," and "Open by Christmas," per IMDb. And she's even sat in the director's chair, helming episodes of "Days of Our Lives" and "General Hospital."
But Sweeney's first priority is her personal life. The actress married former California Highway Patrol officer David Sanov in 2000, and the two went on to build a family of their own.
Alison Sweeney has two children with husband David Sanov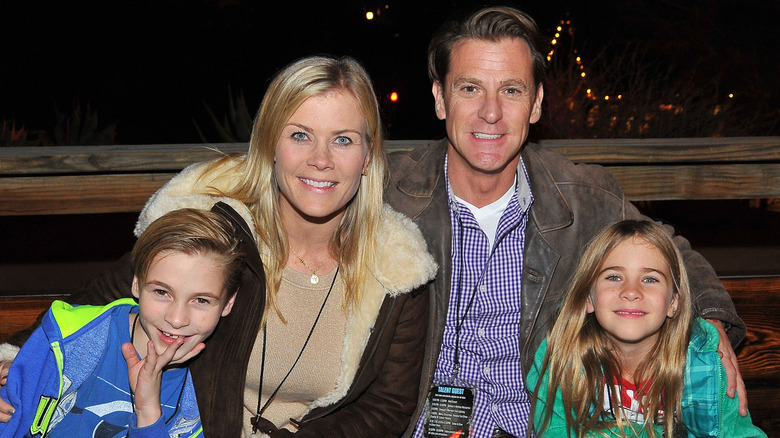 Jerod Harris/Getty Images
Alison Sweeney and her husband, David Sanov, share two children: son Benjamin, who was born in 2005, and daughter Megan, whom they welcomed in 2009, per The Famous People. In 2014, Sweeney decided to leave "Days of Our Lives" in order to spend more time at home. 
"I love being a mom, and I love everything that we do. It's been fun to spend time with them at home even if it's just making dinner or helping them with their homework. Sometimes we like to go away on the weekends or Megan and I ride our horses together," she told Wide Open Country.
The actress revealed to Closer Weekly that her son is an avid tennis player who loves to spend time outdoors, and her daughter is showing a slight interest in acting, although she's not asking to audition for anything just yet. 
But, whatever they choose to do, it's clear that their mom will be there to cheer them on. "I think the most rewarding part is you know watching your kids flourish and find the things that they're good at and celebrate that and encourage that," she explained.
The actress and her husband are a parenting team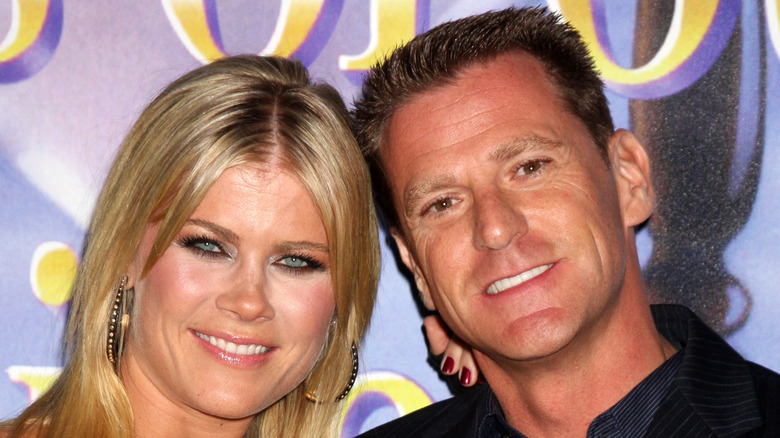 Kathy Hutchins/Shutterstock
While parenting isn't easy, Alison Sweeney and David Sanov make sure they're always working as a team. "My husband and I are a united front," she told Good Housekeeping. "If one of us makes a rule, the other always backs it up. We don't want them to think they can play us off each other."
In order to keep their family unit strong, Sweeney also makes her marriage a priority. "I'm juggling a lot of different schedules, and sometimes things don't always work out, but my husband Dave and I work hard to keep our relationship solid apart and separate from our role as parents, even if it's just snuggling watching TV together after the kids are in bed," she told SheKnows.
They enjoy traveling and going to concerts together, and they spend their anniversary making sure they're both on the same page. "Every year on our anniversary, we have a dinner date and talk about how our relationship is going," Sweeney told Closer Weekly. "We kind of give each other a job evaluation, which sounds a little embarrassing! We talk about our three favorite things about the other person and then three things that we could work on."