The Wildly Lavish Lives Of The Yellowstone Stars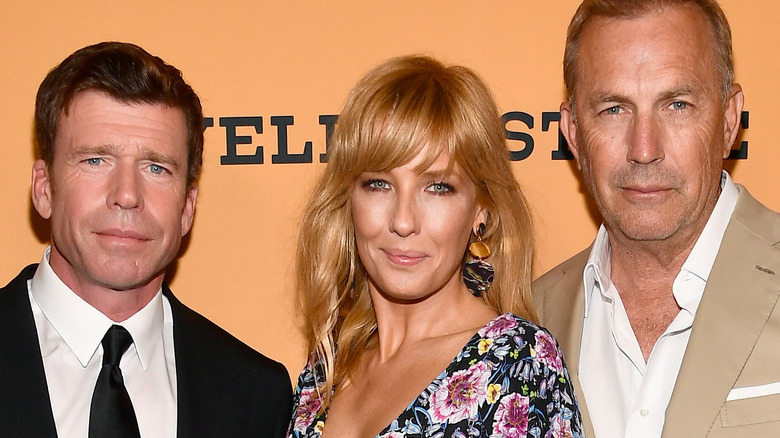 Frazer Harrison/Getty Images
The Kevin Costner-led series following the owners of the Dutton Ranch has captivated watchers everywhere. For the premiere of "Yellowstone," Season 5, 12.1 million viewers tuned in, making it the most same-day watched scripted series on any broadcast network this season. "Yellowstone" showcases the stunning beauty of Montana's plains, breaking away from the typical television formula of office buildings in big cities, or quiet suburbs full of melodramatic teenagers. As we've watched the Dutton family deal with familial stresses, the neighboring reservation, deception, and even murder, the series has become even more enthralling, leaving audiences hungry for more.
In an interview with AP News, Costner spoke about why the series works. "I thought it had a chance to be relevant, in that this work is still going on in America and most people kind of take it for granted how stuff ends up at their dinner table." He continued that the show highlighted "one of the most beautiful places in the world ... the idea of mountains and rivers captured people's imagination."
With the prevalent theme of the show focusing on power and wealth, it's easy to assume it's all part of the drama. But it might come as a surprise that these themes continue to play out off-screen in the "Yellowstone" actors' and their partners' lives as well. Here's a look inside the wildly lavish lives of the "Yellowstone" stars.
Kevin Costner is well-off as the top-billed actor on Yellowstone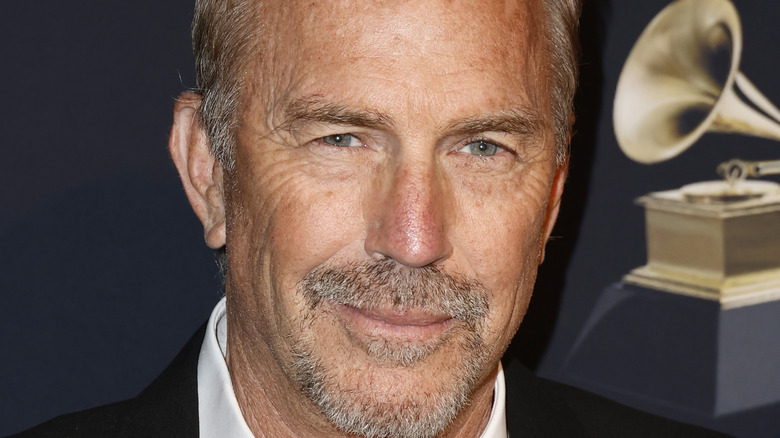 Frazer Harrison/Getty Images
Kevin Costner has been active in Hollywood since the early '80s and has starred in countless films. Given his notoriety and playing the leading role of John Dutton, it makes sense that Costner would be the highest-paid actor on "Yellowstone," earning a whopping $1.5 million per episode, according to Radar. Kevin Kay, a television executive, sat down with The Hollywood Reporter to justify Costner's salary, saying, "The statement we wanted to make was that we're open for business and we're willing to pay top-tier actors whatever their quotes are." We can only imagine what inordinate amount of money the big names in "1923" will be making.
With his reported $250 million net worth made over a decades-long career, Costner has been able to live a very comfortable life. He owned an oceanside property in Carpinteria, California, which has access to a private beach and stunning views. When Costner isn't needed in California, he spends his time at his ranch in Aspen, Colorado, The Dunbar. It boasts 160 acres, three separate residences, and a lake. The Dunbar is available to rent (when Costner isn't home, of course) for $36,000 per night.
Costner has also been known to invest his own money in projects he's passionate about. He put $9 million into a movie called "Black or White." As he told The Hollywood Reporter, "I do so many things entrepreneurially in my life ... I am really in love with the 'What if?'"
Luke Grimes has used his earnings to move to the countryside and make music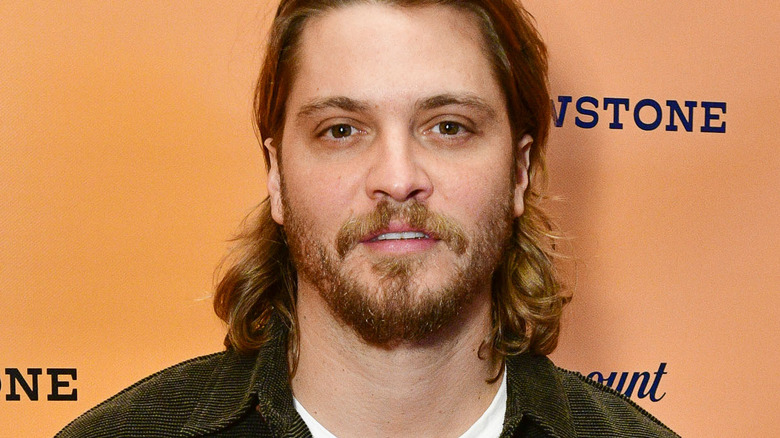 Eugene Gologursky/Getty Images
Kevin Costner's on-screen son and registered badass, Kayce Dutton, is played by Luke Grimes on "Yellowstone." During COVID, Grimes and his wife decided to leave Los Angeles behind and move to Montana with an estimated $500,000 in the bank. While speaking to Cowboys & Indians, he detailed traveling with his wife in an Airstream trailer and their cat before they arrived in the countryside to film "Yellowstone." He said, "I tried to keep it under wraps where I was building my house out here. But when you live in a place this small, everyone knows. It was a fool's errand trying to keep that a secret."
Now in the countryside, he says it's a dream. From fishing to hiking, and only an hour from set, Grimes has truly found his paradise. In an interview with New York Post, Grimes said he's not all that interested in fashion because it often suggests you have money, however, he commended an expensive boot brand and added, "I've been wearing cheap watches for so long now — I think it's time I got a real one."
In the same interview, he also spoke about how he's now working on his music, saying, "Now here I am signed with Universal Nashville, I've got a record deal, and I have a show booked." Things are certainly looking up for Grimes as he continues to climb the ladder of success.
Kelly Reilly lived comfortably well before her role on Yellowstone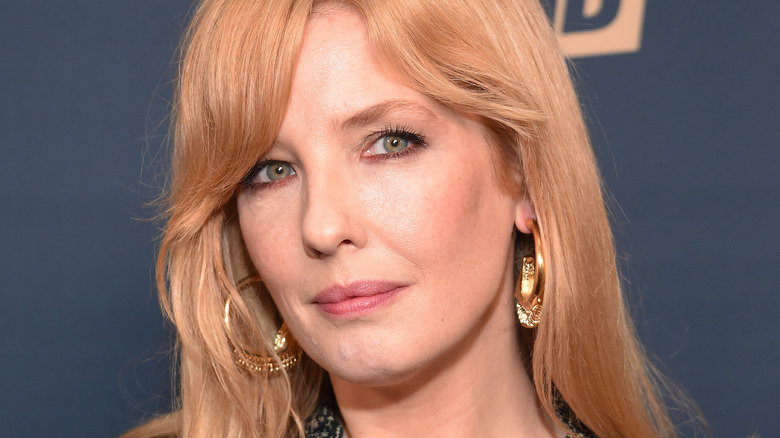 DFree/Shutterstock
With a long-standing career stemming back to the '90s with roles in films like "Pride & Prejudice" and "Sherlock Holmes," Kelly Reilly has built up a reported $5 million net worth. Although she initially had her doubts about playing Beth Dutton, it's a relief she went through with it because nobody else could play the complex character as convincingly.
Although Reilly doesn't earn as much as her co-star and on-screen father, Kevin Costner, she's accumulated enough cash that she can live a pretty cushy life. In 2011, when speaking with The Guardian, she commented on how she likes to spend her free time. "[I] ride horses, cook for friends, and go for long walks. I live between my house on the borders of Sussex and Surrey and New York, where my boyfriend lives. ... I spend a lot of time across the pond. I spend a lot of my time on airplanes."
With all of the busyness and traveling around, it was amazing that she found the time to also act on stage, in films, and on TV, but when you have the money it seems anything is possible. She and her now-husband have continued to split their time between the U.K. and the U.S. In an interview with The Independent, Reilly divulged that filming in Montana had given her "a third home."
Wes Bentley has been able to turn his life around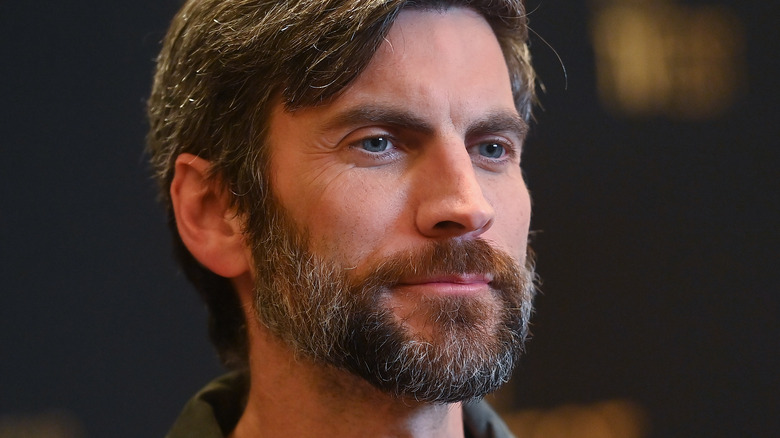 Paras Griffin/Getty Images
Wes Bentley, otherwise known as Jamie Dutton on "Yellowstone," used to have a very different life from the one he has now. Bentley got his start back in the '90s with his most notable role at the time being in "American Beauty." But he was struggling; the roles he was offered afterward weren't what he was truly interested in, and he began to cope via drugs. He told Page Six, "I never had money before, so there was a lot of combination of things I wasn't prepared for." Even after getting busted with heroin, he'd resigned himself to this life. However, in 2009 he met a sober friend who inspired him. He also had the support of his wife.
Bentley has now been clean since July 5, 2009, attributing Robert Downey Jr.'s candidness around his own struggles with addiction as inspiration. A few years later, he was cast in "The Hunger Games" and "Interstellar," which turned his entire career and life around. Now co-starring in one of the biggest television shows ever, Bentley has accumulated an estimated $3 million net worth. He said to The New York Times, "I believe in fate, and I believe I went through all that, caused all that, and experienced all that, because I was going to get here." He, his wife, and two children have remained very private, and it's wonderful to see Bentley grow into his success.
Cole Hauser lived lavishly long before Yellowstone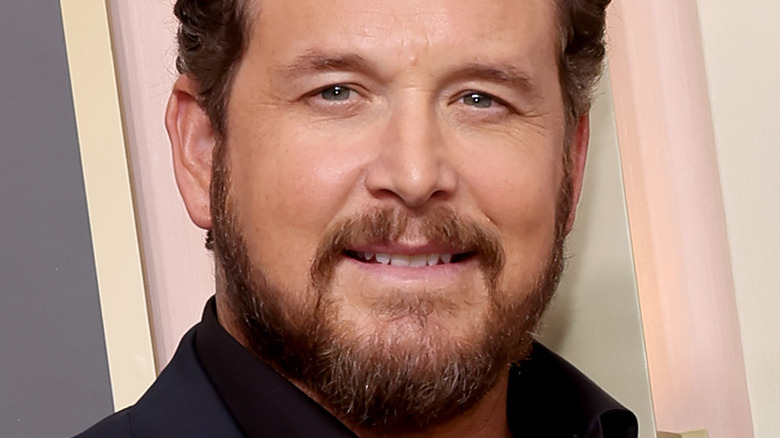 Amy Sussman/Getty Images
The loyal ranch hand, Rip Wheeler, is portrayed by Cole Hauser. If he seems familiar, you've probably seen Hauser in one of the many roles he's had in television and film over the last three decades, like "Dazed and Confused" and "Good Will Hunting." Or perhaps you know Hauser through his famous parents, Wings Hauser and Cass Warner (that's right, from Warner Bros.), who had both been involved in the entertainment industry well before he was born. Hauser grew up between Oregon and Florida and finally took off as a teenager for Los Angeles, where he began going to auditions. Despite his family name, his mother made him work for what he wanted, so his estimated $8 million net worth is certainly earned.
Although he'd already set up residence in Hollywood, "Yellowstone" was a big win for him. He was born for the limelight, and for the role, it seems, as he told Cowboys & Indians: "Our family, the Hauser side of the family, are all Montanans." Now that he's in a role set far from Los Angeles, Hauser has taken his "Yellowstone" earnings and moved to Florida with his wife and three children after selling his stunning ranch in California for $3.85 million. There, he can soak up the rays in the Sunshine State before returning to Montana for Season 6 of "Yellowstone" — which is definitely happening, according to what Hauser told Entertainment Tonight.
Kelsey Asbille is learning to live a lavish life since her role on Yellowstone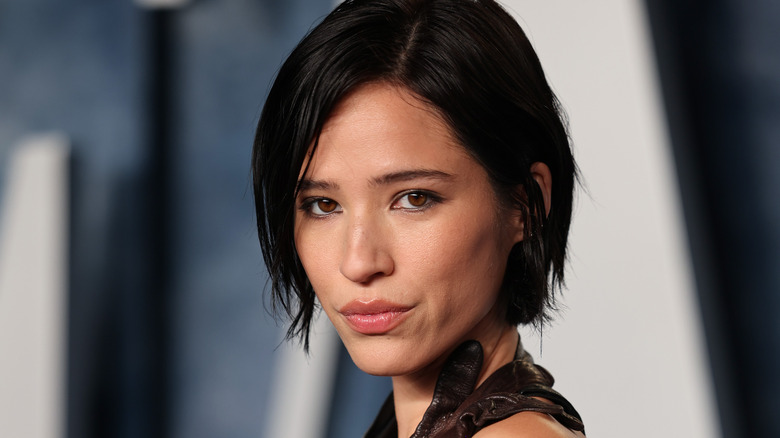 Cindy Ord/vf23/Getty Images
Kelsey Asbille has been making a name for herself over the years, with an estimated $3 million net worth to match. The actress plays the sympathetic Monica Dutton alongside her on-screen husband, Luke Grimes, and has been a staple of the show since Episode 1. She has graced our televisions in the past too, with roles in "Fargo" the television series, "Teen Wolf," and "One Tree Hill," having landed her first gig at just 13. But it wasn't until she was cast on "Yellowstone" that she truly made it big-time.
While Asbille doesn't seem to be splashing out on fancy houses or cars, she lives in an apartment in Brooklyn where she continued her higher education, enrolling at Columbia University. In an interview with L'Officiel, Asbille said, "Going back to school at 30 — it's definitely not a conventional education, but I wouldn't have it any other way." She has also been able to expand her career into modeling, which she did for Oliver Peoples and Louis Vuitton. She clearly stays busy, bouncing back and forth between Brooklyn and Montana, but it's clear her lifestyle is well-supported by her role on "Yellowstone."
Gil Birmingham's wealth stems from a career well before Yellowstone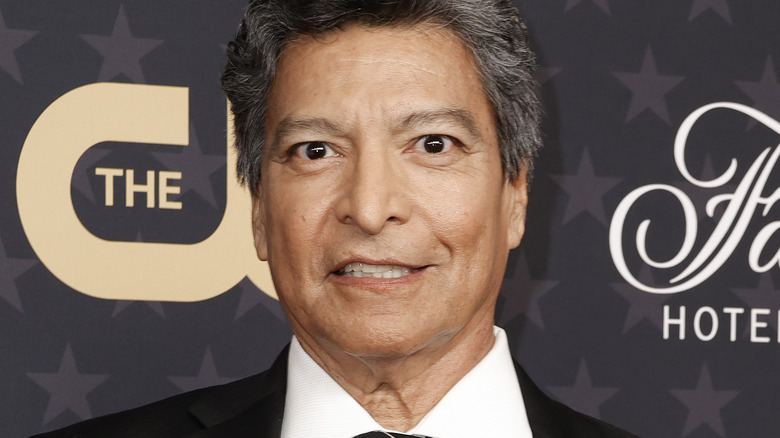 Frazer Harrison/Getty Images
Long before he played Chief Thomas Rainwater on "Yellowstone," Gil Birmingham has been delighting fans for decades. After he received his degree in education administration, Birmingham became a petrochemical engineer. He told Daily Herald back in 2010, "I was thinking practical as a young man, education as a career." Although he felt a close connection with performing, having played music from a young age, it wasn't until the early '80s that he gave acting a shot.
Birmingham was spotted in a gym, where he'd been bodybuilding, and was cast in Diana Ross' music video for "Muscles." In an interview with Cowboys & Indians, he said it was at this time he thought, "I don't really have a direction going right now  — let's see what this acting thing's about." His career took off from there, and he became recognized for his role in "Twilight." Now, playing the wealthy Broken Rock Indian Reservation leader in a smash-hit television show, Birmingham has an estimated $185 million net worth.
He's kept his private life fairly quiet, but in speaking to The Wall Street Journal, Birmingham said that he moved out of the city in search of quiet. He remarked, "Today, I live near Phoenix in a house built in the 1980s. ... I wanted to get away from the congestion of Los Angeles and live where daily life was more relaxed. The desert here has an aura all its own."
Forrie J. Smith used his Yellowstone salary to live like a real cowboy
You've heard of the new Westerncore fashion aesthetic, but Forrie J. Smith has been rocking it well before his time in "Yellowstone." Before Smith played Lloyd Pierce, the ranch hand, he was already a cowboy with a rodeo career, something that ran in his blood. The Montana resident told MontanaSports.com, "My granddad rodeoed when they rode horses to the rodeos," and that he knew from a young age that he wanted to be a stunt performer. After working in rodeos for a while, Smith did exactly that and worked as a stunt performer throughout the '80s and '90s. He worked as an actor at the same time, but it wasn't until "Yellowstone" came around that he got his big break.
And it's lucky for Smith that he landed the role, as he's now estimated to be worth $1.8 million, earning around $400,000 for each season of "Yellowstone." He's continued his cowboy lifestyle, seemingly unaffected by the extra dough in his pocket, apart from having bought himself a ranch in New Mexico. Here, he's able to live a quiet life away from the big city, tending to his animals.
Denim Richards has been able to broaden his career beyond Yellowstone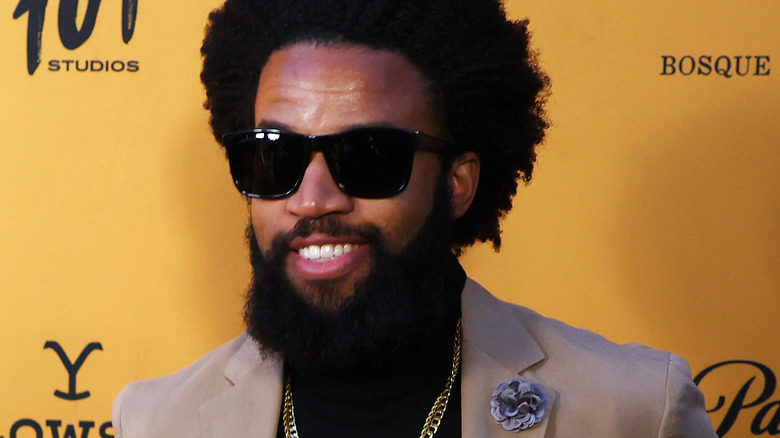 Richard Rodriguez/Getty Images
Beyond playing Colby, the ranch hand, on "Yellowstone," Denim Richards has had a handful of roles in both TV and film. While the actor is estimated to have a $500,000 net worth, he doesn't seem flashy about it at all. Quite the opposite, in fact, as it seems he instead uses his funds to fuel his creative outputs. Richards recently directed a short film called "The Zoo," and has also released a self-help book, "Mastering Your Mind."
Not only has he acted, directed, and written, but he's also the owner of a production company, Lazer Focus Productions, and has hosted an acting master class. It's clear Richards is multitalented, but he's also entrepreneurial, having founded a nonprofit called Youth Empowering Success, which provides artistic outlets to children. On top of all of his incredible work, Richards is also heavily involved in other charities that focus on foster care, homelessness, and sexual abuse. While "Yellowstone" is certainly Richards' first big acting role, and he's still early in his career, it's refreshing to see that he's putting his success and earnings toward important causes.
Ryan Bingham has more than Yellowstone to thank for his lavish life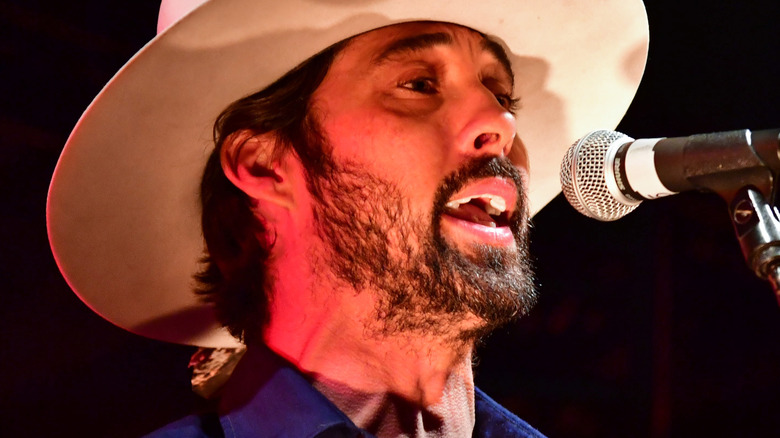 Erika Goldring/Getty Images
With an estimated $15 million net worth, Ryan Bingham lives it up pretty well in Los Angeles. First and foremost, Bingham is a musician, and if it weren't for his musical talent, he may not have ever gotten his role as Walker on "Yellowstone." While Taylor Sheridan, the creator of "Yellowstone," was working on his film "Wind River," he met Bingham and asked him to write some music for the film. Bingham told Country Thang Daily, "I never seemed to come up with anything for the movies at that time that fit, but we always kept in touch and remained friends." So, when Sheridan began creating "Yellowstone," he called Bingham up and offered him a role, well aware that the singer had a history working in rodeos.
In 2021, Bingham and his wife, Anna Axster, split after 12 years of marriage and three children together. He put his home up for sale, and it was no shack. Listed at $2.45 million, the property is located in the area of Topanga, California, in the Santa Monica Mountains. While it's unclear how the split has affected his lifestyle, he's continued to make incredible music and act in the breakout television series, so he's sure to be doing just fine financially.
Danny Huston lived lavishly from childhood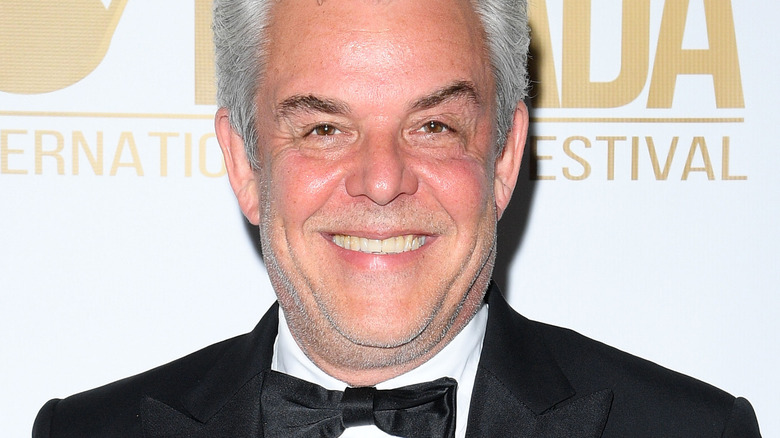 Daniele Venturelli/Getty Images
As successful as "Yellowstone" has been, Danny Huston didn't need the show to live lavishly. Kicking off Season 1 as the antagonizing land developer, Dan Jenkins, Huston did a remarkable job — and it's no wonder, seeing as how entertainment was his family's empire. Raised between Rome and Galway, Huston didn't always have it easy growing up, even if he didn't struggle with money. He lived in his father's shadow for some time — the renowned director, John Huston, and then in his sister's, who you'd know as Anjelica Huston.
Huston began acting, and with his father's help, he also was able to get experience as a director, eventually moving on to direct his own films. While it's surely a lot of pressure growing up in a famous, highly successful family, it's fortunate he had the experiences he did, seeing as how he's now worth an estimated $3 million, had a role in TV's biggest show, and now owns a home in California with a view of the Hollywood sign. "But," he told The Guardian, "you really have to crane around at a right angle to see it. It's not in your face." Regardless, being able to see the Hollywood sign from any point in your house is a pretty good indicator you're living a lavish life.
Taylor Sheridan bought the Four Sixes ranch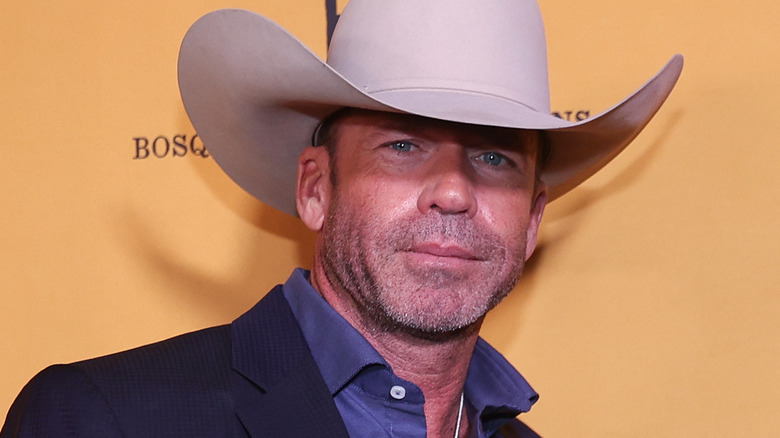 Omar Vega/Getty Images
With the titles of writer, producer, actor, and director for a number of television shows and movies under his belt, Taylor Sheridan has become a Hollywood icon. And without him, we wouldn't have "Yellowstone" at all, as he created the series and even played the role of Travis Wheatley. He also directed Season 1 and had a hand in the writing of every "Yellowstone" episode, too. With a reported $15 million to his name, Sheridan doesn't have to worry about money any time soon.
There seems to be a running theme of real-life cowboys playing versions of themselves on screen, and Sheridan is a prime example of this. He sat down with Fort Worth Magazine to discuss the Texas ranch introduced in Season 4 and the focal point of the upcoming spinoff, "6666," saying, "When you think of the best cowboys and horses, you think of the Four Sixes."
Sheridan said he'd gotten a call where he learned that the owner of the Four Sixes Ranch had died, and her will detailed it was to be sold. He said, "No one seems to have a goal of maintaining a ranch's legacy. Instead, they look under the hood and see just how much it costs." With that mentality, he bought the Four Sixes Ranch for just under $200 million and is living a wildly lavish lifestyle, indeed.