Prince George's Coronation Role Is Reportedly Causing A Royal Rift Between William And Kate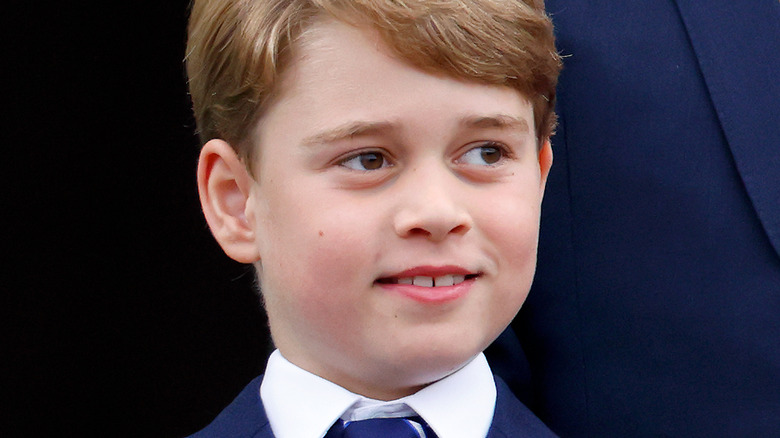 Max Mumby/Indigo/Getty Images
As May 6th draws near, the details of King Charles' coronation are being confirmed. We've learned that Archie and Lilibet's role in the coronation depends on negotiations between their parents and the senior royals. And, King Charles is reportedly considering special coronation rules for Prince Andrew. As for William, Prince of Wales and Catherine, Princess of Wales, it's safe to say that they'll be playing a major role in the coronation, since the momentous occasion marks Prince William's official move to next in line to the throne. But, what about their young children?
It's been reported that Prince Harry and Meghan Markle had to fight for their children to even get an invitation to the event. As for William and Kate's children, nine-year old Prince George, seven-year-old Princess Charlotte, and four-year-old Prince Louis, they'll have prominent positions at the event. When it comes to George however, per the Mirror, royal commentator Tom Quinn says a "bit of an argument" has ensued over how much responsibility should be placed on the young prince's shoulders.
Why William and Kate are worried about Prince George's responsibilities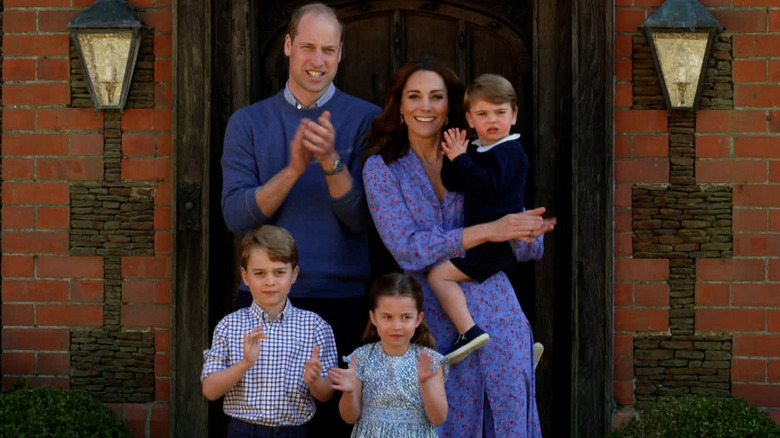 Comic Relief/Getty Images
As Prince William moves one step closer to the crown, Prince George is doing the same. As a result, the plans for the coronation indicate that George and his siblings will be front and center at the ceremony. Royal commentator Tom Quinn said, "I've heard from my contacts that there is a bit of an argument going on about whether George should play a more formal role. I've heard that Kate and William are worried that it will be too much for him" (via the Mirror). George is only nine years old, so it's easy to see why his parents wouldn't want him to have too much responsibility.
Quinn continued, "It's almost an echo of the way William and Harry were sometimes made to attend formal occasions that they shouldn't have been made to attend, most famously, the funeral of their mother, and walking behind her coffin at their age. A lot of people criticized that and said that it was a horrible thing to make two boys that young, and especially Harry, do." He connected this mindset to the present day, saying, "I think people are remembering this and thinking, 'Well hang on a minute, if George is some sort of a pageboy, or has a similar role at the coronation, is that going back too far towards the traditional roles?'" Consequently, while George will have a role in the coronation, it probably won't be a big one.
Princess Charlotte and Prince Louis will also take on larger roles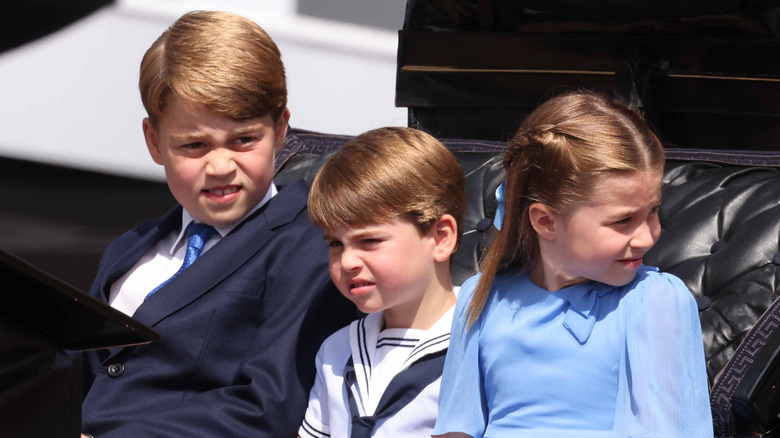 WPA Pool/Getty Images
As for Prince George's younger siblings, it seems that what falls on their shoulders in regards to the coronation has also gotten a bit bigger. It was originally reported that Princess Charlotte and Prince Louis would only be attending the coronation to watch. As plans have progressed, however, it's been decided that all three of the children will be a part of the King's coronation procession. This means that the children will accompany King Charles and Queen Consort Camilla as they depart from Westminster Abbey following the coronation ceremony. 
George and Charlotte took part in the procession at their grandmother, Queen Elizabeth II's, funeral. While the brother and sister were the youngest royal family members in history to join a procession, it was decided that Louis was too young. By the time May rolls around, Louis will have celebrated his fifth birthday, and it's possible that the royals will make an exception for the momentous occasion. Regardless of how large the children's parts in the celebration will be, it's likely to be an exciting time for them, and Charles and Camilla are sure to be happy to have their grandchildren by their sides.