Jeans And Flats Are The Classic Combo All The Most Polished Celebs Are Wearing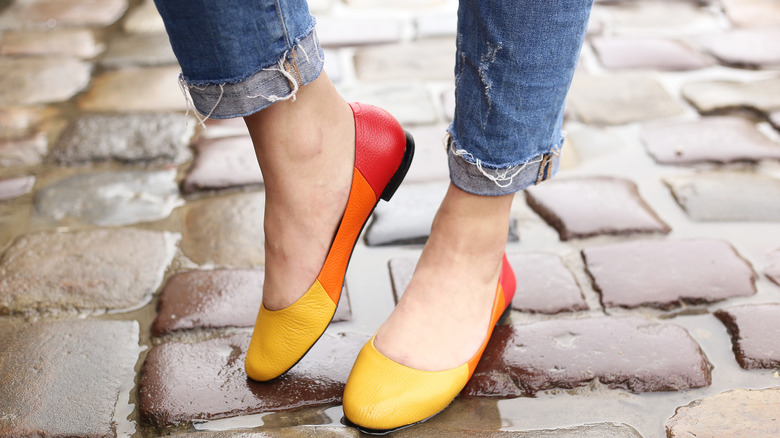 Cozy Home/Shutterstock
If social media, runways, and celebrity street style is any indication, "balletcore" fashion is trending. Although not many of us can stand on our toes and twirl quite like a ballerina, it isn't too difficult to replicate the aesthetic — plus, buying a new skirt doesn't require blisters or early morning rehearsals. Overall, balletcore means lots of pastel pinks, soft fabrics, leg warmers, and tight "Swan Lake"-style buns. As Los Angeles-based stylist Olivia Ivey Bannock tells The Zoe Report, "Balletcore explores über femininity, body, movement, nostalgia culture, and comfort." Of course, we can't forget the shoes. "For every day, I am obsessed with ballet flats," she says.
Although ballet flats dominated the early 2000s, they eventually took a backseat to heeled boots and trendy platform sneakers. Now, along with the revival of low-rise fashion and chunky highlights, they're back and flatter than ever. A-listers like Katie Holmes, Michelle Williams, and Meghan Markle have perfected the art of the blue jeans and ballet combo. Here's how to rock the celebrity-approved look yourself.
Loose jeans reign supreme
Oversized fashion is nothing new. In the 1920s women said goodbye to corsets in favor of boxy silhouettes, and 1990s hip-hop culture embraced oversized athleisure pants, baggy tees, and denim. Today, grungy jeans provide the perfect contrast when paired with classy ballet flats. Add further juxtaposition with a gold-buttoned cropped cardigan, a slicked-back bun, and shades. For a city-chic look, opt for black or metallic flats. Or, if you're going for the trendy coastal grandmother style, matte, cream-colored shoes are the way to go. Complete your "I vacation in the Hamptons"-inspired outfit with a beige cardigan and summer hat.
A pop of color goes a long way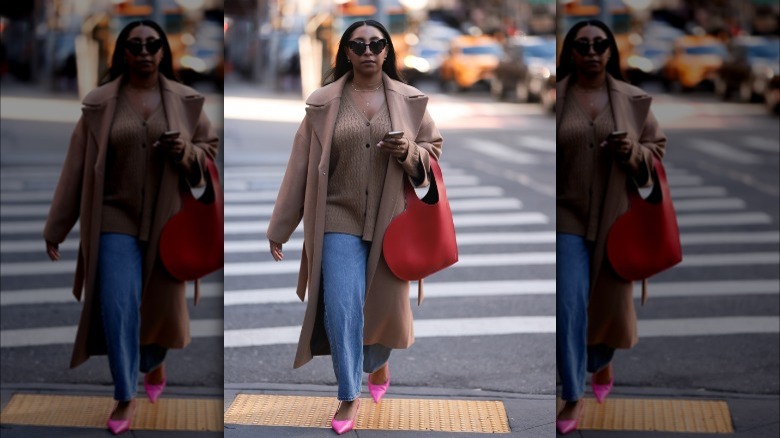 Jeremy Moeller/Getty Images
Shoes are an easy way to add a pop of personality. Although flats are generally seen as an understated footwear choice — life coach and Hollywood stylist Kathy Kelada characterized people who wear flats as "focused, very modest, and generous" in a conversation with Reader's Digest — a patterned or brightly-colored ballet shoe can upgrade a business casual look without being overdone. Pair tailored jeans with a button-down cardigan, a matching overcoat, and brightly colored flats. Go the extra mile by adding matching chunky jewelry or a statement handbag.
Try out a denim maxi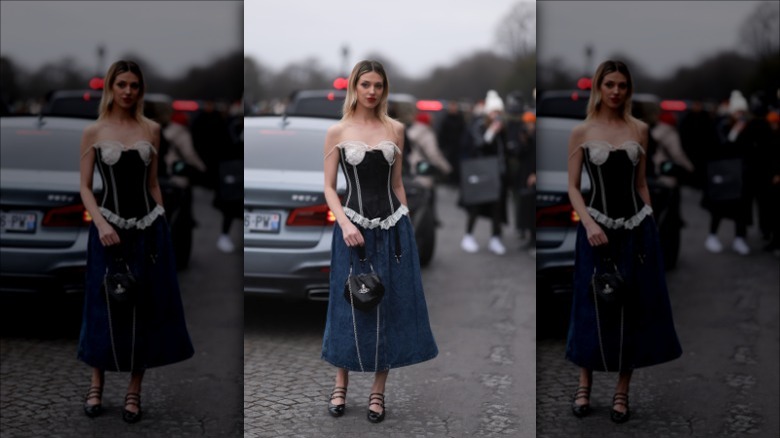 Jeremy Moeller/Getty Images
Considering they're one of the most popular clothing items, blue jean burnout is more or less inevitable. If you feel yourself getting tired of these ever-popular pants — or you simply want to switch up your daily look — opt for a denim maxi instead. Y2K styles are on the rise (or should we say low-rise). For starters, scan the aisles of your neighborhood thrift store to find a maxi with a waistline well below your belly button. Alternatively, order a brand-new skirt from Urban Outfitters and complete the look with a pair of strappy black ballet flats and a classy corset top. 
Did someone say cow print?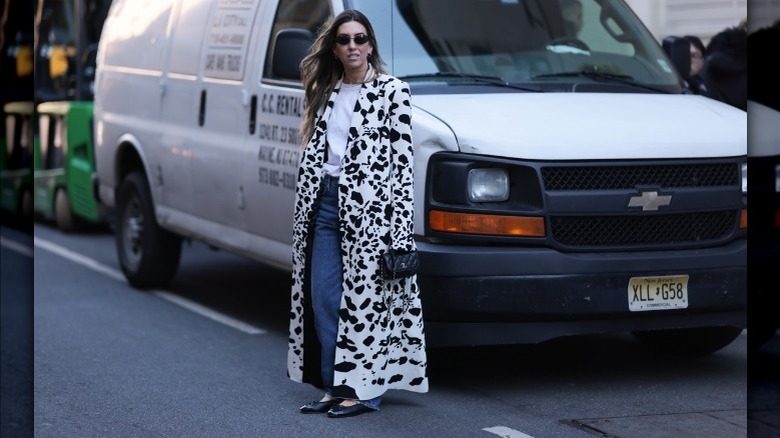 Jeremy Moeller/Getty Images
OK, a fuzzy animal print trench coat isn't technically a wardrobe necessity, but it will certainly help you stand out against the masses. In a rush, loud outerwear can elevate any basic outfit. Spiff up your straight-cut jeans, plain white tee shirt, and black flats with a cow print trench coat and classy sunglasses. Check out this design from Nasty Gal, or find a '70s-inspired patchwork trench à la Kendall Jenner. Ultimately, a long-lined coat will contrast nicely with your extra flat shoes, giving the illusion of added height. 
Double denim is absolutely the vibe
Elvis rocked double denim in the late '50s, and Sade put her own spin on the "Canadian tuxedo" in the '90s, accessorizing with gold jewelry. In more recent years, it-girls like Zoë Kravitz and Gigi Hadid have all experimented with the denim aesthetic, buttoning up their jean jackets over standard cropped tees and pulling it all together with matching pants. Give denim-on-denim a try yourself, accessorizing with colorful ballet flats, a statement handbag, and shades. Of course, one thing hasn't changed since the '90s: gold hoops are still a great way to add extra glamor.
Don't underestimate the power of white jeans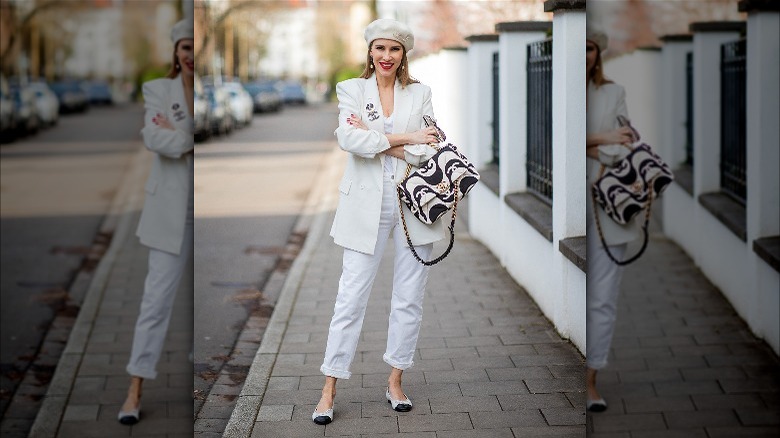 Christian Vierig/Getty Images
If you're accident-prone, this look might not be for you. Nothing ruins white jeans quite like red sauce or chocolate spills . . . Otherwise, the white-on-white aesthetic is perfect if you're headed to a summertime party or enjoying a casual city stroll. Match cuffed jeans with a white v-neck, an oversized blazer, and (depending on the event's formality) pearl earrings. On your feet, wear black-capped ballet flats. Finally, classic red lipstick will take your look all the way to the next level. 
Try color coordinating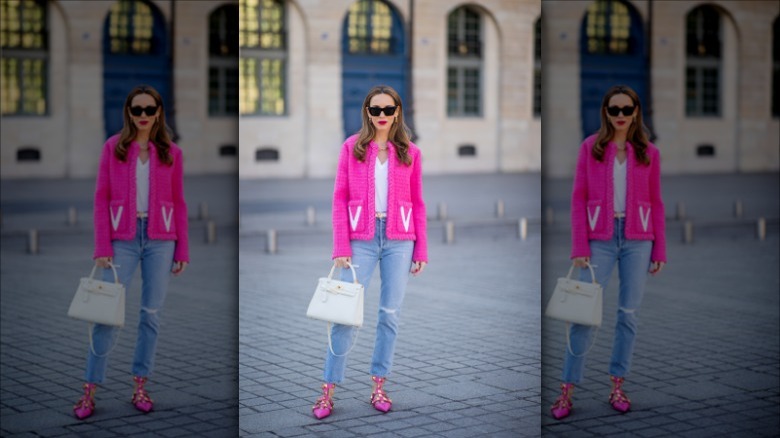 Christian Vierig/Getty Images
Step one: find a pair of straight-legged jeans. Next, add a brightly colored blazer and a matching set of flats to your cart. Fashion writer and part-time "Gossip Girl" historian Tyler McCall told Refinery29, "​​The best thing you can do is wear [ballet flats] with something tailored or structured," continuing, "The most classic way of doing this would be wearing jeans . . . It's an easy way to make denim pieces feel more feminine." Especially when paired with a tailored blazer, this look is perfect for the office. 
Overalls are a '90s classic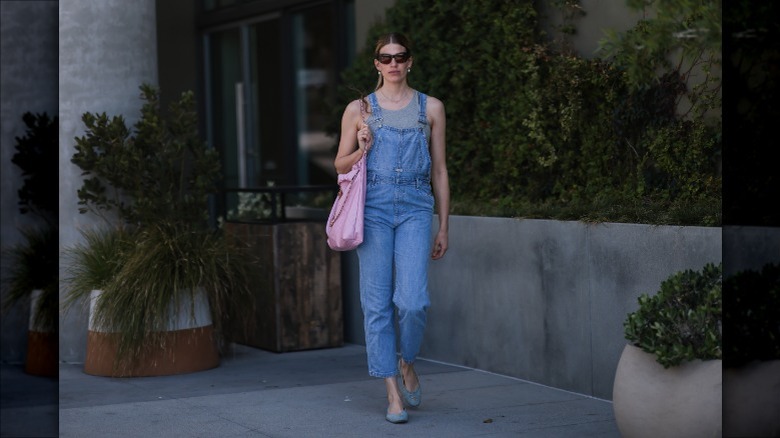 Jeremy Moeller/Getty Images
What do Phoebe Buffay from "Friends" and Will Smith have in common? They both rocked overalls in the '90s. Reintroduce this sitcom style to the 2020s by pairing classic blue jean overalls with a retro long-sleeve top, a short-sleeve patterned button-down à la Fresh Prince, or even a simple cami in the summertime. Complete the vintage look with ballet flats, shades, and a colorful tote bag. If it's especially steamy, opt for a pair of overall shorts and a plain tee shirt underneath.
Cut-off jorts are very model off duty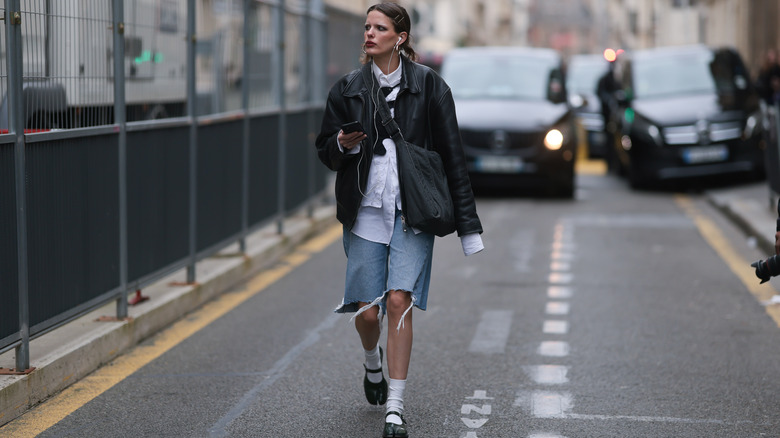 Jeremy Moeller/Getty Images
Tight denim short shorts were all the rage throughout the 2010s. Today, they've inched further down the leg, and loose Bermudas have become a go-to for off-duty models. "We have seen a lot of Bermuda shorts and blazers that can be traced back to '70s safari vibes, '80s power suits, and, yes, even 'Pretty Woman's' presentation on '90s rich lady style," Los Angeles-based stylist Sissy Chacon outlines for The Zoe Report. With this in mind, pair your '90s revival oversized jorts with a white button-down and a leather bomber jacket. On your feet, contrast classic black ballet flats with white socks.
Finally, you can't top Alexa Chung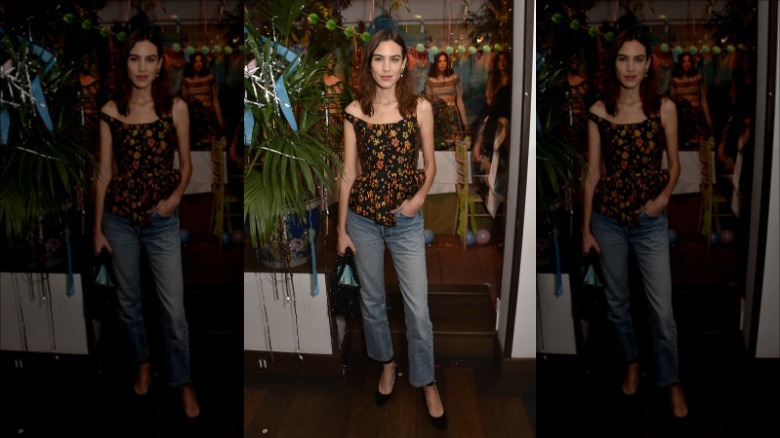 David M. Benett/Getty Images
You be hard-pressed to scroll through Tumblr in the 2010s without spotting model, writer, and overall internet personality Alexa Chung. "She was like the perfect cocktail of everything that the public wanted," writer Savannah Sicurella recalled for W Magazine, adding, "It's crazy to think of her ascending to that cult style-icon status pre-Instagram, pre-Twitter, only fueled by style bloggers, Teen Vogue streetwear pages, and Tumblr blogs." For Chung, jeans and flats were a go-to combo. Like the fashion icon, pair skinny or straight-legged denim with simple black flats and a floral corset top.