Why You Want To Highlight Your Eyes When You Have A Narrow Face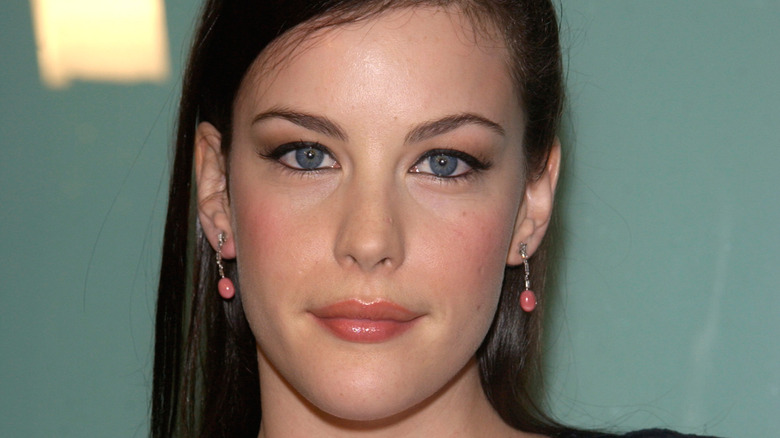 Featureflash Photo Agency/Shutterstock
If you have already figured out what face shape you have, you're likely on the hunt for the best techniques and beauty products to emphasize your most desired characteristics (and downplay a few others). One of the most important features of a narrow face is the eyes. And, with just a few subtle tricks, they can become the star of the show, helping to make your face look wider and fuller.
A narrow face isn't exactly one of the most well-known types, such as a heart or square. But different shapes can fall into the narrow category. A rectangular face is generally longer than it is wider, sometimes leading it to be described as oblong. Faces with oval shapes may also be considered narrow. You may also have a narrow face if your jawline, cheeks, and forehead are all a similar width.
Those blessed with a rectangular face don't need a lot of defining or contouring — a serious perk! However, sometimes they feel they're lacking fullness. It's tempting to make the face appear wider by focusing on the forehead and cheeks. But the secret to a wider-looking face is actually adding height, drawing the observer's gaze upwards. Your eyes are one of the best tools in your arsenal to do this.
Dramatic eyes for the win
Highlighting your eyes can help capture the attention of the observer. We're not talking about quite literally applying copious amounts of highlighter, though. Instead, you want to play up your eyes as one of the most prominent features of your face. Doing so helps to lift others' gaze upwards, downplaying your face's length. You can add drama to this area of your face in a couple of ways. First, consider employing a classic cat-eye. 
This bold makeup trend offers the perfect opportunity to highlight your eyes and widen your face too. Swipe some liquid liner along your lid or use a revolutionary eyeliner brush for more precise definition. Then, hugging the lash line, apply it to your upper lid. Concentrating on the outer third can also help the eyes appear bigger. When you reach the corners, draw the signature cat-eye wings upwards and outwards for instant width. 
Amp up the volume
Next, add fullness by focusing on your eyelashes. Increasing their thickness helps add heft to the face, which, in this case, is a good thing. Volumizing mascara is excellent for when you want volume plus length. Buildable mascara, like Diorshow, will help you maximize the density of your lashes and elongate them. Of course, falsies can be used as well. 
Instead of going for a full set, though, cluster individual lashes around each eye arch or just below the brow arch. Congregating them here helps to make the eyes look larger and wider, just like applying eyeliner to the outer third of the eyelid does. Feel free to further enhance the drama with bold eyeshadow colors too. Lastly, don't forget about the eyes' crowning feature — your brows. 
Carefully, with short strokes, draw them slightly upwards and outwards, gradually adding fullness and extension until you get the desired effect. With all eyes on, well, your eyes, consider your face's narrowness demurely downplayed.