Wearing Eyeliner To The Beach? The Liner Formula You Should Look For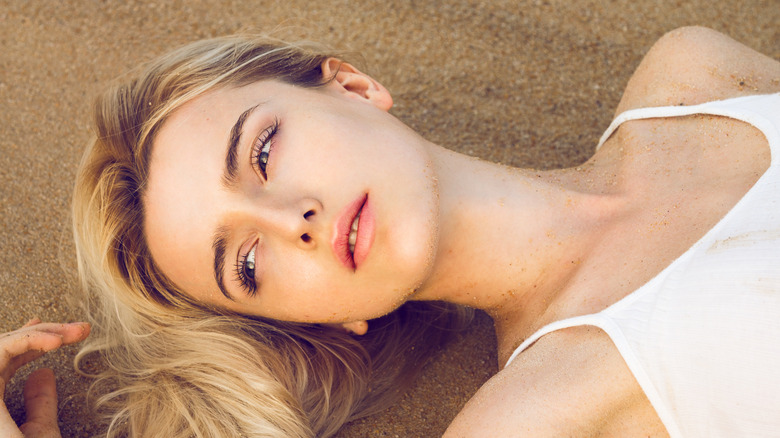 Andry5/Getty Images
Just because you'll be a beach babe doesn't mean you need to forego your favorite beauty routine for an all-natural look. But it may require swapping out a few of your go-to cosmetic products for some waterproof alternatives. A heated beach volleyball match or a dip in the ocean is all it takes to turn your eyeliner and mascara into inky rivers. While we're all for a smudged, smoky look, raccoon eyes are a different story. 
To keep your bold liner perfectly in place at all times, you need to look for a waterproof liner formula. Waterproof formulas promise long-lasting power and durability through sweat, tears, and even swimming (at least to a point) while still looking bold and beautiful. We can't exactly say the same about hot glue as eyeliner, so maybe avoid this trend for your beach trip.
Thankfully, you can still find your favorite (normal) formulas in waterproof form. These products tend to be available in everything from liquid pots to pencils. You can still get that silky smooth application or smudged look while trusting that it will last through even the most humid beach days. However, spotting "waterproof" on the packaging isn't the only item you need to check off your must-have cosmetics list.
How to find the perfect formula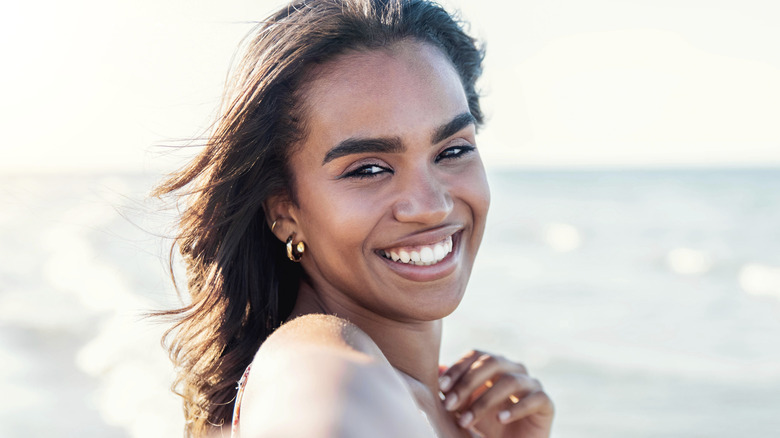 Kar-tr/Getty Images
As mentioned, waterproofing is a must when shopping for beach-ready liners. This is different from water resistant, however. Water-resistant makeup should fare okay if briefly exposed to water, sweat, tears, oil, or humidity. But full submersion can cause running and fading. Waterproof makeup is more lasting. We recommend looking for a product that has staying power but doesn't stick on like cement. You may have to try a few brands before you settle on a favorite.
In addition to its durability, you need to decide between types too. Waterproof eyeliners can come as a gel, pencil, liquid, or kohl. You likely already have a preference. If not, consider your skill level when it comes to application. Experts advise that pencils and gels tend to be easier than liquid liners, which require a very steady and precise hand. 
Finally, choose your finish, which is how the eyeliner looks once it's fully dry. A matte finish is ideal for a more natural or toned-down look, while a shiny, "patent leather" finish can be very glam.
Waterproofing your brows and beyond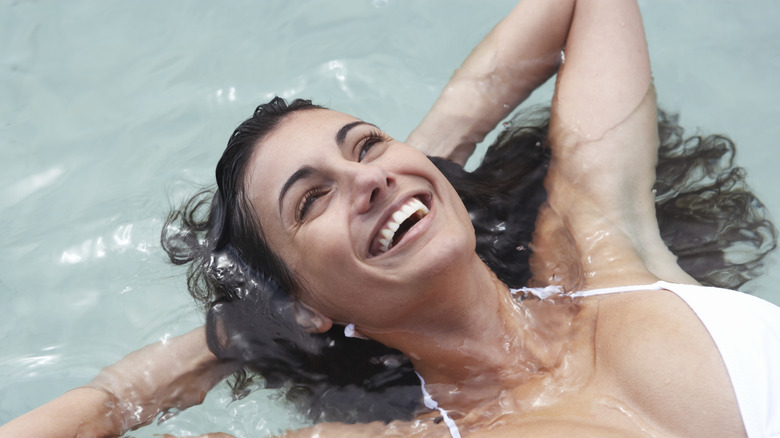 Maria Teijeiro/Getty Images
If you're going for waterproof eyeliner, doing the same for the rest of your eye cosmetics is a good idea. Waterproof mascara is pretty easy to find, as are long-lasting eyebrow gels. Alternatively, treatments like professional lash extensions or eyebrow tinting can give you a more fuss-free beach experience. Experts recommend waiting 24-48 hours after having extensions placed before swimming. 
Even after they're fully dry, taking care not to let saltwater sit on your lashes and refraining from rubbing wet eyes will prevent damage. Waterproof eyeshadow is another good shout. It's usually sold in a crème stick. They're more water, sweat, and humidity resistant than they are infallible, meaning you'll need to apply sunscreen first. That way, if your makeup does fade or wash off, you'll still be protected from harmful rays. 
You can reapply face sunscreen without ruining your makeup too, thankfully. Thus, with the right strategies, you'll be ready to embrace the sun and sand with a glowing look that outlasts even the beach bonfire.