Kim Possible Fashion Is In - Here's How To Get The Trendy Y2K Look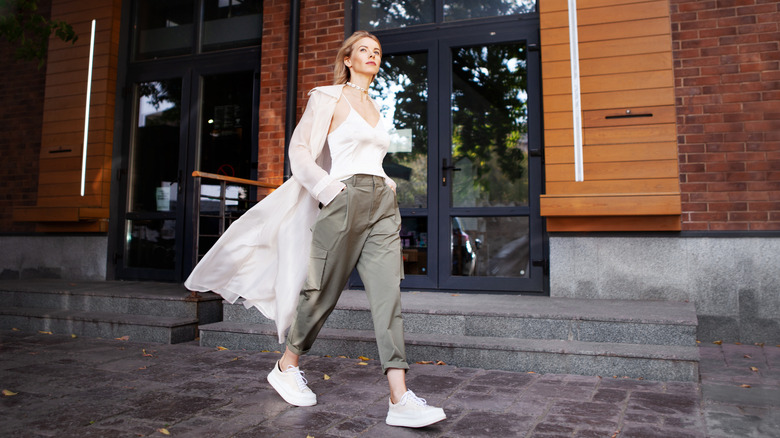 Anna Zhuk/Shutterstock
The world of fashion is ever-evolving. And sometimes, it evolves right back into your favorite styles as a kid. Remember Kim Possible, the teen crime fighter with her sidekick Ron Stoppable, from your favorite early 2000s cartoon? Her pairing of a cute crop top with a pair of cargo pants is ready to make its way back into your closet rotation.
Just check out the pages of fashion magazines, take a look at your favorite celebrities, or even watch the models walk the runway. Sure, it might not be the traditional black crop top you're used to, but this look is a comfy and fun trend that looks great on all body types. No matter what season you're in, it's time for you to pull those cargo pants out of your closet and shake off the dust. 
Find your inner Kim Possible by making this style your own. You can even get a bit creative and pair Y2K fashion with some of your most current styles. It's time to take an adventurous voyage back to your youth. 
Black-on-black Y2K chic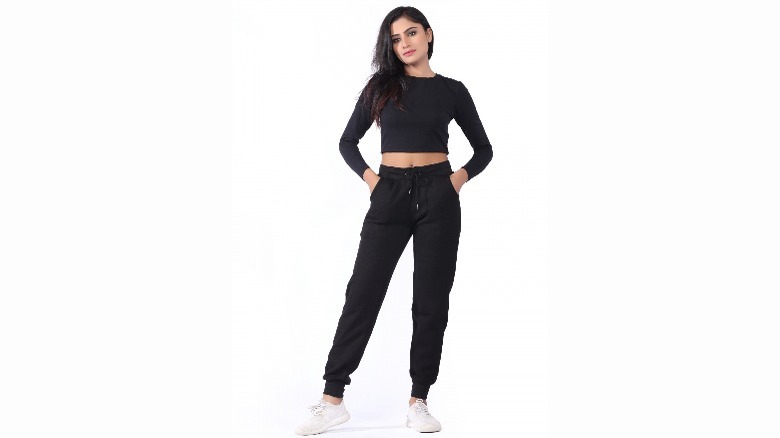 MFAHEEM FAHEEM/Shutterstock
Who needs a little black dress when you're ready to go full-black Kim Possible style? You can't beat the comfort of the black cargo pants with a drawstring waist and elastic bottoms. However, when you add the black crop top, it makes a fashion-forward statement. It's a look you can feel comfortable in at home or even going out for the night.
Swap the sneakers for a heel, and you're ready to party — or catch the bad guys. The choice is yours!
Don't forget the bucket hat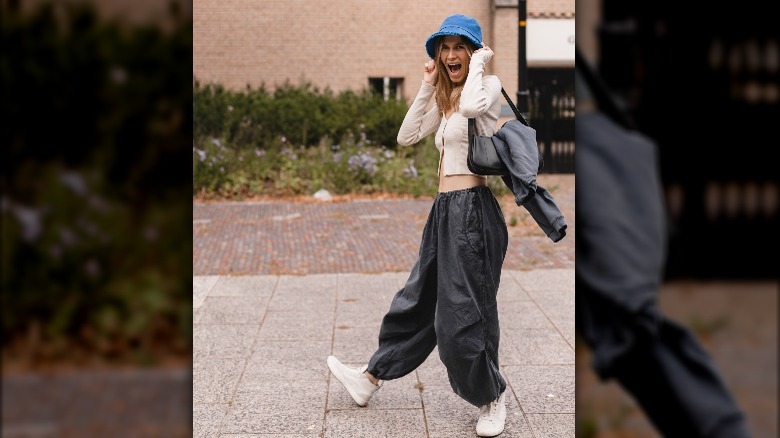 Ekateryna Zubal/Shutterstock
The best part about a trend is making it your own with a few accessories. Sure, you want to rock the cargo pants that Kim is known for. But you're not about that turtleneck life. You don't have to be.
Swap the turtleneck out for a fun cropped cardigan, which is more your cup of tea. You can also add a bit of flare to your look with a bucket hat. It will definitely add to your whole woman-of-mystery vibe. Plus, why not add another Y2K trend to the mix?
Pop of color for the win
Fashion is all about adding a little bit of imagination to it. And the best thing about Kim's look is you don't have to adhere to strict rules. It's easy to make it your own. Instagrammer @happilymadz created a Kim Possible-inspired look by pairing cargo pants with a white body suit.
The sleek line of the one-armed bodysuit adds a bit of chic and a lot of sexy to the vibe. Opened-toed shoes and the bright pop of green pull the whole look into a whole new playing field. It's a fabulous mix that's ready for a walk down Rodeo Drive.
Add sock boot for a bit of flare
You love everything about Kim Possible's look. The black turtleneck works brilliantly with green cargo pants. When you throw on a little messenger bag, the look is complete—or is it?
While Kim might have rocked those sly little black boots, you need a bit of pizzazz. Fashionista @styledbyflorencia brings the flare with a heeled sock book. This sweet little addition takes this outfit places that Kim Possible never could. It's bringing the FAB to fabulous!
Cargo skirt makes this look fresh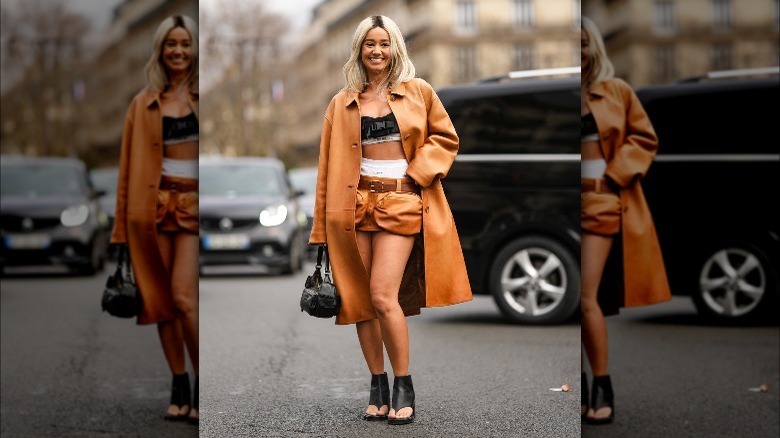 Edward Berthelot/Getty Images
Not all women of mystery must wear pants. You can keep the cargo look fresh by adding a skirt instead of pants. You've got all the pockets but none of the sweat factor. It's a perfect way to fend off the summer heat but still look stylish. 
Try adding a trench coat to add a bit of spy to your fashion game. Your outfit is still screaming, "I love to catch bad guys," but you won't have to worry about heat exhaustion.
Add sophistication with a sweater
Just because you've decided to take up the comfort of Kim Possible's look doesn't mean you can't add your own sophistication to it. Rather than rocking the turtleneck, try adding a sweater around your shoulders. It's perfect for a fall day when you aren't sure what the weather will be like. 
You might also want to try a different type of bottom on your cargo pants. Keep it cool and sophisticated with a bit of a flare leg. Footwear depends on the weather, but you could even throw the combat boots to the wind for a nice flip-flop.
Bright top for the win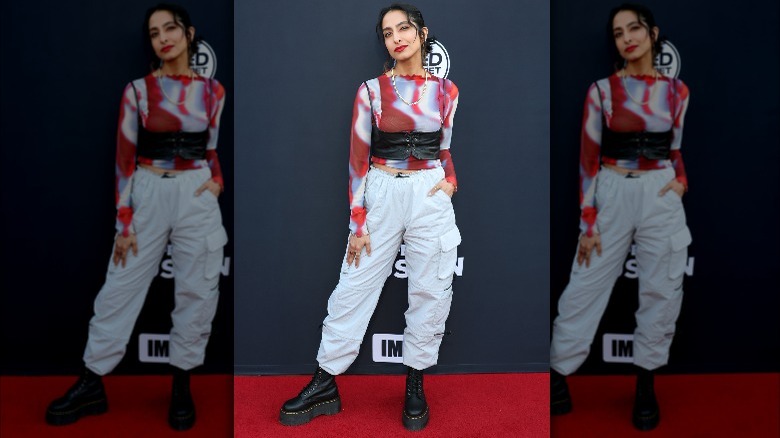 Monica Schipper/Getty Images
The possibilities are truly limitless when you have a pair of cargo pants just hanging out in your closet, especially if you have white ones. You can add your own touch of WOW to this look by adding a colorful tie-dye crop top.
The pop of color brings all the attention up, while still looking chic and ready to catch the bad guys on the bottom. The leather cincher shows that you're ready to fight at a moment's notice. You'll definitely be mistaken for an international spy!
Keep it comfortable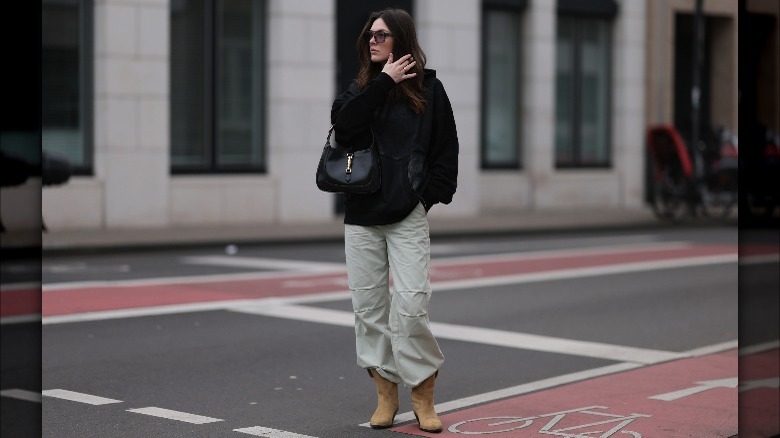 Jeremy Moeller/Getty Images
Winter is about warm and comfortable. Keep your trendy cargo look but dress it up with a sweater to make sure you keep toasty on those winter nights. You can also top this look off with some Uggs or even a winter boot. It's still an out-of-this-world look with pockets to spare. But you'll stay comfortable as the winter wind blasts you in the face.
If it's not the right weather for a sweater yet, you might want to just go with a warm shirt rather than a sweatshirt. These are also the perfect pants for your favorite cowboy boots.
Trade the turtleneck for a tank
Winter might have you feeling the layers, but summer is heating things up. You don't have to lose the look for shorts. You can add a cute tank to your cargo pants for a little Y2K fashion appreciation.
Instagrammer @jennagong fills her style diary with this casual look. It's topped with a small handbag and a smile. This laid-back look would also fit right in with a pair of designer flip-flops or wedges.
Sheer makes all the difference
Kim Possible's look fits any season and all body types. It's also one of those looks you can make your own with a few fun accessories. Fashionista @lifewith_emily creates a fun sheer look that could be easily seen on the catwalk. 
Sometimes finding a fun, new look means diving back into the cartoon icons of your youth. Kim Possible made a statement with her turtleneck and cargo pants that you just can't forget — especially since it's trending on social media. Just like the super spy that created it, you can't go wrong by giving it a creative up style.