Hallmark's Chandler Massey On The Terrifying Reason He Gave Up The Biking Life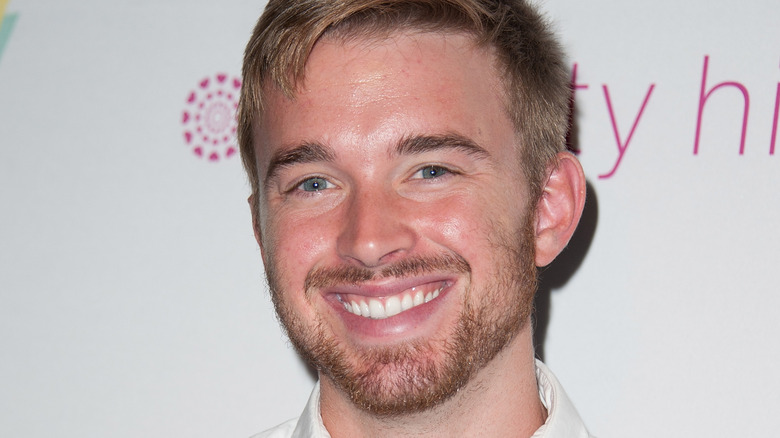 Jennifer Lourie/Getty Images
Chandler Massey has returned to the Hallmark small screen in the new movie "The Professional Bridesmaid." After finding fame and popularity on "Days of Our Lives," the Daytime Emmy-winning actor took on the lead role in the Hallmark film, released April 8.
Massey starred in the latest Hallmark film along with Hunter King, Francesca Bianchi, and Roark Critchlow, among others. The film follows the story of a professional bridesmaid named Maggie (King), who books a high-profile wedding. Due to her line of work, she must keep her identity a secret from everyone involved in the wedding, including a handsome reporter named Henry (Massey), who is covering the event.
While promoting the film, the recently-engaged (and possibly married) actor shared some behind the scene details. He also shared a real-life story that scarred him for life, which led the actor to give up his biking life. He admits that he's done with biking for the time being, and can't see himself going for anymore rides in the foreseeable future.
A serious accident made him stop biking
In an interview with Just Jared, Chandler Massey shared his horrifying experience riding a bike. When he was asked to compare himself to his outdoorsy character Henry, the actor confessed that he's not a huge fan of hiking or spending time in the green spaces, for that matter. He'd prefer enjoying an urban setting, looking at "manmade beauty — architecture, city streets, things like that."
The "Days of Our Lives" actor admitted that he wasn't always like this, and there was a time in his life when he rode the bike regularly, but a serious accident made him stop. He told the outlet, "I actually used to bike a lot to work, but then I got hit pretty hard and my bike was destroyed, so I'm like, maybe I'll not do that. I survived, but I'm gonna start driving from now on."
While the actor refused to give more details on the accident, the actor reiterated his decision to never ride a bike again. He said in a Facebook Live with co-star Hunter King, "I think I'm done with bike rides for a little while."
A mishap on set of The Professional Bridesmaid
During the same Facebook Live session, Chandler Massey shared another bike mishap that took place while filming "The Professional Bridesmaid." Massey and Hunter King revealed that they attempted to film their meet-cute scene as written in the script. Massey's character was supposed to run into King's character while riding a bike. But things didn't work out as planned, King revealed while laughing. "And when we were filming our meet cute, he may or may not have taken a small spill in his first take on the bike. You wouldn't tell now 'cause I'm laughing, but I felt so bad. I felt so bad."
Massey offered some excuses on what exactly happened. He explained, "Well first of all, it had been raining, so it was a little muddy. I was trying to do this cool thing. I had just talked to ... Peter, the director, about it, and he's like 'You sure you want to? You can do this?' and I'm like, 'Oh yeah, I can ride a bike. You kidding me?' So, I tried to do this cool thing where I'm supposed to ride by her and kind of lose control."
Thankfully, Massey was able to convince film director Peter Benson to hire a stunt double so they could successfully film the scene, which viewers can see in the recently-aired film on Hallmark.