Is Your Skin Type Safe For Double Cleansing?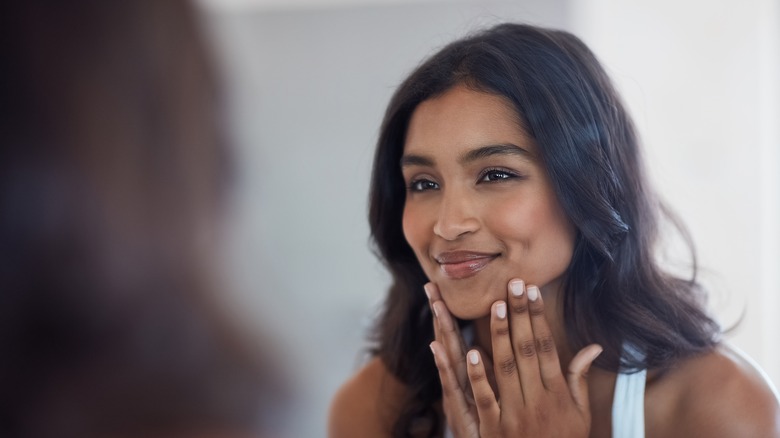 PeopleImages.com - Yuri A/Shutterstock
It seems like every week, there's a new skincare item or technique trending online, with everyone jumping on board to see if it's legit. From the obsession over retinol serums to our rising interest in body care, our wallets and skin are simply trying to keep up with the number of things that the internet is telling us that we just absolutely need. Although there are a few basics that you should definitely use — namely sunscreen — it's hard to differentiate between what your skin would actually benefit from and what's just a passing fad.
Things can get even more complicated when you factor skin type into it. If the thought of slugging with acne-prone skin makes you shudder or you fear using facial oils on your already oily skin, then you're probably quite picky about the products you place on your skin. However, some dermatologist-backed skincare techniques may find their way onto your feed, making you wonder whether you should risk it and just give it a chance.
Double cleansing, the act of using an oil-based cleanser before a water-based cleanser, certainly has its benefits. But is it right for your skin?
Can you double cleanse with your skin type?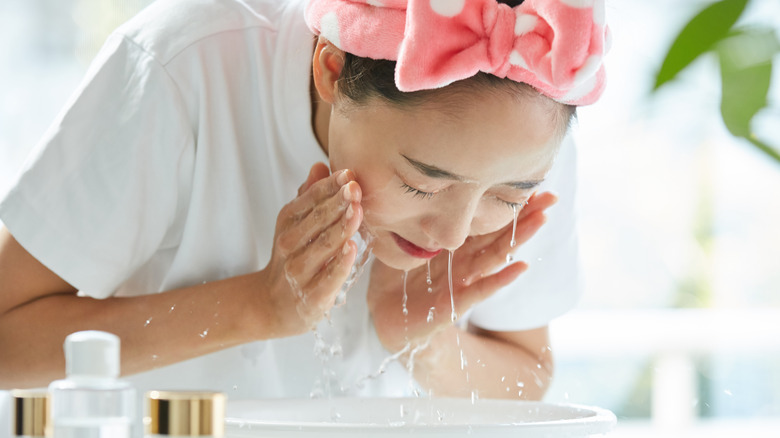 K-angle/Getty Images
When you wear makeup or sunscreen for hours on end, or simply have just been out all day, a regular cleanser won't give you the deep clean that your skin needs. The deeper clean also allows the products applied afterward to penetrate better. Using an oil-based cleanser will help break down the makeup and sunscreen, as well as draw out the dirt and impurities in a way that a regular cleanser can't. To double cleanse, apply the product to dry hands and massage it onto your face. After rinsing off the oil cleanser, go in with a normal cleanser or face wash.
If you have dry or sensitive skin, cleansing twice may sound irritating. However, the practice works for all skin types. The key is to use products that don't strip the skin or cause irritation. Seek out cleansers that are hydrating, fragrance-free, and gentle. Instead of using an oil-based cleanser before a water-based one, people with sensitive skin can opt for micellar water.
If you have oily or acne-prone skin, you can definitely benefit from double cleansing. Within our skin, there are good and bad bacteria. Oil cleansers are designed to remove the bad ones that cause acne, which is a plus if you tend to breakout frequently. For oily skin, really harsh cleansers may strip the skin, which is the opposite of what you need. Using a cleanser that removes excess oil while keeping skin hydrated helps to keep your oil balance in check.
Shop the best double cleansing products
Look Studio/Shutterstock
For dry, sensitive skin, double cleanse using The Inkey List Oat Cleansing Balm. Created with parched, easily-irritated skin in mind, the cleansing balm contains oat kernel oil and colloidal oatmeal. The two ingredients work together to target blackheads and redness while maintaining the skin's moisture balance. Follow up with Cetaphil Gentle Skin Cleanser. Formulated with niacinamide, panthenol, and glycerin, this gentle cleanser hydrates skin without causing it to flare up.
The DHC Deep Cleansing Oil delivers a thorough cleanse, leaving oily skin refreshed without being totally stripped. The Japanese cleansing oil contains organic olive oil, vitamin E, and rosemary leaf, clearing the skin of dirt and sebum while sealing in hydration. Afterward, use Paula's Choice Perfectly Balanced Foaming Cleanser. The gentle cleanser contains ceramides, hyaluronic acid, and aloe to maintain the skin's barrier and retain moisture.
The Hanskin Pore Cleansing Oil- BHA uses salicylic oil to help reduce breakouts in acne-prone skin. It gently exfoliates, decreasing blackheads on the skin without leaving the face with a stripped, irritated feeling. It also has a blend of sunflower and tea tree oils that deeply cleanses the skin. Once rinsed off, go in with the Versed Keep the Peace Acne-Calming Cleanser. This non-drying cream cleanser has an anti-irritating formula that's gentle on acne-prone skin.