The Romantic Nude Shade That Will Dominate Lipstick Colors In 2023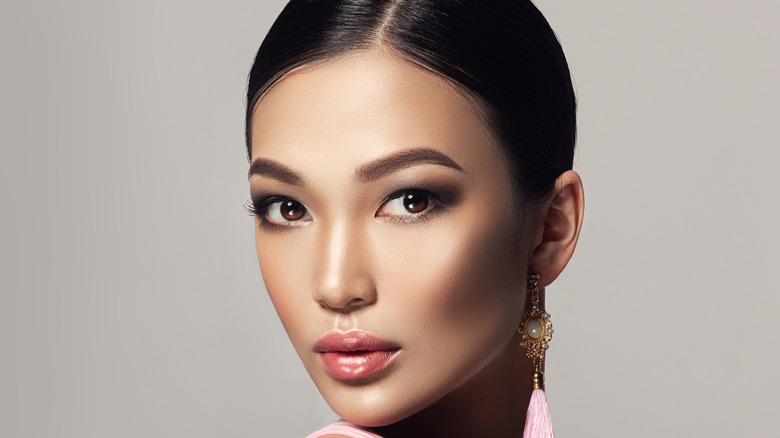 Sofia Zhuravetc/Shutterstock
Nothing spells classic beauty like a basic lip. When people think of nudes, they instantly think of tans. However, nudes come in many different variations that match any skin tone. If you have pale skin, then a KissKiss Liplift Smoothing Lipstick Primer by GUERLAIN may wash you out a bit. But, Rimmel Lasting Finish Lipstick 900 Pearl Shimmer is a nude that can give your face a satiny look that will still make your lips stand out with brushed gold undertones. This is what makes nudes so special, and one sub-genre of this hue selection is getting some special attention this year.
Rosy nudes have been around for some time, but renewed interest in this romantic glam look revises it. These lipstick colors still live in the neutral realm but with hints of pinks, mauves, and even lighter reds. Makeup artists are seeing an influx of customers wanting this look and for good reason.
Rosy nudes still work with any look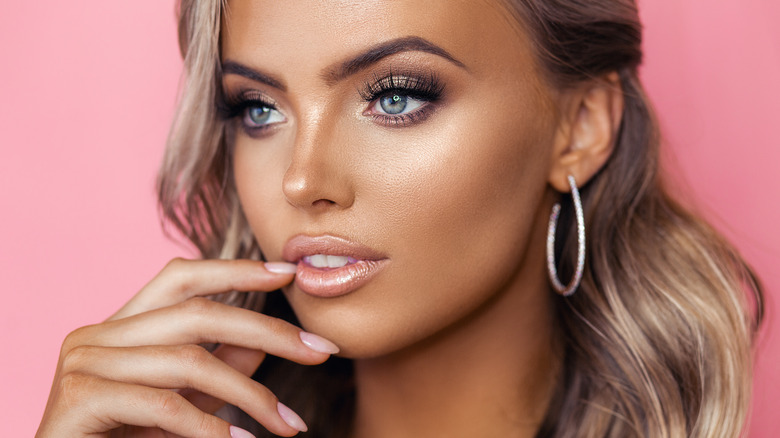 Galina Deinega/Shutterstock
Don't focus too much on the blushing tint when you see the word rosy. The softness of rosy nudes will not clash with your looks as other pinks might. If you are going with a natural face with just foundation and a bit of concealer, you may want to compliment it with a soft pink lip. Options like Pat McGrath BlitzTrance Lipstick in color Fuchsia Perfect won't get the job done. Though a knockout, there is nothing subtle about this bold shimmer lipstick. However, diving deeper within that same collection, you'll come across the Skinsane. This rosy nude is slightly darker than typical nudes, blending Cool Mauve with Golden Pearl. No matter your skin tone, this lustrous finish will deliver kissable results.
Beth Milligan, color expert and manager at custom lipstick store Lip Lab, tells Pure Wow that rosy nude lipsticks have been most requested among clients. She suggests pulling off this lipstick color with options that feature a creamy finish instead of matte. You can even go for a rosy nude gloss, such as Clé de Peau Beauté Radiant Lip Gloss in color Charm. The more luminance, the better for this simple look. What makes rosy nudes suiting is that they can be the perfect finish, even if you opt for full glam with heavily pigmented eyeshadows and sharp contours. You may even want to consider a rosy lip in conjunction with pink setting powder. 
Rosy nudes are perfect for no makeup days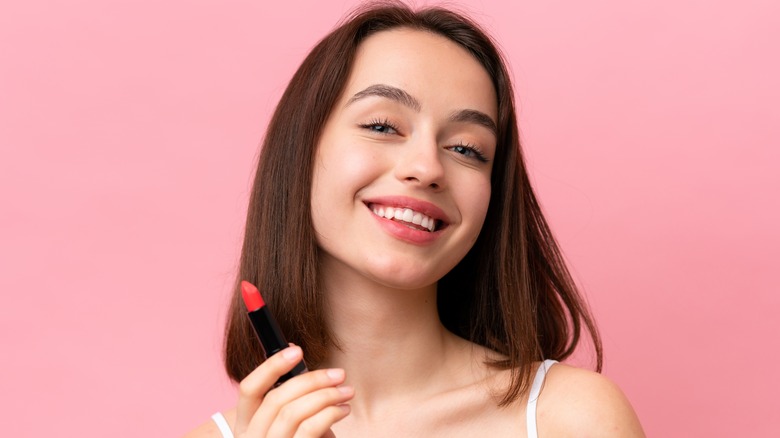 Luis Molinero/Shutterstock
Consider why people tend to love tinted lip balm. It adds a hint of pink on days you don't care to go all out. It's a low-effort beauty hack that leaves your lips polished and moisturized. Blushing nudes are a great alternative to tinted lip balms on bare-faced days if you want slightly more pigmentation. Like lipstick specialist Beth Milligan, Cosmopolitan beauty expert Clare Stephenson also advises going shiny with the nudes if you do elect to wear no other makeup.
Finding your perfect rosy nude shade can be trial and error. However, even if you go too dark or too light, there isn't necessarily a wrong way to rock rosy nudes. As a rule of thumb, pinky nudes typically show up best on fairer skin tones. Those with medium skin tones mesh well with rosy nudes that are either darker or lighter than their complexion. And lastly, darker skin tones have historically looked flawless with richer shades of nudes. Actress Lupita Nyong'o is a perfect demonstrator of this, as seen in a June 2022 Instagram post, where she sports a yellow Dolce & Gabbana gown with a deep rosy lip that attracted over 120,000 likes. Whether you're feeling a runway-ready face or opting for a chill day, there's no reason you shouldn't try this pinky pout.