What To Ask For At The Salon If You Want An Elf Crop Haircut
Warmer weather is just around the corner, and we all know what that means. Yep, it's time to start thinking about which haircut is going to define your look this summer. Long hair is great when the weather is cold because it keeps your neck warm and looks stylish with those cozy winter clothes, but it's time to switch it up. With the summertime heat on its way, long tresses are out and shorter haircuts are on their way in.
Getting summer-ready hair can be completed in two steps. Picking a suitable hairstyle for your hair type is the first, and then going through with the big chop is the second (and probably the most intimidating). We can't get over this adorable cut that's up and coming in the streets of London. The elf crop haircut looks like it came straight out of a "Lord of the Rings" movie or a hairstyle a modern-day Princess Zelda might wear. It's fashionably forward, and we're joining in the hype that's surrounding it. If you want to get this elvish cut, here's what you need to ask for at the salon so they get it just right.
The elf crop is a softer, lengthier pixie crop
We've all thought about going in for the formidable pixie crop at one point at another. Stars like Halle Berry, Jamie Lee Curtis, and Zendaya have proven that short hair can still be incredibly stylish and feminine, and that's just what everyone should know before getting a pixie cut. Still, pixie cuts are often quite restrictive when it comes to which face shape and bone structure looks best with the cut, so we completely understand being apprehensive about it since you're worried that it won't work for your face shape.
The elf crop takes these worries into account by updating the pixie cut into something that's a lot more forgiving in terms of face shape and has just enough body to it to give it that feminine touch. In an interview with PureWow, celebrity hairstylist Alex Brownsell is calling it now: The elf crop will be the definitive 2023 haircut because of its soft, casual appearance. Compare that to the bluntness of the pixie cut, and now you know exactly what to look for when describing this cut to your stylist. For further help, try explaining it like Brownsell did when she stated, "It consists of disconnected strands and long textured edges around the face that give it a relaxed feel and plenty of shape."
Ask the salon for a rounded crop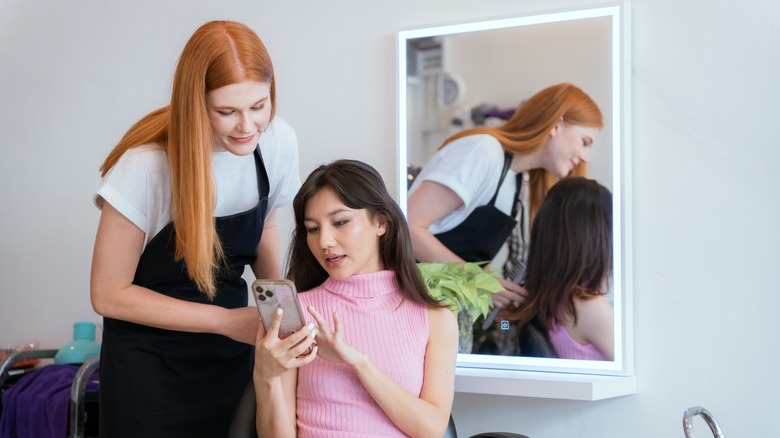 Jub-Job/Shutterstock
Knowing exactly what to ask your stylist for will save you from having to utter a forced "thanks" after your hair's been cut while staring in the mirror at a haircut that looks nothing like what you'd hoped for. You can always bring pictures into the salon to show your stylist for reference, but it's also a good idea to tell them how you'd like each section of your hair to look. This will craft the cut to work better for your face shape and get you the hairstyle you're truly expecting once you sit down in the salon chair.
Trend expert Tom Smith gave the perfect, simplistic directions to give your stylist if you're craving the elf crop. Talking with Stylist, Smith suggested asking for a "rounded layered crop" with lengthier, wider strands near your edges and around your eyes so you can achieve this cut's soft aesthetic. The longer lengths of hair will frame your face, achieving the angelic appearance that has made this one of the haircuts everyone wants in 2023.