How To Nail The Rockstar Girlfriend Glam Trend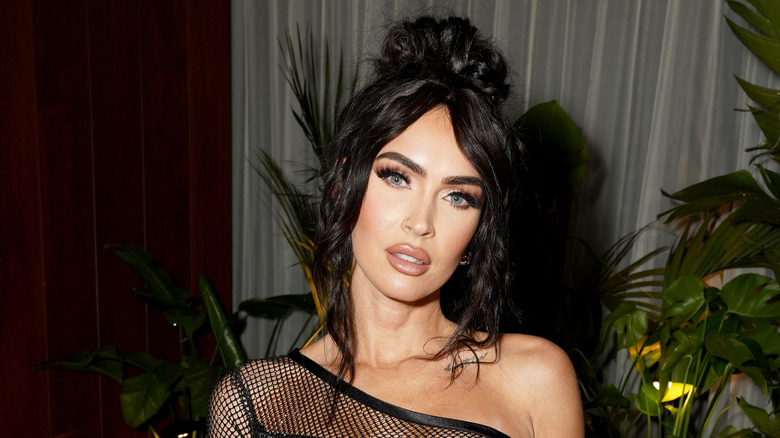 Presley Ann/Getty Images
Move over, clean makeup aesthetic – rockstar girlfriend glam is taking over. 
If you're out of the loop, the "rockstar girlfriend" trend is named after the makeup style of those who are currently dating or have dated a rockstar in their life. Megan Fox, who is currently dating Machine Gun Kelly, is a prime example of a "rockstar girlfriend," as is Kourtney Kardashian Barker, who married Travis Barker in 2022. Both of these women underwent pretty extreme style transformations when they started dating their significant others, particularly Kardashian Barker. Another great example of a "rockstar girlfriend" is Alexa Chung, who was every indie guy and girl's muse when she dated Arctic Monkeys frontman Alex Turner from 2007 to 2011.
Still, don't be deceived by the name –  you don't have to be either a rockstar's girlfriend or wife to pull off this sexy, grunge-inspired makeup look. Here's all you need to feel more glam than ever and become a rockstar in your own right.
This makeup look could be the go-to for your next big event
Speaking to Glamour, makeup artist Sara Talias described rockstar girlfriend glam makeup as "a smudgy matte black eye, loads of black mascara, sculpted cheekbones, and a cool tone nude lip with visible lip liner." The eyes are probably the most important part of this look, and are what will draw attention to you. Makeup artist Nick Lujan told Glamour that "a rockstar eye always incorporates a smudgy black liner pencil and neutral and black eye shadow, and requires lots of lash." 
Though the above descriptions are perfect for making sure you're hitting the rockstar girlfriend glam trend, the beauty of any makeup look is that you can tweak it to suit your style. If you're more of a dark lip person, don't hesitate to swap out a nude lip for one that's more you. The same goes for eyeshadow colors — as long as you create a dramatic, slightly messy smokey eye, you're on track. Don't be afraid to experiment with shades and textures either, as contrast is all part of the look.
You probably already have a few of these items in your makeup bag