Gel, Liquid, Or Pencil: Which Is The Best Eyeliner For You?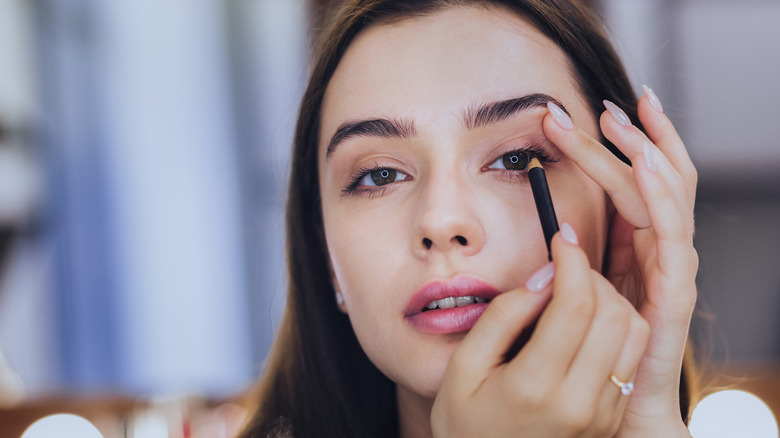 Zinkevych/Getty Images
Eyeliner can make or break a look. When added just right, it can make eyes appear bolder, stand out better, and look overall more dramatic. However, when applied incorrectly, it can look messy at best or even jarring in the worst-case scenarios.
There is a general thought that black eyeliner should only be worn by younger people as it tends to age you, notes Southern Living. The underlying thought is that harsh black can make the eye look lost underneath the dark hue as well as draw attention to the loss of firmness and fine lines around the eyes. For older folks, a basic brown eyeliner is often suggested to give off a natural look.
However, besides color, the texture of the eyeliner is also a key component. Certain textures work better with specific types of skin and looks, and there are easy ways to find out whether a gel, liquid, or pencil will work best for you.
Pencil eyeliners are a staple
Vladimir Gjorgiev/Shutterstock
Pencil eyeliners were likely the ones we all first experimented with during adolescence, and there are good reasons for that. They are inexpensive, easy to use, and forgiving when you make a mistake. Since they are affordable, it's typical as well as practical to keep a few different colors in your makeup bag.
According to celebrity makeup artist Andrew Sotomayor, pencils can provide a clean line but also allow for smudge. "When freshly sharpened, wood pencils can get really close to the roots of your lashes and even right between them," explained Sotomayor to Glamour. "The formulas are also creamy to smudge out or layer eyeshadow on top, which gives greater control over how dark the final look is."
Pencil eyeliners are ideal for everyday wear so whether you're going to the office or running errands, they are a convenient staple to keep in your bag. Pencils brighten eyes but aren't dramatic and don't require a lot of time to apply.
When to use gel and liquid eyeliners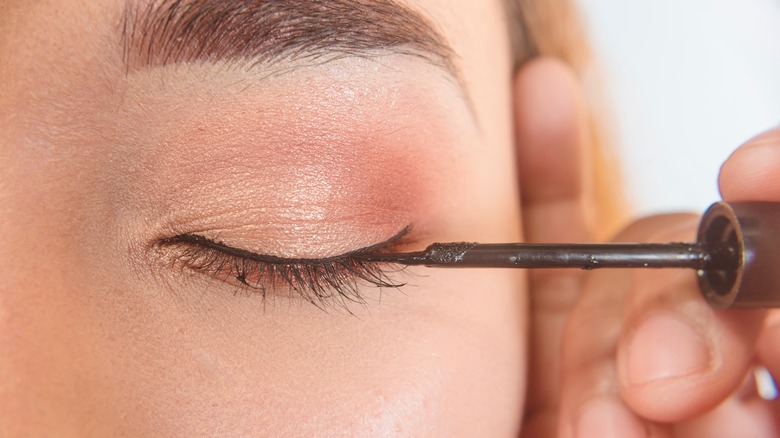 MDV Edwards/Shutterstock
A step up from a regular pencil, gel eyeliner is a creamier version of a pencil. It typically goes on seamlessly whereas a pencil can be less apt to glide. Since the color easily attaches to your eyeliner, it can produce a clean, thin line that looks sharp. However, you can also blend and smudge it up a bit, too.
Once you start using liquid eyeliner, you've entered the big leagues. While gel eyeliner can give a dramatic line, liquid eyeliner is known for its definition and precision. Since liquid eyeliner dries quickly, you must make sure you are applying it with a careful and steady hand (via Makeup.com). It's ideal for providing a clean and sharp, dramatic line, especially a cat eye or a winged eye.
The drawback to liquid eyeliner besides the need for precision and sufficient time when applying it is that, unlike a gel or pencil eyeliner, there is no ability to smudge it once it's dry, so it's the type of eyeliner you should never use for a smudged look.