The Type Of Eyeliner You Should Never Use For A Smudged Look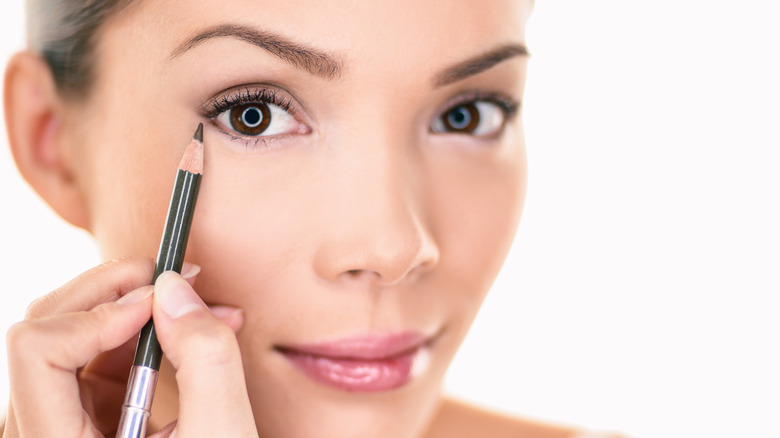 Maridav/Shutterstock
Smudged eyeliner has quickly become a go-to look for creating a more subtle smokey eye. It's not quite as dramatic as a full-on smokey eye and it's also easier to do and requires less makeup and brushes.
Smokey eye is all about pushing the envelope. It's the opposite of a type-A, neat and tailored, one-shade eyeshadow, as per Glamour. Smokey eye looks are usually created with dark colors of eyeshadow and layering. You can also experiment with textures. It screams intrigue, allure, and going against the grain. "All the layers create so much dimension," says celebrity makeup artist Hung Vanngo. "You may wonder 'why do I need to do a pencil first and then the shadow, and then another shadow?' But it's for the depth that you create."
Think of the smudged look as the smokey eye's little sister. The effect is similar but a smudged look is more subdued, as per MasterClass. It doesn't require much product since you can create the look with one good pencil. The key is to make sure you have the optimal eyeliner.
The perfect smudged look starts with a good pencil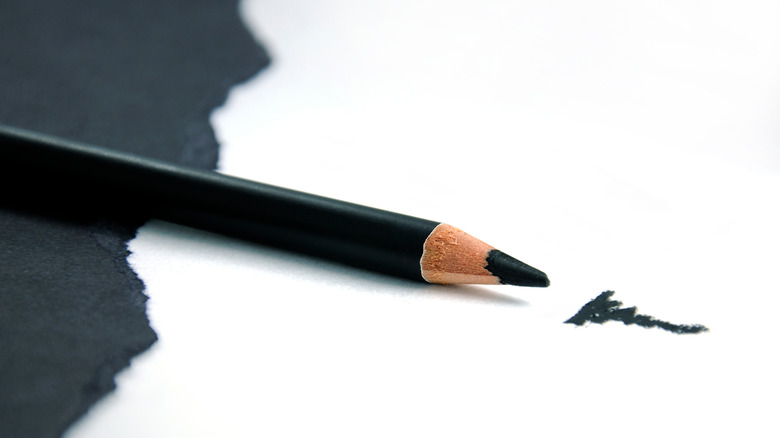 SNS Studio/Shutterstock
Like everything else, some eye pencils are better than others, especially when it comes to creating a smudged look. The key is to find a pencil that can be applied easily and smoothly. There's nothing worse than sliding a dry pencil along your eyelid and having the color not take, other than the pain it may cause. Start out by looking for a pencil that has a built-in sponge at the top, specifically created to help smudge (via Elite Daily).
Keep in mind you want a pencil that goes on easily but also stays on. You don't want one that's so easy to smear that it disappears over time. An opaque is a good option.
Another way to ensure a pencil will work well to achieve a stellar smudge is to pick one that has "kohl" in the name, as per Makeup.com. Kohl eyeliners have a creamy base and are quite soft and smooth, so they glide right on along the eyelid without applying too much pressure. Yet, they also have staying power that will last.
Don't use liquid eyeliner for smudged eyes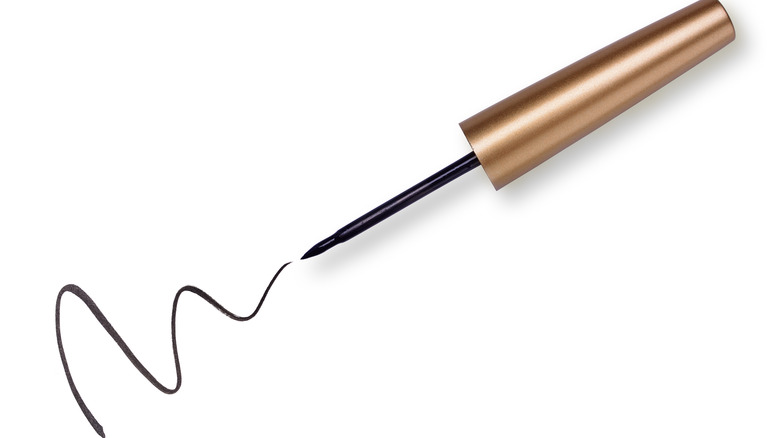 Chursina Viktoriia/Shutterstock
Liquid eyeliners are a big no-no when it comes to pulling off a smudged look. Many dry too quickly and even when they don't, the liquid color will smear off into a clump when attempting to smudge, as per InStyle.
Similarly, when you look at creamy gel eyeliners, make sure they are ones that don't adhere instantly. "You need a good 30 seconds of blending and moving around to get it where you want it," explains Jasmine Ferreira, Lancôme's National Director of Makeup. The best pencil is one that is both creamy and waterproof.
Another thing to avoid is slathering on eye cream before you go for a smokey eye (via L'Oréal Paris). That will only cause your eyeliner to smudge out of control, and possibly right off your face. One way to prevent your eyeliner from smudging in a way you don't want is to apply your eye cream the night before and apply primer or translucent powder before you begin.