Stained-Glass Skin Is The Perfect Mix Between The Glass And Cloud Skin Trends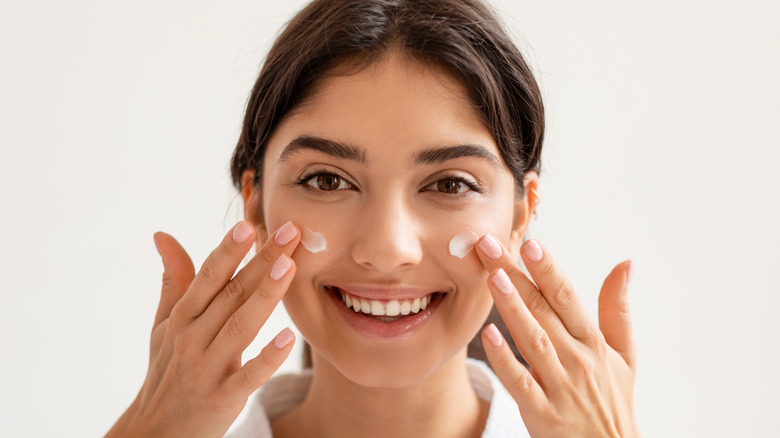 Prostock-studio/Shutterstock
Glass skin has been an enduring trend, but it can be a struggle to achieve its flawless look. This method originated in Korea and is characterized by "skin that looks crystal-clear, poreless, translucent, [and] luminous — like a piece of glass," Glow Recipe's Sarah Lee and Christine Chang explained to Allure. To meet those requirements, glass skin requires a commitment of time and numerous products. This might make it a non-starter for anyone who prefers a more streamlined, minimalistic approach to their skincare routine. Glass skin is also more of a lifestyle commitment, necessitating dietary changes such as drinking more water and eating healthy fats along with more fruits and vegetables. 
In contrast, cloud skin is a makeup-application technique that provides a more matte look. Unlike the shine of glass skin, the cloud trend is notable for its diffused glow that emanates from beneath the makeup. "It's all about specifically placed powder, a touch of foundation, and a facial oil to prime the skin," Dominic Skinner, global senior artist for MAC Cosmetics, told Refinery 29. "There is matte powder and then moisture from the foundation, and the combination gives a softness."
And now, for people who don't feel like they're a good fit for either of these trends, comes a middle ground. Enter stained-glass skin, a new approach that's a little bit of both glass and cloud skin.
Stained-glass skin lets your natural beauty shine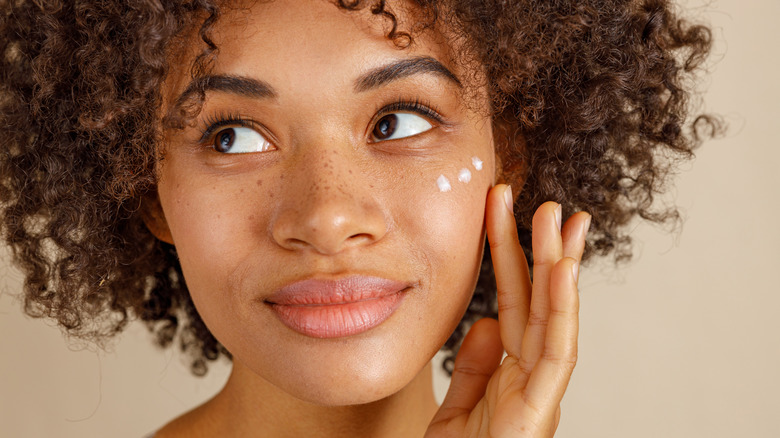 Dima_sidelnikov/Getty Images
Just like its architectural namesake, stained-glass skin shows off your face without being as revealing as glass skin. It's ideal for people for prefer fewer products since it doesn't require the lengthy routine of glass skin. It's also not as full coverage as cloud skin on the makeup front. "The pigment level in the product will be on the lower side and mixed into a creamy or balmy formula that has a glowy, reflective finish," makeup artist Stevie Rose explained to PopSugar.
Since this technique is a blend, it combines elements of the glass and cloud skin trends to achieve the stained-glass look. For instance, you can make moisturizing products a cornerstone of your routine, but go for tinted options for added coverage. "Tinted moisturizers brighten and even out the complexion but still allow natural skin to show through," celebrity makeup artist Dani Kimiko Vincent told CNN. Besides a hint of color, make sure you choose moisturizers with SPF. For maximum effectiveness, "you want the last liquid product on your face during the day to contain sun protection," Vincent noted.  
When applying a setting powder, opt for a more limited placement than you would with cloud skin. Focus on oil-prone areas, such as your nose or T-zone, to eliminate unwanted shine. By adopting a less-is-more philosophy, you'll accentuate the natural look of healthy, moisturized skin and nail stained-glass skin's amalgamated approach.
Perfect stained-glass skin's glow with these products
There are a lot of options when shopping for cosmetics that fit the stained-glass trend. For moisturizer, check out Milk Makeup's Sunshine Skin Tint Clean SPF 30 Foundation. It comes in 14 different shades and boasts light, natural coverage along with plenty of moisture and sun protection. For hydration and eliminating fine lines, try ILIA's Super Serum Skin Tint SPF 40. The tinted formula utilizes hyaluronic acid for extensive moisturizing, and niacinamide to enhance skin texture and tone.
For a choice that's hydrating and royally vetted, seek out Laura Mercier Tinted Moisturizer Natural Skin Perfector Broad Spectrum SPF 30. It's one of Meghan Markle's favorites, and it touts ingredients like macadamia seed oil to provide 24 hours of moisturizing. 
On the powder front, look for one that is translucent, since the aim is to tamp down excess shine with minimal coverage. For example, Hourglass Veil Translucent Setting Powder is intended to work with all skin types while offering a lightweight feel. If you're looking for even more moisture, consider LYS Beauty's Triple Fix Setting Powder. It has sodium hyaluronate, which is closely related to hyaluronic acid and helps hydrate as well as reduce the look of wrinkles. Both of these powders are talc-free. In addition to the health concerns with using talc, it's also something to avoid when choosing makeup for sensitive skin.