Things Princess Diana Kept After Her Divorce And Things She Lost
Anwar Hussein/Getty Images
By the time Princess Diana and King Charles III solidified their divorce on August 28, 1996, Diana was a persona non grata in the British royal family. Her famous 1995 BBC interview revealed less-than-flattering details about royal life, including all-too-common details about illicit romances. Consequently, senior royals were displeased with the way that Diana's truth-telling seemed to degrade the monarchy. 
In the biography, "Ma'am Darling: Ninety-Nine Glimpses of Princess Margaret," royal expert, Chris Brown, wrote that Princess Margaret was so aghast at the indiscretion of Diana's BBC interview that she stopped speaking to her. Likewise, Diana's biographer, Andrew Morton, noted that Prince Edward likely "loathed" her for "breach[ing] the royal code of silence" (via Diana: In Pursuit of Love).
Nevertheless, in spite of the firm's overall disdain for The People's Princess, Diana left her marriage to Charles with plenty of royal perks. Thanks to a generous divorce settlement, Diana was able to maintain so many aspects of her former lifestyle that she continued to focus on charity work. That being said, Diana also continued to live like a princess. From her apartments at Kensington Palace to her status as an international style icon, Diana accessed certain benefits of royal life well after her divorce. 
Diana lost her access to Highgrove House but kept an apartment at Kensington Palace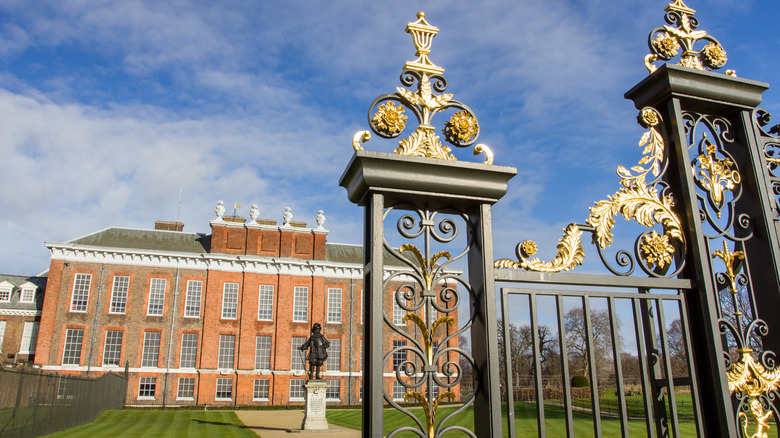 Tobias Arhelger/Shutterstock
After divorcing King Charles III, Princess Diana had to give up a few of her royal perks. One of the things that she had to walk away from was the Highgrove country home, where she had spent many years caring for Prince William and Prince Harry in private. Nevertheless, just because Diana was effectively expelled from one estate doesn't mean that she had to vacate royal grounds entirely. On the contrary, she was permitted to stay at apartments 8 and 9 at Kensington Palace. There, the set-up was fit for a princess — or, at the very least, for the two young princes. 
Photos of Diana's Kensington Palace apartments reveal a magnificent space decorated in classic royal style. Per images published in Hello!, Diana had access to a large living room, which doubled as a home office. She fitted the space with a wooden desk and antique chair, where she sat as she worked. Meanwhile, the princess' dining room was decorated with billowing red curtains and classical pieces of European art. Naturally, the living quarters also included areas that were dedicated to William and Harry's education. The two boys were once photographed sitting at a black piano with a velvet seat in what appeared to be the drawing room. They also had a playroom, although, by the time of Diana's divorce, it's likely that the space had been repurposed. 
She maintained her Princess of Wales title but lost her honorific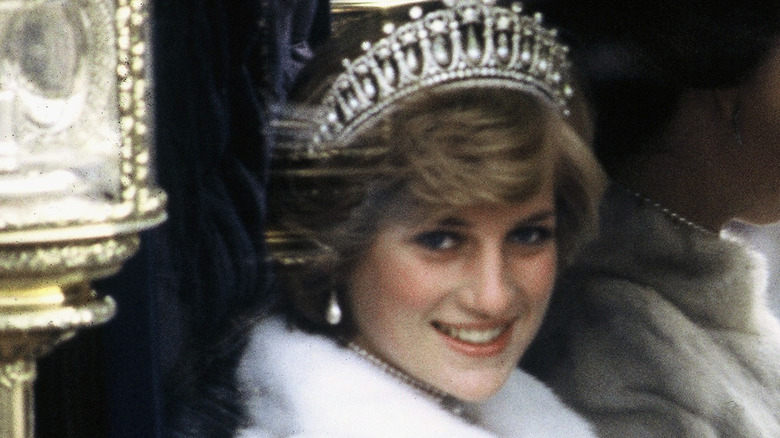 Anwar Hussein/Getty Images
When Princess Diana and King Charles III walked down the aisle on July 29, 1981, the world believed itself to be witnessing a fairy tale wedding. However, in reality, the Wales' relationship was rocky from the start. Only a few years into the marriage, Diana and Charles were said to discuss divorce — with the future king allegedly promising his wife that she wouldn't stop being a princess. As Diana's astrologer, Penny Thornton, revealed in the documentary "How Diana's Life Changed After Her Divorce From Charles" (via YouTube), "He gave her many solemn assurances that she wouldn't lose her status. Even in the very early stages, back in the 80s, when it was aired a couple of times, the possibility of divorce, he was very concerned that she didn't lose any of her privileges."
Perhaps as a result of these promises, Diana maintained her title as the Princess of Wales following her divorce from Charles. That being said, a 1996 piece in the New York Times reported that Diana had been asked to give up the honorific "Her Royal Highness" — at Charles' specific request. According to the report, "Queen Elizabeth II was reported to have been ready to allow Diana to retain the honorific, but Prince Charles was said to be adamant that she give it up."
Diana lost much of her access to Prince William and Prince Harry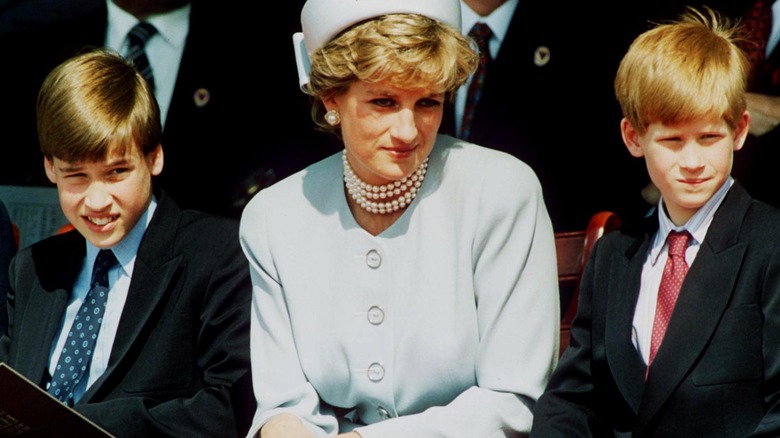 Anwar Hussein/Getty Images
As per the divorce settlement outlined in a 1996 edition of the New York Times, Diana and Charles had shared custody of Prince William and Prince Harry. Unfortunately, however, by the time the couple had separated, both of the boys were enrolled in boarding school. Therefore, in practice, the arrangement meant that William and Harry spent half of their holidays with their father and half with their mother. 
While shared custody is a fairly typical outcome of divorces, some sources indicated that Diana didn't handle it well. Even as early as a year after the couple's 1992 separation, the princess was said to struggle with sharing her parental duties. In 1993, when Charles hired a nanny called Alexandra "Tiggy" Legge-Bourke to care for William and Harry, Diana allegedly grew jealous of her sons' caregiver. According to a 1996 report in the Mirror (via The Free Library), Diana asked the nanny to stand down and refrain from upstaging her role as a mother. Diana allegedly declared, "Miss Legge-Bourke will not spend unnecessary time in the children's rooms. She may not read to them at night, nor supervise their bath time or bedtime."
Princess Diana gained her freedom but never lost her focus on King Charles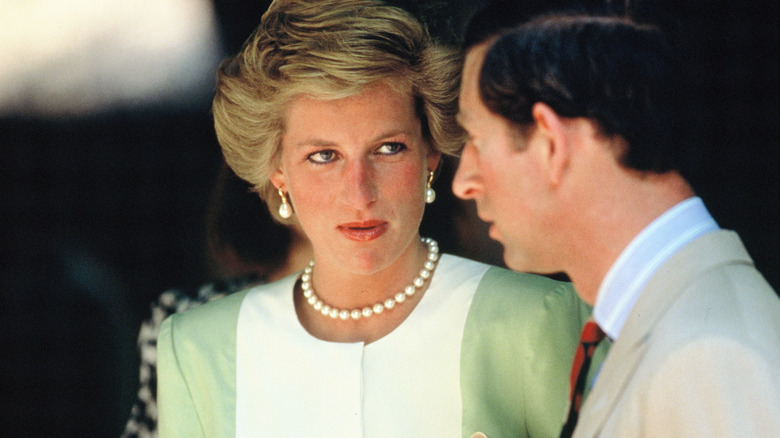 Georges De Keerle/Getty Images
Just because Princess Diana and King Charles III got divorced doesn't mean that Diana fully recovered from the relationship. According to her good friend, Debbie Frank, the princess continued to focus on Charles long after they parted ways. As Frank revealed in the documentary "Princess Diana's Life After Her Divorce From Charles" (via YouTube), "Charles was truly her Prince Charming. He was the one that she was always in reference to, throughout her life, even towards the end. Even any other relationship would always be kind of compared to or contrasted with her relationship with Charles. He was her reference point."
Whether or not one can consider Charles Diana's "Prince Charming," it does seem that the princess focused on him, even after their divorce. In a 2017 article for the Daily Mail, royal correspondent, Richard Kay claimed that, when he spoke to Diana on the night proceeding her death, the princess worried about the media's coverage of Charles and Camilla. Kay wrote, "At the time, the rising profile of Camilla Parker Bowles was a key factor. As Camilla increasingly became a part of Charles's life, Diana felt beleaguered." Apparently, the princess went so far as to ask Kay, "How am I going to deal with it? What happens if they marry? I am fed up being constantly compared to Charles and Camilla."
Diana kept only a few of her charity projects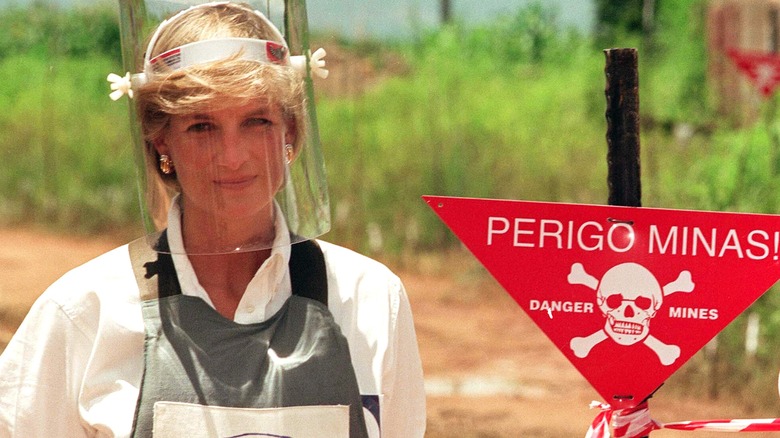 Anwar Hussein Collection/Getty Images
During her time as a working royal, Princess Diana became known for her charity work. And, after divorcing King Charles III, Diana remained determined to make a difference. However, rather than tackle a broad range of different causes, Diana chose to dedicate herself six specific charities: the National AIDs Trust, the Leprosy Mission, Centrepoint, the Royal Marsden Hospital, the English National Ballet, and the Great Ormond Street Hospital for Children. 
While not everyone understood Diana's decision, the princess perhaps felt determined to support a few issues as fully as possible. As explained in the book, "The Diana Chronicles" by investigative journalist, Tina Brown, "Diana had a reason for being explicit. She wanted to avoid situations where she was just a letterhead."  Per Brown's book, the princess even explained her decision to Washington Post Company president, Katharine Graham: "If I'm going to talk on behalf of any cause, I want to go and see the problem for myself and learn about it." 
This attitude was certainly apparent on Diana's 1997 trip to Angola. During this visit, the princess took a stance against landmines and was even photographed walking through a field where these weapons were being removed. Diana's perilous act drew attention to the humanitarian issue of landmines killing innocent civilians. Ultimately, Diana's visit sparked a debate about the military use of these harmful weapons. 
She maintained access to private jets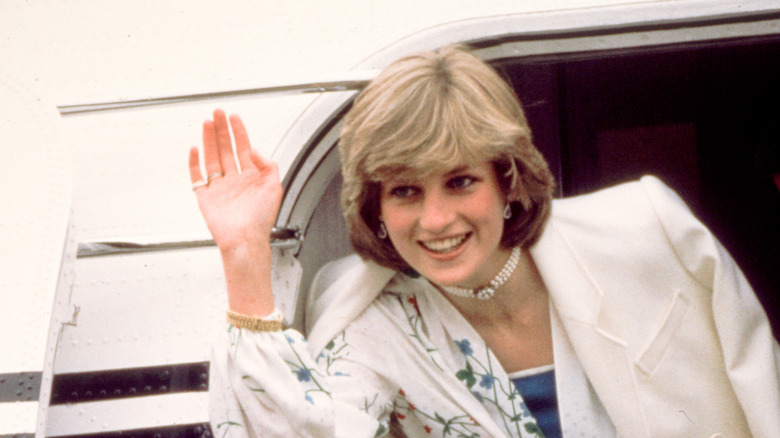 Kypros/Getty Images
Even after divorcing King Charles III, Princess Diana continued to enjoy certain royal perks. One of the biggest luxuries that she was afforded was the right to continue traveling via private jet — just like any other member of the royal family. Interestingly, this perk was actually codified into Charles and Diana's divorce settlement as one of the princess' rights. However, as reported by the New York Times, the agreement stipulated that Diana would only be able to reap the benefits of private air travel so long as she secured the crown's permission prior to her trips. 
Although private jet access may seem purely luxurious, Diana reportedly hoped to use this perk in order to do international charity work. As royal expert, Richard Kay, shared in the documentary, "Diana: Life After Divorce" (via YouTube), "What she wanted, what she has strived to achieve over the last year [since her divorce], is to be allowed to go around the world and represent Britain in the way that she has represented Britain in the past." Unfortunately, as Kay revealed, the British royal family refused to provide financial support for Diana's worldwide projects, leaving the princess to do them "on her own, privately."
She didn't give up the attention of the press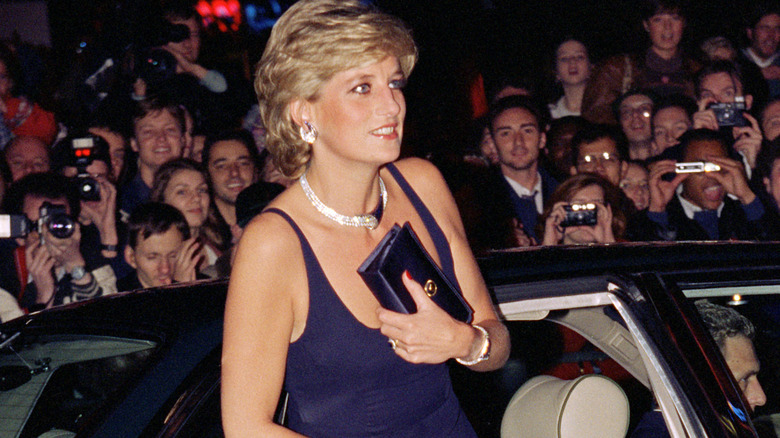 Antony Jones/Getty Images
In many ways, Princess Diana was more than the British royal family bargained for. When she first joined the firm in 1981, senior royals perhaps expected the innocent 19-year-old to make a quiet companion for King Charles III. Speaking in the documentary, "How Diana's Life Changed After Her Divorce From Charles" (via YouTube), royal expert, Ann Morrow, claimed, "They thought she was going to be a sort of biddable creature, wearing slightly frumpy but acceptable clothes and smiling and bowing and accepting flowers. But, really, not doing anything else."
If this is what senior royals really believed, they couldn't have been more wrong. Far from being a wallflower, Diana became the star of the media and one of the most photographed women in the world. As Ann Morrow explained in the documentary (via YouTube), the princess' widespread popularity might have created some problems for the royal family: "Instead, of course, she was this stunning success, and it was very difficult for Prince Charles ... I think he regretted it terribly."
When Diana and Charles divorced, however, the princess didn't lose her celebrity status. She continued to draw non-stop press attention until her death. Chatting with USA Today, royal biographer, Sally Bedell Smith, remembered the sensationalist tabloid coverage of Diana's romance with Dodi Al-Fayed: "There had been a crescendo of salacious headlines in the weeks before she died, three weeks of the wildest tabloid coverage ever seen ... turning on Diana."
She continued her friendships in the media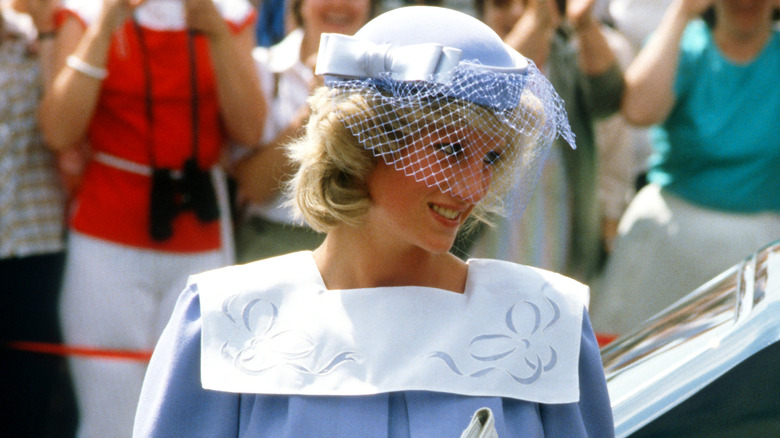 Anwar Hussein/Getty Images
It's hardly astounding that Princess Diana continued to appear in the tabloids following her divorce. After all, Diana had a complicated relationship with the media. On one hand, she partially blamed the press for her failed relationship, stating in her famous 1995 BBC interview (via PBS), "There were three of us in this marriage, and the pressure of the media was another factor, so the two together were very difficult." At the same time, however, Diana fostered close personal relationships with editors and reports during her marriage — and used these connections to encourage favorable media coverage. As royal commentator, Richard Fitzwilliams, told USA Today, "The relationship between Diana and the press was famously and fatefully symbiotic."
Fascinatingly, Diana's friendships with members of the press did not wane following her divorce. If anything, these connections only grew stronger. According to a 1997 piece in The Spectator (via PBS), the princess worked overtime to publicize her perspective of the breakup: "All the evidence suggests that she understood the tabloids only too well, and following her separation and her subsequent divorce from Prince Charles, she had worked diligently to bring them on her side."
Indeed on the night before her death, Diana placed a phone call to Richard Kay of the Daily Mail. In a piece for that very outlet, Kay revealed that Diana spent her last hours critiquing her former rival, Camilla Parker-Bowles, allegedly stating, "She's really not a nice woman."
Diana lost most of her royal staff, keeping on only a few employees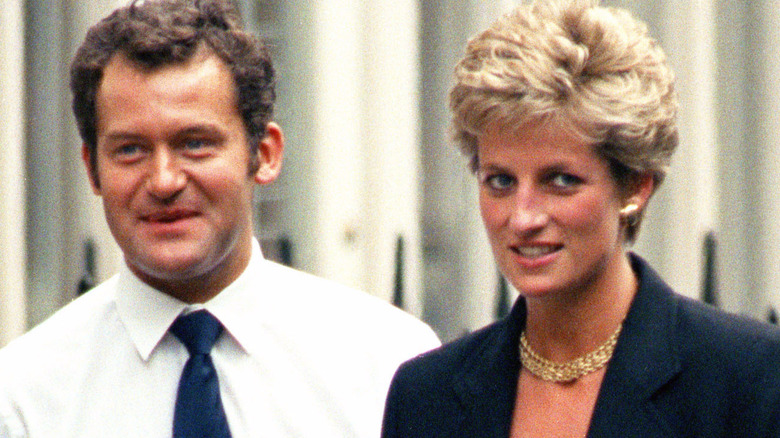 Antony Jones/Getty Images
After formalizing her separation from King Charles III, Princess Diana still kept on some of her Kensington Palace Staff. Even so, the princess was said to limit her employees to just a few key people. According to investigative journalist, Tina Brown's, book, "The Diana Chronicles," this was all a part of Diana's effort to depart the life that she had once led with Charles. Brown wrote, "Divestment was the name of the game, in her life and in her looks. The downsizing started with her Kensington Palace staff, which she reduced to cleaner, cook, and dresser."
One of the essential people that Diana kept on, however, was her butler, Paul Burrell. Per Brown's account, Burrell took on a multi-faceted role in Diana's life, "combining the roles of P.A., man Friday, driver, delivery boy, confidant, and crying towel." Interestingly, it seems, Burrell continued to take Diana's side of the divorce years after her death. When he spoke in the documentary "Serving the Royals: Inside the Firm," Burrell made headlines with his unflattering account of working for Charles. The butler alleged that Charles couldn't do anything for himself, claiming, "On one occasion, he rang me from his library and he said, 'Oh Paul, a letter from the Queen seems to have fallen into my wastepaper bin. Would you pick it out?'"
She maintained the right to use royal jewels, but she didn't own them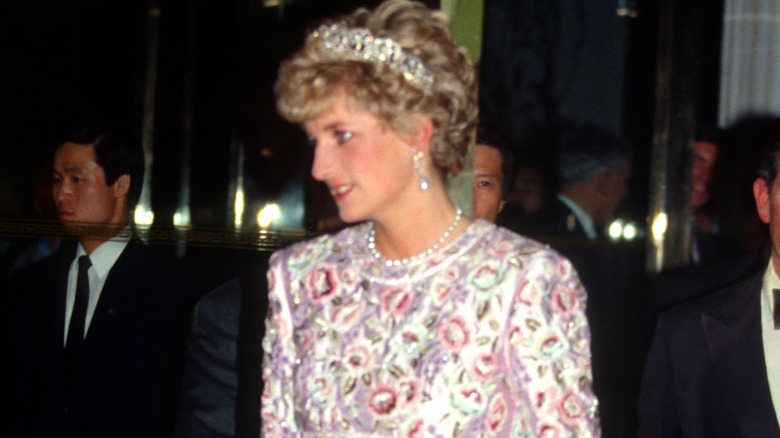 Anwar Hussein/Getty Images
Although Princess Diana relinquished her right to become the queen of England, she didn't have to give up the jewelry that she had received as Princess of Wales. According to a 1996 report by the LA Times, Diana's divorce settlement permitted her to use these royal heirlooms for the rest of her life. Even so, this allowance came with a caveat — Diana would never be allowed to sell any of these pieces. Instead, the princess could merely use them until her death, after which her jewelry would be inherited by Prince William and Prince Harry. 
One key example of this was Diana's iconic sapphire engagement ring. The princess was allowed to retain possession of the item up until her 1997 death when it was passed down to Prince Harry. Compellingly, Harry gifted this gorgeous heirloom to his brother, Prince William, in the days leading up to the latter's engagement to Princess Catherine. These days, you can spot the enormous sapphire gemstone glittering on Catherine's finger. 
She kept a great deal of money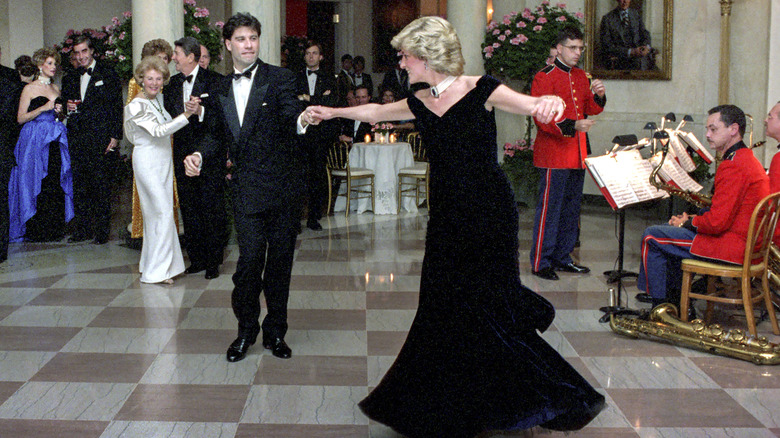 Handout/Getty Images
Just because Princess Diana could not profit from her royal jewelry collection doesn't mean that she didn't have money after her divorce. On the contrary, Diana negotiated a generous divorce settlement. As reported by the New York Times in 1996, Diana received an initial payout of approximately $22.5 million in addition to a yearly stipend of $600,000 "to maintain her private office." 
Leading up to the divorce, Diana was also said to have done a good deal of damage to King Charles III's wallet. Per the biography, "The Diana Chronicles," by royal researcher, Tina Brown, Diana used her spending to show Charles just how displeased she was at the outcome of their marriage. Brown wrote that Diana once told her infamous butler, Paul Burrell, "Make a list of everything we need ... Let's spend a bit more of his money while we can." She also apparently crushed an "entire set of Prince of Wales china ... with a hammer." 
Of course, as a member of the Spencer family, Diana had access to her own resources. As royal expert, Ann Morrow, explained in the documentary, "How Diana's Life Changed After Charles" (via YouTube), the princess was in a privileged position well before she met Charles: "You know, possessions and houses might not be as important to [Diana] because she's quite rich in her own right." In that sense, Morrow believed that Diana "has got all the things she wants, in a way." 
Diana never lost her status as a style icon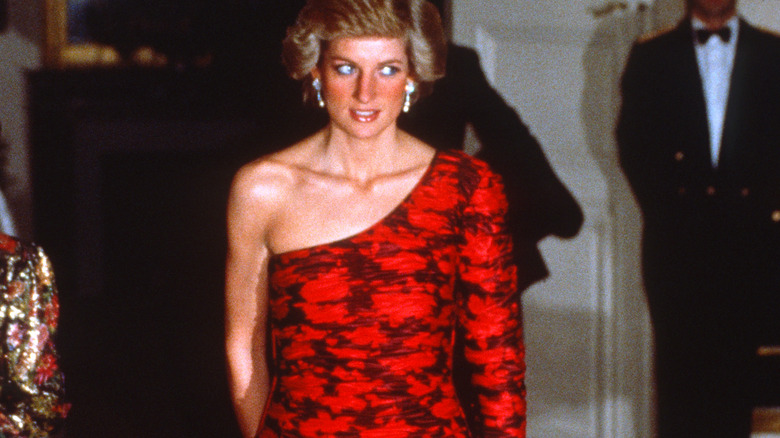 Anwar Hussein/Getty Images
Throughout her heyday in the 1980s and 90s, Princess Diana was an undisputed fashion icon. Even when she wore simple pieces — like oversized sweatshirts with biker shorts — people across the world imitated her style. Interestingly, Diana's divorce from King Charles III did nothing to detract from her trendsetter status; if anything, her new single life allowed her more fashion freedom than ever before. As Tina Brown wrote in "The Diana Chronicles," the newly-divorced Diana was allowed to experiment with looks that had been off-limits during her days at the palace. Per the biography, "Her new evening dresses were minimalist and sexy, a look that had been taboo when she was an in-house royal."
And, perhaps more importantly, the fashion world received this newly-revamped Diana with open arms. In July 1997, just weeks before her tragic death, Diana appeared on the cover of Vanity Fair. The story on the inner fold was titled "Diana Reborn" and focused on the princess' evolution following her exit from the royal family. According to the piece, part of Diana's draw was her ever-changing style: "Diana's appeal as a postmodern icon resides solely in her ability to renew and transform herself— and, by racing just slightly ahead of our imagination, to hold us in constant thrall." Of course, Diana's untimely death would prevent the world from discovering what her next iteration would have looked like.