The Best Ways To Answer The 'Perfect First Date' Bumble Prompt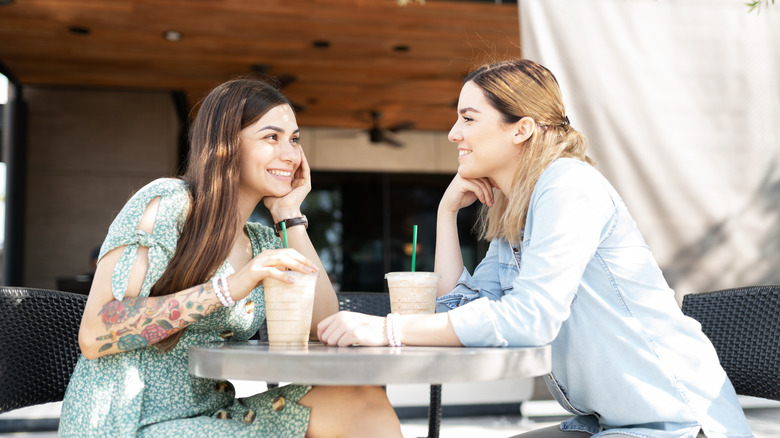 antoniodiaz/Shutterstock
When it comes to opening yourself up to new experiences in your love life, that could mean reevaluating things with your current partner, getting back on dating apps, or splurging on new products for solo play. The dating app market is seemingly more competitive than ever, with new niche apps springing up left and right. Choosing the dating app that's right for you may depend entirely on if you prefer hookups, are looking for a long-term relationship, or seeking out more creative platforms for connection. 
Bumble's rules are simple: it was designed to put the power in the hands of those who identify as women, primarily to level out an imbalance in dating apps — and in the world — in favor of those who identify as men. Bumble also espouses a philosophy that online dating can be respectful and kind, making it a solid place to put yourself out there in a vulnerable way. Whether you're on Bumble to find a good match or using Bumble BFF, your first meet-up sets the tone for any kind of relationship. So why not nail the "first date" prompt and increase the chances of an enjoyable hangout for all? 
Don't be too basic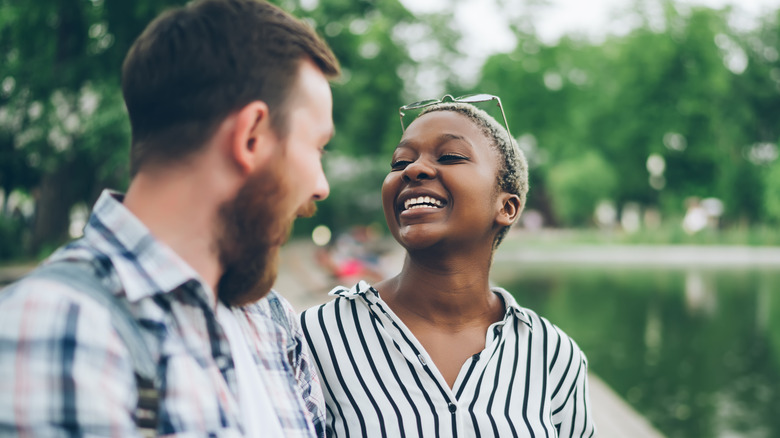 GaudiLab/Shutterstock
Just like the rest of your profile, your first date suggestions should reflect who you are hoping to be in a relationship. What you actually like to do for fun should take priority over ideas that feel like the cool thing to do. For example, instead of asking your date out for drinks just because you thought of it first, you might reflect on what you'd actually like to experience with a new person. Is there a free event in your city you haven't been to yet? Outdoor movies, community festivals, and concerts have the makings for a memorable night where you can make your own rules. 
Psychologist Monica Johnson told Bumble, "You don't necessarily have to reinvent the wheel on the first date. I usually like for people to have a rotation of things that they feel comfortable doing on a first date so that things don't feel stale." It may also be fun to say that you're open to spontaneity and taking your date to multiple locations, like a bookstore after grabbing coffee or checking out a local art gallery.
Prioritize your date's comfort and interests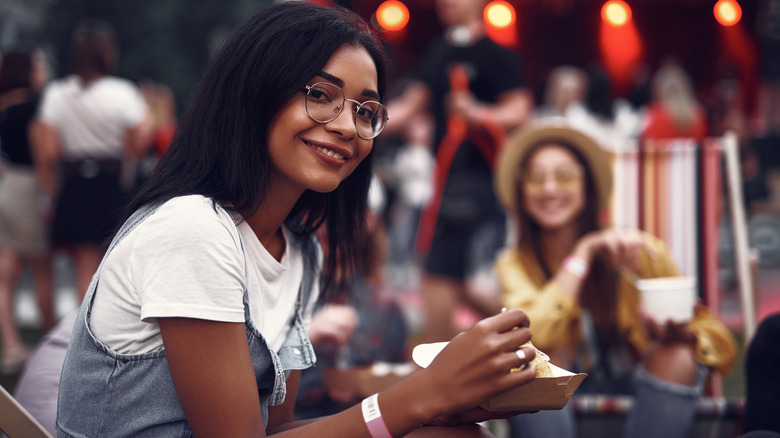 Yakobchukolena/Getty Images
Besides showing up as your whole self on your profile, one of the best qualities you can communicate in advance of a first date — or before even matching on Bumble — is that you are considerate and care about the other person's experience as much as your own. Suggest a BYOB picnic in the "first date" prompt, while promising to always bring a nice blanket to sit on and an extra sweatshirt in case they get cold.
Writing up shared interests like rock climbing, painting, or taking scenic walks may end up being an easy point of connection once you get talking, whoever messages first. And sharing some of your favorite date ideas using Bumble's "perfect date" prompt can also make it easier for your partner to brainstorm with you once you've started chatting. Sexologist Gigi Engle shared with Bumble, "Have two date ideas that make you feel safe and ready to go in your hip pocket." She explained, "The person that you're chatting with may be excited about meeting you, but may not know where to go either." Ultimately, the best way to answer the "first date" prompt is to lead with your passions while communicating your enthusiasm and flexibility to your potential dates.