The Best DIY Dry Shampoo Ingredient If You Have Blond Hair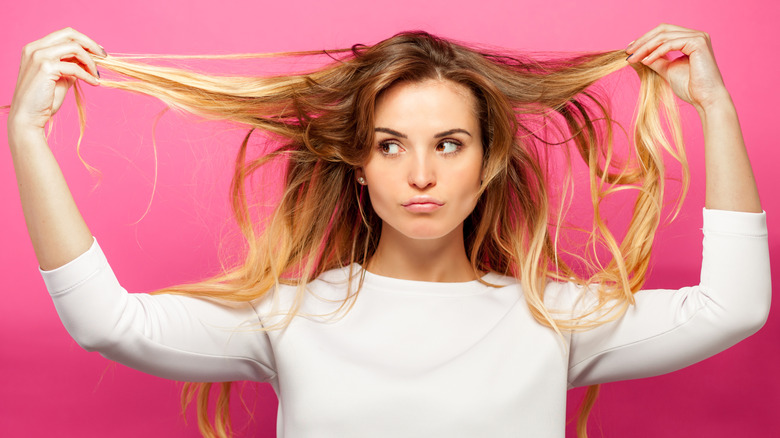 Leszek Glasner/Shutterstock
Dry shampoo is a hair product everyone should have in their arsenal. Not only does it help us extend our hair wash days, dry shampoo can also be used in other ways, such as calming frizzy hair without that crisp feeling that hairspray often brings. Unfortunately, news in the last year has put a damper on our love for dry shampoo. According to CNet, a lot of dry shampoos contain ingredients that can cause cancer, leaving many of us scouring our beauty cabinets and hesitantly throwing out our favorite products.
And while not all products contain those ingredients and many over-the-counter dry shampoos are still safe to use, the recall may have you wondering what other alternatives there are to keep your hair fresh and clean between washes. Luckily, the answer is quite simple, and you may be able to make a DIY product from items you already have in your home. But not all DIY dry shampoos are created equally — if you have blond hair, consider using this specific ingredient when making your own.
Making a DIY dry shampoo for blond hair
There are many reasons you may turn to DIY for your beauty products. Household items often work as well as store-bought products, without the added chemicals. But the trick is knowing how to use them. Dry shampoo works by absorbing oil and grease, something that natural products can do just as well. According to Paul Cucinello, celebrity stylist and owner of Cucinello Studio in New York City, you can use things like clay or arrowroot powder on your hair to get the same effect as your dry shampoo (via Good Housekeeping). But be careful, as not all ingredients are created equally. Cocoa powder or charcoal are great options for those with darker hair, but if you are blond, you're going to want to steer clear of those, as they won't blend into your hair.
Instead, blonds should consider using baking soda. But before you run to your pantry and start sprinkling it on your scalp, you'll need at least one other ingredient to mix in. You can mix it with rice flour, cornstarch, Kaolin clay, or even finely ground oats. If your roots are a bit darker, you can mix it with a bit of cocoa powder, adding more or less depending on how dark your roots are. If you have lighter roots, you can add more baking soda or mix with just cornstarch to keep the color consistent.
How to use DIY dry shampoo the right way
Once you have your ideal mixture down, you may be confused as to how, exactly, you get it on your hair without an aerosol spray can. Erin Hendrickson, RDN, recommends starting with a small amount of product and using a makeup brush to brush it lightly on your roots (via No Waste Nutrition). She also suggests putting your DIY mixture into a spice container and sprinkling it on your hair as you would a seasoning. If you don't have these things on hand, you can also use your palms, just beware of the mess that may ensue this way. After it sits for a bit, brush through your hair and massage it into your scalp to work the product in and get long-lasting results.
Beyond DIY-ing your dry shampoo, you can also cut down on grease in more natural ways. Cucinello says to invest in a boar bristle brush and use it every night, running it through your scalp and entire head to exfoliate and protect natural oils that keep hair looking healthy longer. He also recommends facial blotters to use for a quick fix if you aren't able to get your hands on baking powder or cornstarch.