All The Soap Opera Characters Played By The Bold And The Beautiful's Ted King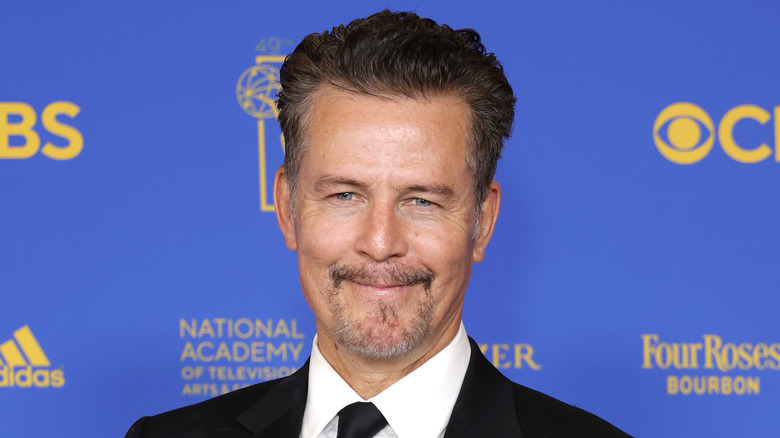 Frazer Harrison/Getty Images
Versatile actor Ted King has become a huge fan favorite over the years. He studied directing and became a film editor before getting bit by the acting bug. One of his first roles was uncredited as Death in the cult classic made-for-TV horror film "The Midnight Hour" in 1985. His other nighttime credits include the lead as Officer Jack Logan in the series "Timecop," which was a spin-off of the Jean Claude Van Damme film of the same name. He also became wildly popular as Inspector Andy Trudeau on the hit series "Charmed" in 1998. Beyond TV, King is also the co-founder of the off-Broadway troupe, the Portal Theater Company, in New York City.
King found himself in the daytime television world when he began playing Ron Nettles on the NBC sudser "Another World" in 1993. After that short stint, he moved over to ABC's "Loving" as Danny Roberts in 1997. The show aired in the afternoon but found fierce competition with the growing number of talk and reality shows. When "Loving" became in danger of cancellation, the network decided to re-invent the show, giving it a new title, "The City." The series took place in the same universe as "General Hospital," "All My Children," and "One Life to Live," and King's character also made the transition, remaining until 1997. Unfortunately, Danny had been in love with Molly Malone (Melissa Dye), who turned out to be a serial killer called The Masquerader.
King had double the fun on General Hospital
In 2002, Ted King checked into "General Hospital" playing arms dealer Luis Ramon Alcazar. Since mafia boss Sonny Corinthos (Maurice Benard) had not allowed arms to pass through Port Charles, he and Alcazar became at odds. Although Brenda Barrett (Vanessa Marcil) was believed dead after plummeting off a cliff in a car in 1998, Alcazar had found her, saving her life. He wanted to get rid of the two men in Brenda's life: Sonny and corporate raider Jasper "Jax" Jacks (Ingo Rademacher). Alcazar tried killing both men several times, making quite a few enemies along the way. In November of 2002, he was tossed off the balcony of the 14th floor of the Port Charles Hotel to his death by Alexis Davis (Nancy Lee Grahn), who was pretending to have dissociative identity disorder at the time.
In June of 2003, King returned to the show as Luis Alcazar's twin brother, mobster Lorenzo Alcazar, who had flooded the city streets with illegal drugs and wanted revenge for his brother's death. One of Sonny's other policies was no drugs allowed, so he and this new Alcazar went toe to toe. Alcazar even resorted to kidnapping Sonny's ex-wife Carly Corinthos (Laura Wright) and later his sister Courtney Matthews (Alicia Leigh Willis). Ultimately, Skye Chandler Quartermaine (Robin Christopher) set things up so that Sonny's enforcer, Jason Morgan (Steve Burton), could slip into the villain's apartment unnoticed and put two bullets in Alcazar's head in 2007.
King went from Llanview to Los Angeles
In 2012, Ted King played Tomas Delgado on "One Life to Live," the brother of Téa Delgado Manning (Florencia Lozano), who became a painter in Paris, France. He once found a photograph of Blair Cramer (Kassie DePaiva) and used it to create a portrait of her. Eventually, Blair saw the painting and tracked Tomas down. A former CIA agent, Tomas was called back into service just as "General Hospital's" Carly Corinthos and Skye Chandler Quartermaine came to Llanview to find him because he looked like Lorenzo Alcazar. Tomas and Blair were almost married, but a CIA agent informed her that Tomas would be away for some time, and he was never seen again.
On "The Bold and the Beautiful," John "Finn" Finnegan (Tanner Novlan) married Steffy Forrester (Jacqueline MacInnes Wood) in 2021. Finn's adopted father, Jack Finnegan, showed up for the nuptials, played by Ted King. Finn's mother was Li Finnegan (Naomi Matsuda), and she had no idea that years prior, Jack had an affair with Sheila Carter (Kimberlin Brown), and the result was Finn. Jack pretended to adopt Finn along with Li and was horrified when Sheila revealed to Finn that she was his biological mother. She tried to use their affair to blackmail Jack, but he eventually came clean and admitted he was really Finn's bio daddy. When Finn was presumed dead because Sheila shot him, Jack paid his respects to Steffy and hasn't been seen since.