What Is Camellia Seed Oil And How Can Your Skincare Routine Benefit From It?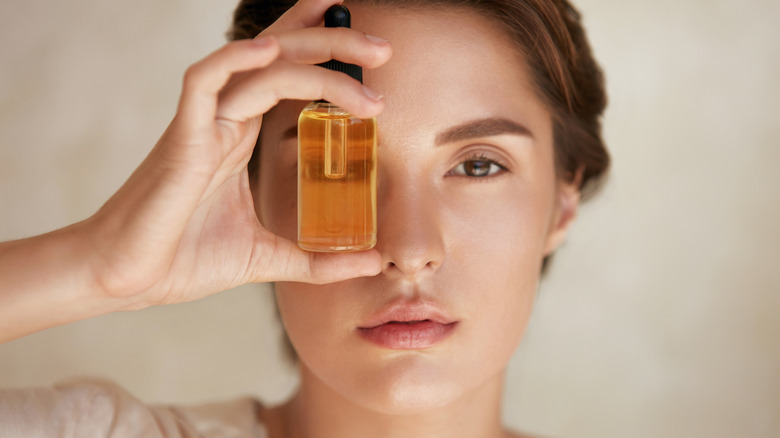 puhhha/Shutterstock
With a fast-growing industry such as skincare, it can be confusing trying to understand what products are right for you. Innovations are continually being made with all sorts of new ingredients, increasing the number of things that are coming in contact with our skin. While these new industry innovations have helped people make strides in their skincare journey, it's important to understand what's found in effective skincare products.
Gaining a better understanding of what goes into your products and how your skin reacts to specific ingredients allows you to choose the right tools to achieve the best skin of your life. To start out, knowing the benefits of rudimentary ingredients will help you be more choosy when curating a routine. Camellia seed oil, a common ingredient in many skin, hair, and body products, is known to be an excellent hydrator and emollient.
What is camellia seed oil?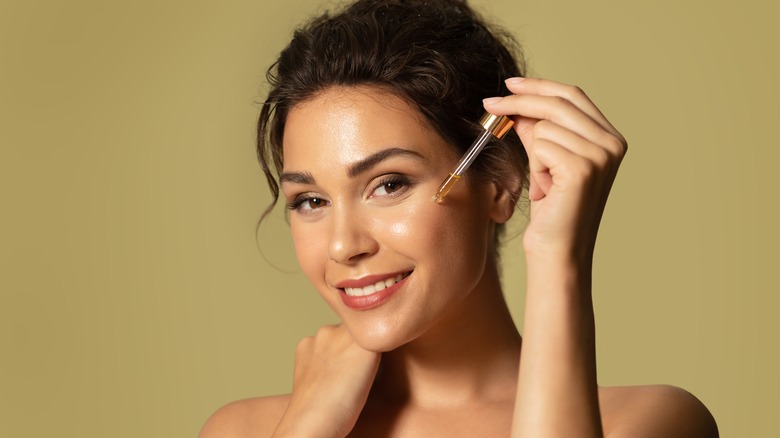 popcorner/Shutterstock
Camellia seed oil is extracted from seeds found in the Camellia fruit, which is native to China and Japan. The oil is typically cold-pressed from the seeds and has a light, nutty scent and golden-brown color. Used for hundreds of years, the vitamin is rich in vitamins and minerals, such as vitamins A, C, D, and E, as well as squalene. As an emollient, camellia seed oil staves off dehydration in the skin. 
Thanks to the properties found in camellia seed oil, Oleo Botanicals notes that it has various benefits, such as barrier protection, fighting free radicals, fading hyperpigmentation, and reducing signs of aging. Like many facial oils that are safe for acne-prone skin, camellia seed oil is non-comedogenic, so it's unlikely to cause any further breakouts. It's also lightweight, sinking easily into the skin to preserve moisture.
If you'd rather use camellia seed oil in a facial oil instead of another ingredient in a cleanser or moisturizer, it should be the last step in your skincare routine at night. If you prefer to wear your face oil during the day as well, use it a few minutes after a chemical sunscreen. If you're using a mineral sunscreen, apply your facial oil beforehand.
Shop the best products with camellia seed oil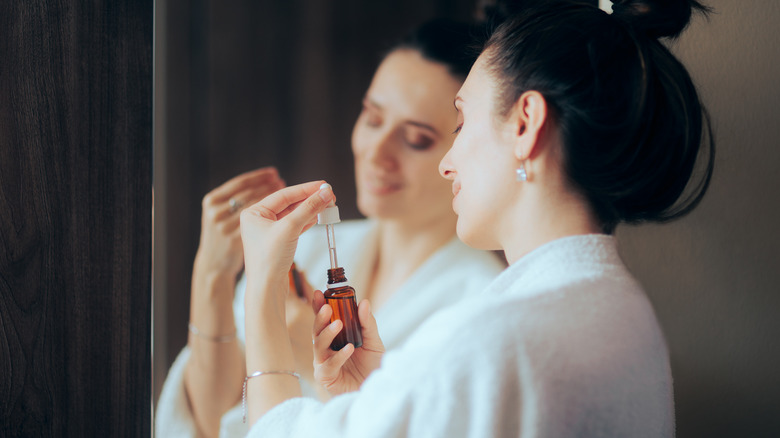 Nicoletaionescu/Getty Images
Created for normal and dry sensitive skin, the Aesop Camellia Nut Facial Hydrating Cream soothes dry, irritated skin, delivering hydration via rosemary leaf, chamomile bud, sandalwood, and lavender oil. Although it's deeply moisturizing, it gives a slightly matte finish, departing a light floral, woody scent.
A two-in-one makeup remover and cleanser, the Tatcha Camellia Cleansing Oil is great for all skin types. Removing sunscreen and makeup easily, it also targets fine lines and wrinkles, promoting even texture with each cleanse. Alongside Japanese camellia oil, it contains Hadasei-3, a rich blend of rice, green tea, and algae that renews skin cells and hydrates, as well.
Made with a blend of camellia seed oil and sea buckthorn oil, the Good Molecules Ultra-Hydrating Facial Oil gives the face a radiant and dewy glow while deeply hydrating parched skin. Created for normal to dry skin, it protects skin from free radical damage while nourishing it, leaving your face feeling smooth and greasy-free.