Tips To Make The Most Relaxing Bath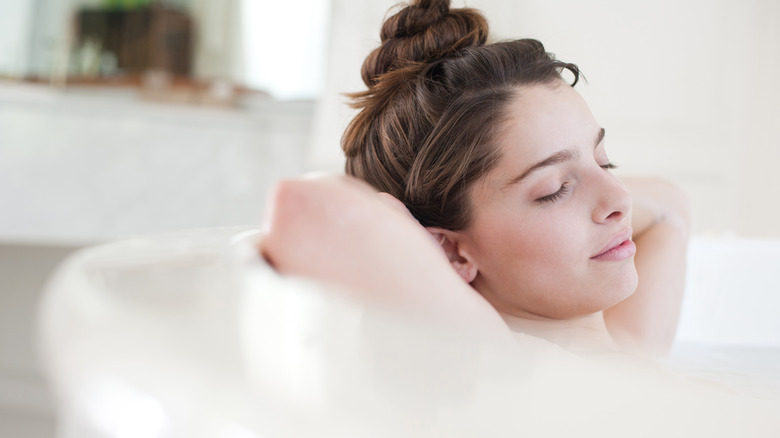 Sam Edwards/Getty Images
After a long hard day at the office, a tough workout, or a stressful family event, there's nothing quite like a relaxing bath. Soaking in the tub is the perfect way to unwind, loosen your muscles, and take a break from the hectic world outside your bathroom. In fact, a 2018 study even found that running a bath as part of your routine can help improve both physical and mental health by reducing stress and muscle tension."Calming, mindful actions such as taking a bath bring the body's parasympathetic nervous system on board; as we wind down, we feel calm and stress-free," clinical psychologist Carla Manly explained to Verywell Mind. "As we relax in a bath, the levels of stress neurochemicals such as adrenaline and cortisol subside, and we experience an increase in soothing, feel-good neurochemicals such as serotonin."
But even though we all love the idea of a luxurious bath, they sometimes feel a little disappointing — especially if you don't have a few extra add-ons to take your bath to the next level.
Today, let's look at some must-try tips that will transform your bathing experience for the better. From salts to candles to bath accessories, these tips are sure to make every bath feel more relaxing than ever.
Mineral salts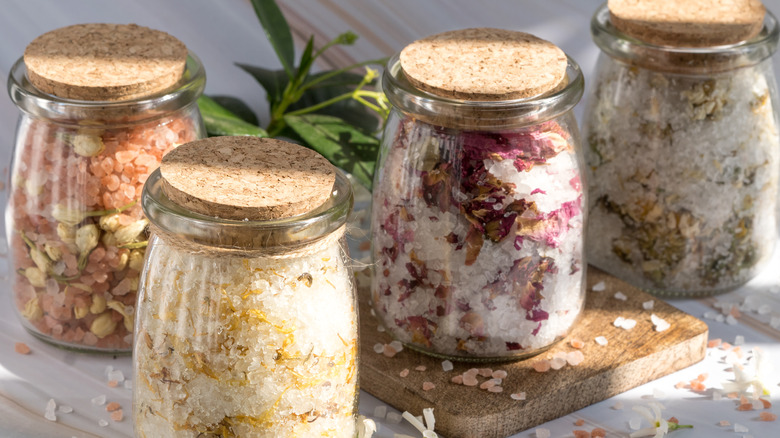 Hera Vibes/Getty Images
Tossing a few mineral salts into the tub is a great way to make your bath a little more relaxing. Soaking in bath salts, such as Epsom salts, is thought to help relax both the body and the mind. "Salt is full of minerals that help to relax the muscles and release tension," Brooke Skinner, founder of wellness company The Ritual, told Elle. "This deeply relaxing form of bathing promotes a deeper sleep." She added that salts also help improve the body's circulation and make you feel cleaner. "The combination of these releases and support help us to feel like a weight has been lifted off one's shoulders and can simply let go and allow rest to begin," she said.
In order to let your Epsom salts dissolve fully, let the salts settle in the bath for 12 to 20 minutes before you get into the tub. Then, take a deep breath and relax.
Bath soak, oils, and bubbles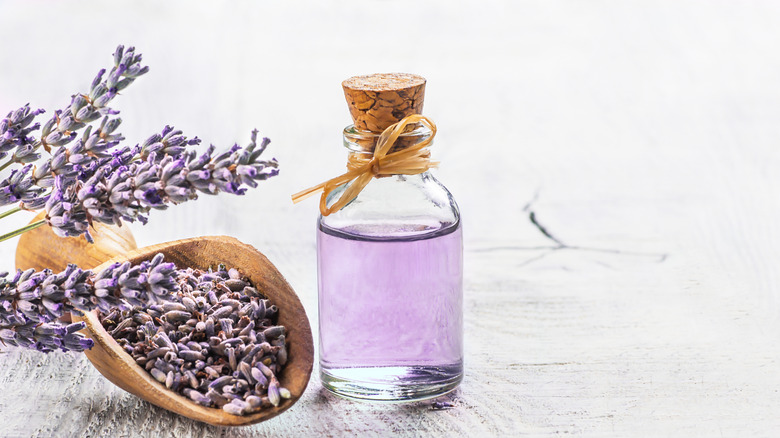 Halil ibrahim mescioglu/Shutterstock
There are numerous bath add-ons that you can use to make your bath a little more relaxing — and maybe a little more fun, too. Soaks, oils, bath bombs, and bubbles will improve the smell, look, and feel of your bath, making it feel more inviting and, by extension, a little more soothing.
There are also scientifically proven benefits, too. For instance, a 2008 study found that using lavender bath oil reduced stress in infants, while a 2019 study found that taking a bubble bath an hour and a half before heading to bed could improve insomnia and improve sleep quality. At the very least, it should relax you.
In order to get the most out of your bath add-ons, be careful about how you add them. It's best to pour your bubble bath mixture into the tub slowly, right under the water to create the most bubbles.
Scented candles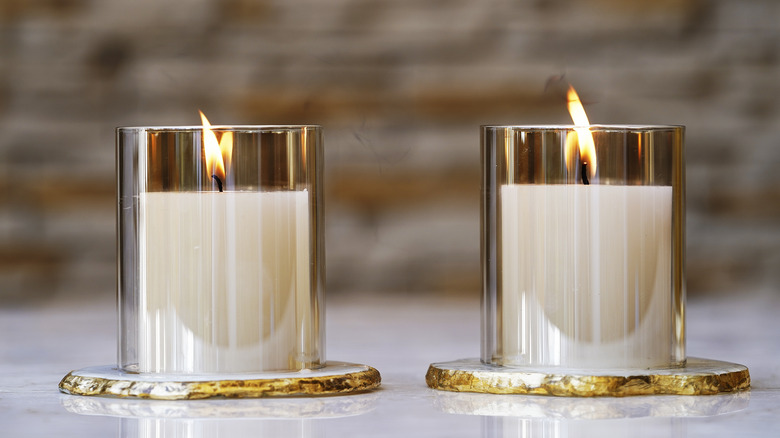 Geckophotos/Getty Images
Creating a relaxing bath isn't just about what goes into the tub — it's also about the atmosphere you create around you. So, turn down the lights and create a low-lit glow with an array of candles around the bath. To make the space even more relaxing, opt for scented candles. A 2013 study found that aromatherapy can have powerful, fast-acting psychological effects, such as reducing anxiety and improving sleep. As psychotherapist Chryssa Chalkia said, "The smell of a scented candle stimulates the part of your brain which is connected to memory and mood. From boosting energy through to relieving stress or enhancing mental clarity, the healing properties of a lit scented candle can deliver psychological effects."
According to perfumer Ben Janousek, who spoke to the Daily Mail, some relaxing scents to try include sea breeze, ylang-ylang, and citrus. Still, whatever scent you find most appealing should do the trick.
Bath pillow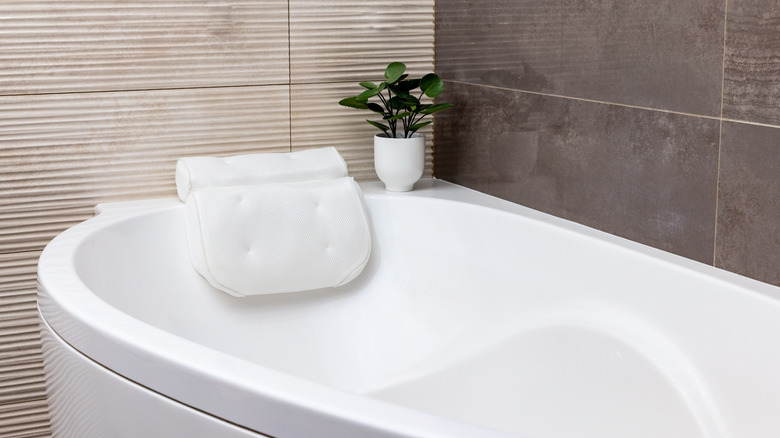 Aguus/Getty Images
There's nothing worse than stepping into your tub only to find yourself struggling to get comfortable as you lie against the cold, hard porcelain surface of your bathtub. To make sure you have the perfect conditions for relaxation, invest in a comfy bath pillow. Numerous brands sell pillows that use suction cups to stick to the edge of your tub to ensure the pillow doesn't move around. That way, you can sink into your bath, close your eyes, and really let it all go.
There are also other benefits of using bath pillows. There are a number of different bath pillow designs that each have their own unique benefits. Some are great for improving your back and neck posture, while others are made with soft, luxurious fabrics. There are even some full-body path pillows that will transform your tub into a soft bed. A little bit of added comfort goes a long way.
Bamboo bath caddy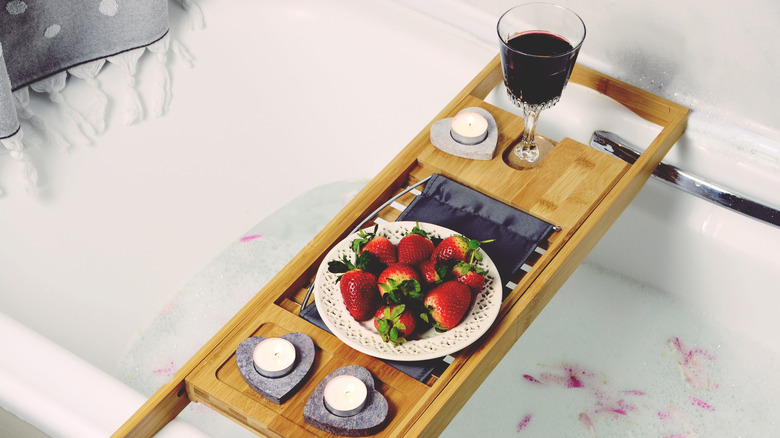 topotishka/Shutterstock
Another great bathtub accessory to try is a bath caddy. A bath caddy sits across your tub over your body, so that you can place everything you need within arm's reach. There are also designs that sit on the outside edge of the tub, if you prefer to have a bit more space in your tub. A bath caddy is a perfect place to keep a drink, a book, a candle, or even a tablet. Some designs even have stands and supports to keep your book upright, so you don't have to use your hands for anything except turning the pages.
By keeping everything close by, you'll be able to relax uninterrupted in the tub without having to awkwardly reach to the floor below for your book, your phone, or your face cloth. Hopefully, it will mean you're able to spend even more time soaking in the bath. After all, ultimate relaxation comes with convenience!
Relaxing music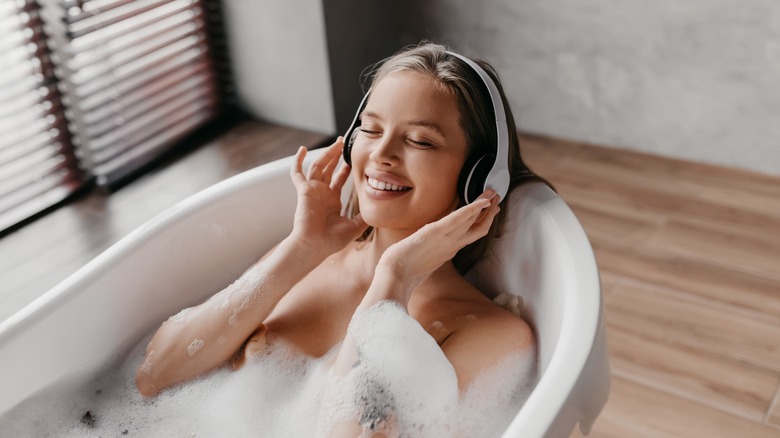 Prostock-studio/Shutterstock
Finally, to complete your relaxing atmosphere, put on a soothing playlist. Along with the health benefits of salts and calming qualities of scents, gentle music will help signal to your body that it's time to let everything go and just relax. In fact, according to a 2013 study, relaxing music has been shown to calm the nervous system and reduce stress.
Opt for slow, gentle songs that gradually become a little slower. As Lyz Cooper, founder of the British Academy of Sound Therapy, told Forbes, the most relaxing music "contains a sustaining rhythm that starts at 60 beats per minute and gradually slows to around 50." This has been shown to slowly reduce the heartbeat. "It takes about five minutes for this process, known as entrainment, to occur," she said. It's also encouraged that you avoid listening to music you know, or music with a repetitive refrain, as the brain can become overactive as it tries to anticipate what's coming next in the song.