Ingredients You Should Always Look For In Your Lip Balm To Heal Uncomfortable, Dry Lips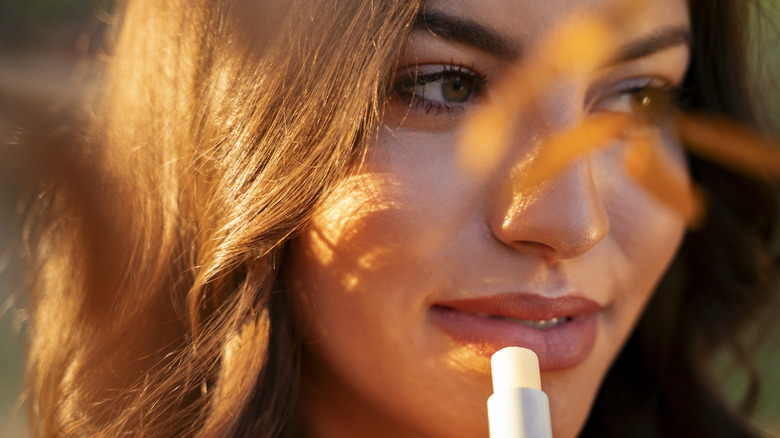 Phoenixns/Getty Images
We may receive a commission on purchases made from links.
Having dry, cracked lips is an extremely irritating experience. Apart from the unappealing look of scaly lips, the discomfort of a dehydrated, peeing mouth can often feel like torture. When it comes to getting rid of dry lips, an exfoliating product typically comes to mind. They're great for sloughing away the dead skin cells that have piled up. However, whipping out your favorite lip scrub and rubbing it on is a bit impractical for when you're not at home.
Yet, it's not the first lip balm we find in the drugstore that is right for your lips. Some lip balms can actually dry your lips out even more, making you more reliant on the product: When they lack emollients, or hydrating ingredients, they exacerbate the issue. The key to solving your cracked lips is finding lip products with ingredients that will actually keep your lips moisturized for longer.
Before starting the hunt for the perfect hydrating lip balm, study up on the ingredients that can dry out your lips. According to the Cleveland Clinic, ingredients such as phenol, menthol, and salicylic acid can irritate the lips, further causing dryness. You should also avoid lip balms with heavy artificial fragrances, as they too can act as irritants.
What to use on dry, cracked lips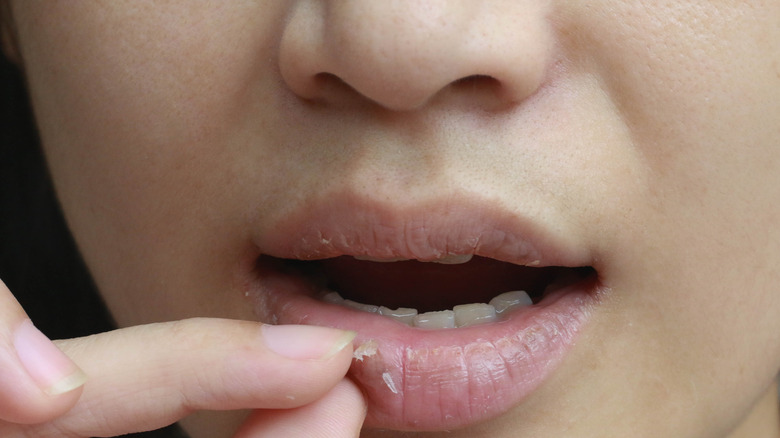 Wonderplay/Shutterstock
The key to finding a hydrating lip balm is looking for ingredients that actually moisturize the skin, not just ingredients that trap moisture in, according to the American Academy of Dermatology Association. Things like ceramides, castor oil, shea and cocoa butter, and hemp seed oil focus on healing chapped lips, providing relief for them. Focus on getting thicker lip ointments that can sink into the skin as opposed to waxy lip balms – these will be much more effective at remedying the dryness, per NBCNews.
A popular beauty myth is that petroleum jelly works as a great lip balm, but it only functions properly if you apply a hydrator first. As an occlusive, petroleum jelly can only act as a barrier that keeps moisture in – it can't provide it. When you slug your face at night, would you put Vaseline straight on, without the presence of a moisturizer? To maximize the benefits of a hydrating lip balm, you can try lip slugging. Apply petroleum jelly on top of a lip ointment to create a barrier that traps moisture in.
Another key to soothing dry, cracked lips is to use lip balms with SPF. Aside from possibly causing skin cancer, UV rays have the ability to dry out the skin. Applying lip balms with an SPF of 30 or higher will prevent moisture loss when out in the sun.
Shop the best hydrating lip balms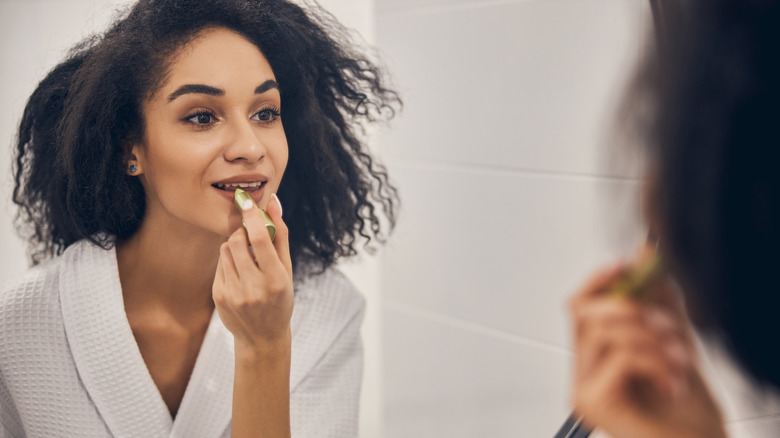 Yacobchuk/Getty Images
A drugstore staple, the Aquaphor Lip Repair combines the occlusive power of petroleum jelly with moisturizing ingredients. Formulated with shea butter, vitamins C and E, and chamomile essence, this lip balm hydrates lips deeply, all while forming a protective barrier. Another drugstore favorite, the Sun Bum SPF 30 Lip Balm provides broad-spectrum protection from UV rays. It's made with aloe vera and vitamin E, which help to soothe dehydrated lips.
The Biossance Squalane + Rose Vegan Lip Balm is a fragrance-free lip balm that replenishes lips with a hydrating combination of hyaluronic acid, squalane, ceramides, and algae. This unique formulation prevents the lips from drying up while also increasing the plumpness of your lips.
If you like lip balms that are emollient-rich and have sun protection, try the Jack Black Intense Therapy Lip Balm SPF 25. Coming in five scents, each balm is rich with antioxidants. Shea butter, avocado oil, green tea, and vitamin E work to alleviate dryness, providing long-term relief for cracked lips.