Trendy Hair Accessories Fit For Any Occasion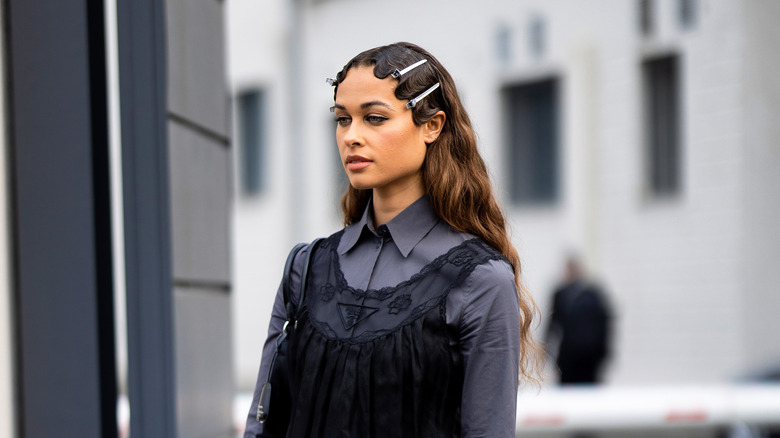 Valentina Frugiuele/Getty Images
We've seen a reemergence of hair accessories take over social media, showing us that it's easy to take your hair from drab to fab with little effort. Rather than undergoing a complete hair transformation by dyeing or cutting your locks, why not add a few cute accessories to your hair to jazz up your look? Nate Rosenkranz, a New York City-based celebrity hairstylist, tells PopSugar, "People are eager to add more color and adornment into their beauty routine but in a simple and easy way, which is what hair accessories offer."
There is no shortage of fun, creative, and unique hair accessories that will make a lasting impact on your locks and elevate your hairdo. Whether you're in need of a casual accessory go-to or are on the hunt for a luxurious accessory for the ultimate glam, we've got you covered with these trendy hair accessories that are fit for any occasion. 
Claw clip
Claw clips are a 90s-inspired hair accessory with a modern twist that is having its own moment right now (via InStyle). Celebrities like Kendall Jenner, Bella Hadid, Kaia Gerber, and Madison Beer are just a few of the notable celebs who we've seen sport this cute hair accessory. There are so many ways you can wear a claw clip, from a half-up, half-down hairstyle to a full updo in a twist — you'll never run out of fun ways to style your locks.
Jumbo scrunchie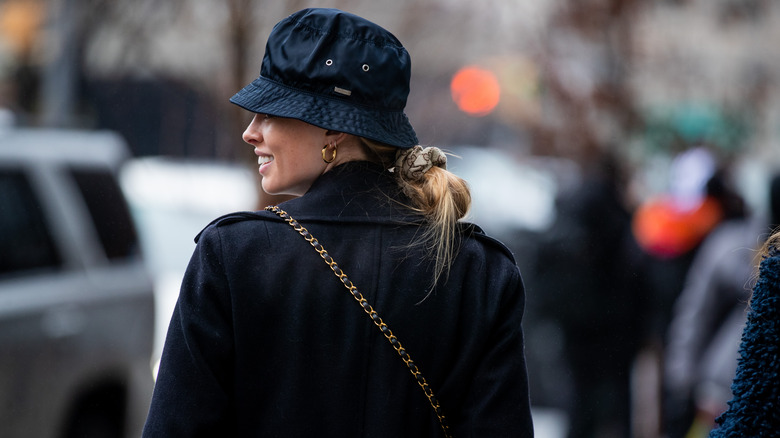 Christian Vierig/Getty Images
Looking for a way to sport an updo in a stylish, chic way? Add a jumbo scrunchie to your hair routine for a tousled, casual look. Jumbo scrunchies are the hair accessory to have on hand all year and for good reason. They're set to be trending this season and are one of the most versatile hair accessories to wear. You can wear them on a casual day running errands, or to a special event. Style your scrunchie in a messy bun, or use it to create the viral glam ponytail.
Headband
Headbands are back better than ever. This hair accessory may stir up nostalgic memories since they were a classic trend that everyone was rocking in the '90s (via Bustle). Whether you're having a bad bang day and need a quick coverup or simply want to slick back your hair, the headband is the perfect go-to accessory to use. Not only can you wear a headband for a casual day out or for a work out session — Nicola Peltz shows us that you can even add a black headband to complete a glamorous look.
Butterfly clips
Another '90s trend that's having its own revival moment is the small butterfly clip. These micro clips have been worn by Britney Spears, Jennifer Aniston, and Sarah Michelle Gellar and are making a comeback that anyone can indulge in. You can scatter these playful and fun clips throughout your hair, or pull back sections of your hair from the front to the crown. For a unique, funky look, pair the butterfly clips with a braided hairstyle, or a half-up do. 
Pearl clips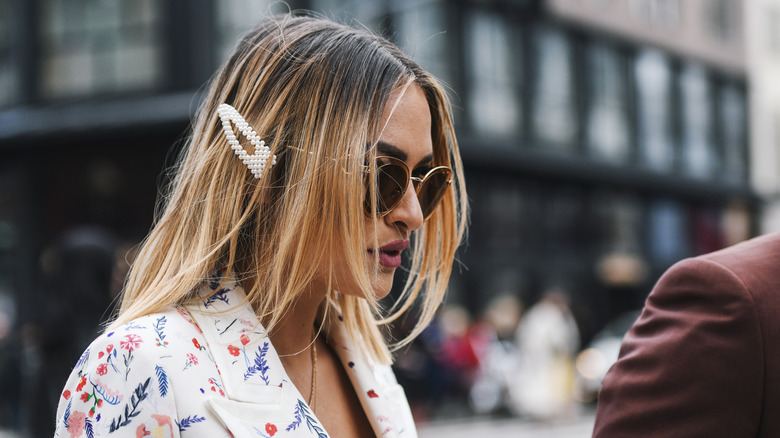 Creative Lab/Shutterstock
When you need a quick and easy way to add a bit of luxury and glam to your look — just pop in a pearl clip or two to jazz up your hairdo. If you have a middle part, take a small amount of hair from the front of your hair and sweep it to the side, or just go with one side for an elegant, vintage-inspired look. For a side part, sweep one side up with a pearl clip or two for a super simple hairstyle.
Head scarf
Headscarves have been trending as a fashion accessory for years and have been worn by style icons including Marilyn Monroe, Audrey Hepburn, and Twiggy just to name a few. They're a go-to accessory if you're having a bad hair day and don't have the time to redo your hair. The best part about head scarves is that there are a variety of ways you can wear them. From interweaving them through braids or tying them around a ponytail to wearing them as a headband — you'll never run out of fun ways to style this hair accessory. 
Barrette clips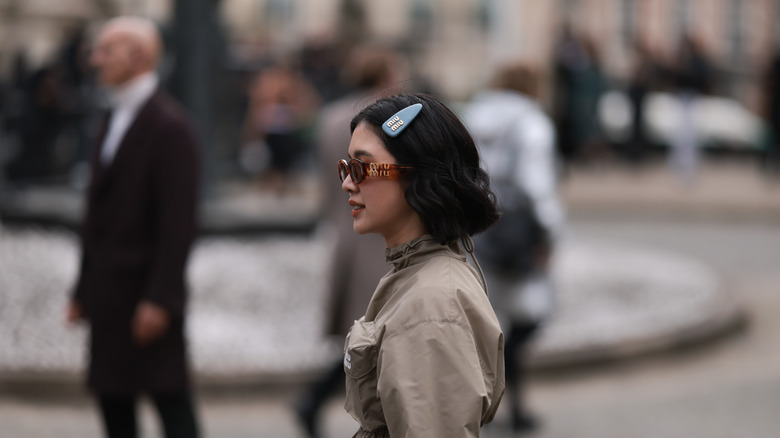 Jeremy Moeller/Getty Images
According to Vogue, barrette clips have been seen on runways, symbolizing their return as an it-girl hair accessory trend. From sparkly barrette clips with words like "cute", and "thanks" to chunky clips in bright, vibrant colors — you can easily add a fun touch to your hairstyle with this versatile accessory. For a glam night, pair a clip with an updo style and for a more casual look, sweep a chunky barrette clip to one side of your hair.