The Young And The Restless' Michelle Stafford Bids Farewell To James Hyde With An Unusual Apology
Although Phyllis Summers (Michelle Stafford) is not really dead on "The Young and the Restless," Jeremy Stark (James Hyde) planted damning evidence making Diane Jenkins (Susan Walters) appear to be guilty of her murder. Detective Chance Chancellor (Conner Floyd) and Christine Blair Williams (Lauralee Bell) have been working on the case, finding it hard not to think Diane is the killer. Some people in Genoa City, including Phyllis' daughter Summer Newman (Allison Lanier), think Diane is truly guilty, while the other half thinks it might have been the work of Jeremy.
He and Phyllis had been orchestrating the scheme to fake her death, and they were hiding out in a hotel room. But when Phyllis decided she didn't want to pretend to be dead anymore, Jeremy went ballistic and followed her into the bathroom with a pair of scissors. What the investigators don't know is that Phyllis may have killed him, wrapped the body in a shower curtain, and taken it to an unknown location. Jack Abbott (Peter Bergman) and his and Diane's son Kyle Abbott (Michael Mealor) have been imploring the police to believe that Diane was framed, but none of the investigators are willing to disclose anything pertinent to the case.
After Hyde reflected on Jeremy Stark's murder and his exit from the show, Stafford also got on social media to say goodbye to her short-lived co-star.
The fans want James Hyde to return in some capacity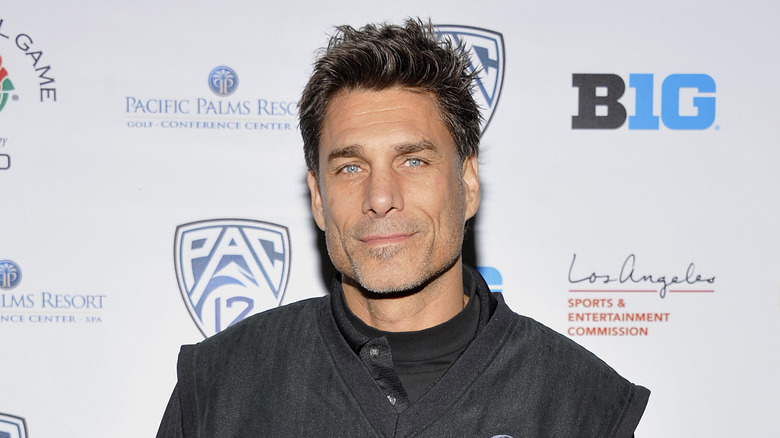 John M. Heller/Getty Images
After Jeremy Stark's apparent death on "The Young and the Restless," Michelle Stafford posted several behind the scenes selfies of the actors horsing around, and wrote, "'SPOILER ALERT!!!!' Ok, just so folks don't get mad. Hey @jameshydeofficial thank you for being SUCH A JOY to work with!! We ALL love you! Thank you for being such a positive spirit on set and a great scene partner. I'm sorry the marriage was short lived and I'm sorry I stabbed you to death. Those scissors sure were sharp. But ... ya know, Jeremy can always have a twin brother. Go Kill it!" Co-star Tracy Bregman (Lauren Fenmore) directed her reply to James Hyde, writing, "Loved working with you and hanging in hair and make up! @jameshydeofficial," to which Hyde responded with several heart emojis. Another castmate, Courtney Hope (Sally Spectra), shared her sadness at Hyde's exit with, "THE BEST. So missed." 
One fan begged CBS for a reprieve for the actor, stating, "@youngandrestlesscbs Please bring back @jameshydeofficial in some capacity (good twin, Jeremy didn't die ... you know, soap opera storylines tried and true). Most interesting and exciting actor in some time — and great pairing with @therealstafford!" Another viewer complimented Stafford, saying, "@therealstafford your acting through all of this Starkness deserves an Emmy! Absolutely outstanding." Praise for Hyde came in the form of, "And let's not be too modest here ... I watched him on Passions back in the day ... and he was and remains an INCREDIBLE ACTOR!!"