How To Style Your Favorite Tube Top This Summer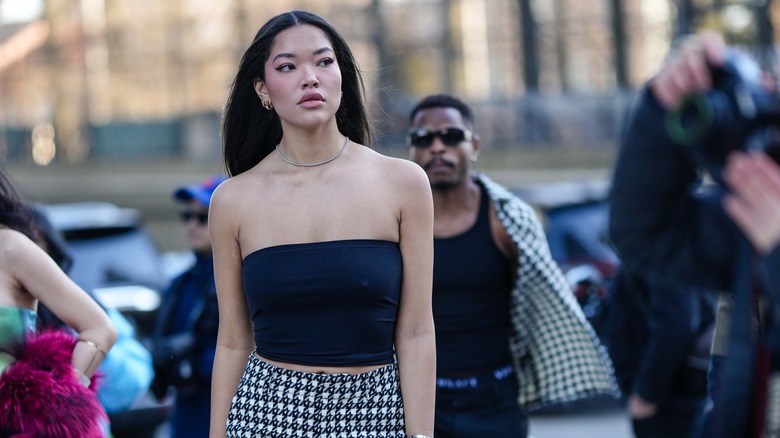 Edward Berthelot/Getty Images
Summer means a few things: ice cream cones, tee shirt sweat stains, and a range of new style opportunities. Thanks to the 20-year nostalgia cycle, fashion staples from the '90s and early aughts are having a moment. Whether it's the runway or red carpet, we're seeing the return of low-rise jeans, plenty of butterfly clips, and tube tops. That being said, there are some key differences this time around. As Poshmark merchandising expert Chloe Baffert explains to The Zoe Report, "Today's version of the tube tops trades in rhinestones and velour for a classic, quieter iteration." Although most modern tube tops don't spell "juicy" across the chest, they're far more adaptable, a change Baffert attributes to the rise of minimalism and TikTok "clean girls."
The bottom line? Tube tops are a must-have item this summer whether you're headed to a coffee date, the grocery store, or a work meeting. Here's how to style them for any warm-weather occasion.
Fully embrace '90s nostalgia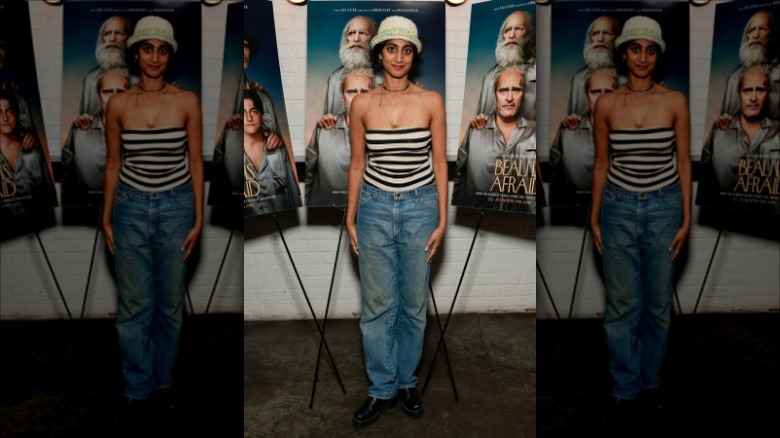 Jason Mendez/Getty Images
Bucket hats were a hip-hop fashion accessory in the late '80s and '90s. Now, 30 years later, they've reached an all-time high in terms of popularity. "It just keeps coming back. Why? It comes in many different forms but has a universal feature: it is easy to wear," history professor Deirdre Clemente told The Guardian. Today, it-girls like Bella Hadid, Rihanna, and Zendaya are all embracing '90s bucket hat fashion. So, pair your tube top with '90s-era baggy jeans or cargo pants, platform shoes, and a bucket hat. Accessorize with layered necklaces.
Layer underneath a sheer dress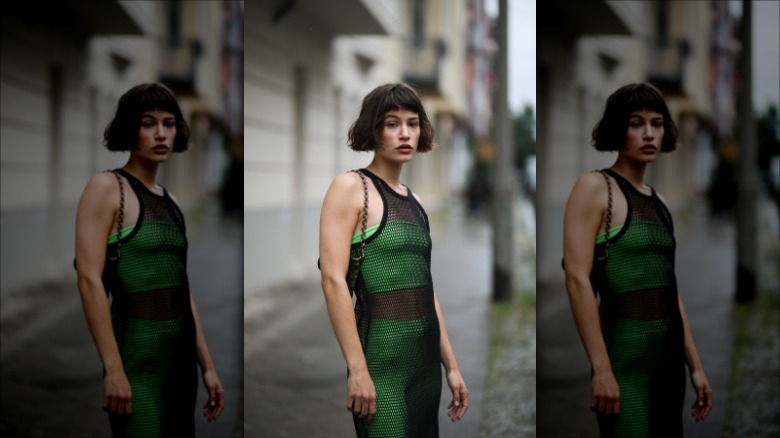 Jeremy Moeller/Getty Images
See-through fabrics are on the up and up. Admittedly, they're a bit tricky to style. If you're struggling with that sheer dress you bought on impulse last spring, not to worry. Solid-colored bike shorts and a matching tube top add just the right amount of coverage underneath. Plus, they won't distract from the dress's daring design. Pair the ensemble with platform sneakers or sandals and bring along a classy handbag. What's more, you can always wear the bike short set on its own: It's like two outfits in one. 
Go for a white out aesthetic
The summer season unofficially begins Memorial Day weekend and continues until Labor Day in September. "There used to be a much clearer sense of re-entry," Valerie Steele, the director of the FIT Museum, explains to Time. "You're back in the city, back at school, back doing whatever you're doing in the fall — and so you have a new wardrobe." In part, this explains the "no white after labor day" rule, although almost no one follows it today. This summer, take advantage of white's heat-resistant qualities and pair a white tube top with light linen pants and open-toed sandals.
Dress it up with a maxi skirt
Low-rise mini skirts, widely popularized by Miu Miu in early 2022, finally have a worthy opponent: the '90s-era maxi skirt. If you're heading out to a chic dinner, quickly elevate a plain black tube top by pairing it with a matching black midi or maxi and styling a messy updo. Bella Hadid herself is a fan of the look, pairing her below-the-waist midi with a tube top and tall black boots in the summertime heat. The bottom line? Tube tops are adaptable to pretty much any setting. You just need to know what to wear them with. 
Corset tops are trending
HBO's "Euphoria" and Netflix's "Bridgerton" have had a major influence on the world of fashion, inspiring #euphoriahighchallenge on TikTok (which has millions of views) and introducing us to subcultures like "Regencycore." Whereas "Bridgerton"-inspired clothing involves floral corset tops and statement sleeves, "Euphoria" designs show a little bit more skin. Combine both styles by wearing a lace-up strapless corset from Urban Outfitters and pairing it with baggy pants and a sleek "clean girl" hairstyle. With this, you're officially part of both worlds. Minus the society balls and dramatic high school love triangles, of course.
DIY a scarf top
@tiahrubala shows followers how to easily make a tube top from a silk scarf — no sewing necessary. "To start with, take the top two corners and fold them in half," she explains. Next, hold the folded scar horizontally (or, as your third-grade teacher might clarify, "hamburger style") and knot it above your chest. Tie the bottom corners at your waist. If you're looking for a bit more security, you can DIY a scarf top by tucking the silk fabric into a strapless bra. In the summertime, style with loose white pants and gold jewelry, like @savanna.lowe. 
Canadian tuxedos aren't just for wintertime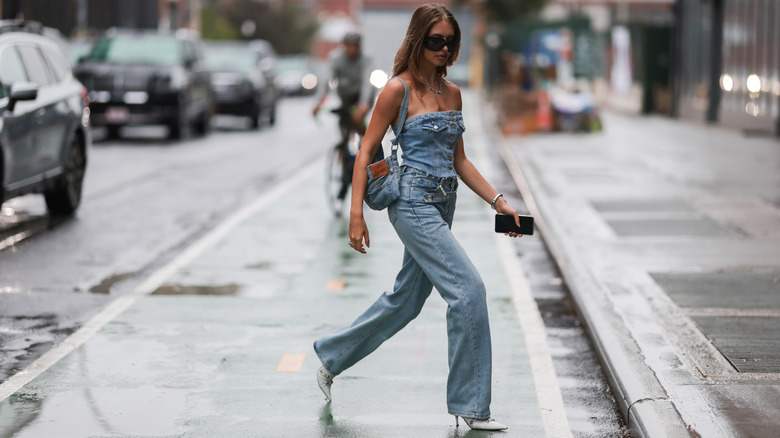 Jeremy Moeller/Getty Images
Denim on denim was a must in the early 2000s. Today, celebrities like Julia Fox and Bella Hadid are bringing denim tops, in particular, back and they're more cropped than ever. Rather than wearing a standard jean jacket with your pants, opt for a button-down or belted denim tube top in the warmer weather. Julia Fox went the extra mile, using scissors to cut her own top from a pair of blue jeans. However, you can easily buy your own (pre-cut) design from Pretty Little Thing, giving the Canadian tuxedo a new summertime interpretation.
Asymmetry is all the rage
From necklines to hemlines, the asymmetrical trend is taking 2023 by storm. Pay homage to Y2K red carpets (we're looking at you, Hillary Duff) and wear an asymmetrical tube top from Urban Outfitters or your local thrift store with a micro mini. What's more, ever since Katie Holmes brought the dress-over-pants style back for Z100's iHeartRadio Jingle Ball, we've been bracing ourselves for a complete early 2000s revival. Like the "Dawson's Creek" star, go the extra mile and wear an asymmetrical tube dress over low-rise jeans, tying it all together with sneakers.
Add a business casual flair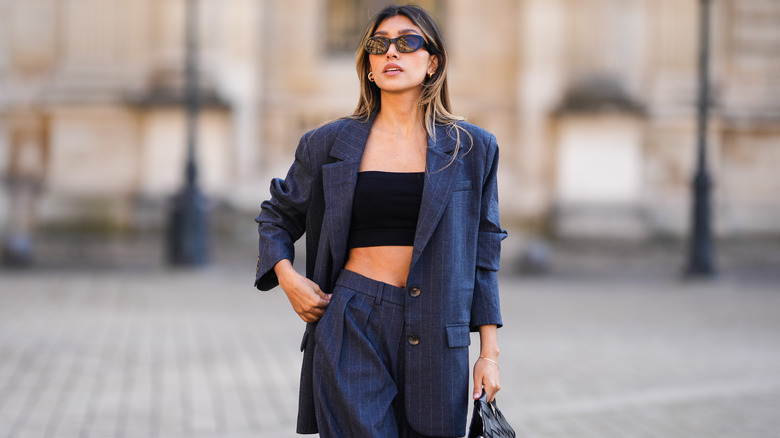 Edward Berthelot/Getty Images
Headed to a coffee meeting? Style a simple tube top with an oversized blazer and matching trousers. To keep your top secure throughout the day — tube tops tend to creep down if they're not properly fitted — keep an eye out for designs that come equipped with a non-slip rubber insert. As advised by celebrity style expert Felix Mercado in an eHow Beauty demonstration on YouTube, "Take some safety pins and pin your [strapless] bra to the dress," or top, in this case. According to Mercado, double-sided tape can also do the trick. 
Invest in handmade knitwear
Knitwear is having quite the moment in fashion, with big-name designers like Loewe making a statement with colorful cardigans and the hit show "Daisy Jones and the Six" inspiring '70s looks including crochet tops and skirts. Try the style out for yourself, investing in a hand-knit set from a small designer like @cristinacriaco. The best part about matching sets? You can always wear each piece independently, creating a variety of outfit combinations. Pair your knit skirt and tube top with platform flip-flops, and head straight to the pool to stay cool.