Ombré Lips Are Out For 2023, Here's What To Try Instead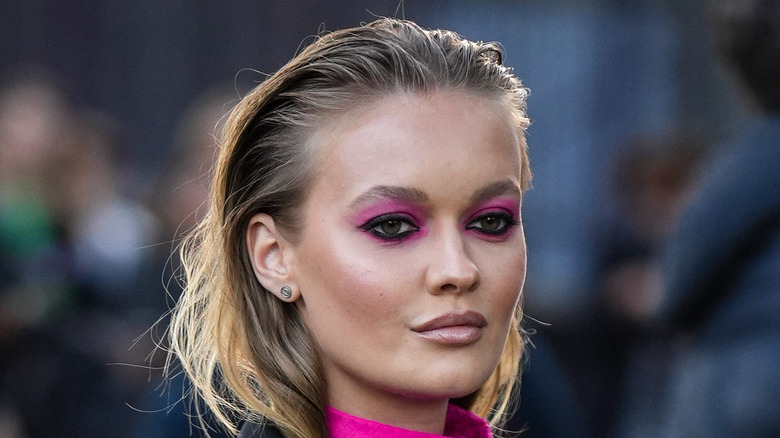 Edward Berthelot/Getty Images
The phrase "what's old is new" is ubiquitous when describing fashion and beauty trends. Every so often, trends from previous decades will return to the spotlight (usually due to a resurgence in popularity on TikTok). Some old-school makeup trends that are making a comeback include colorful eyeliner and glitter eyeshadow. However, not every old trend is being welcomed back into the fashion and beauty worlds.
The dynamic ombré lips trend was big in the '90s. The gradient effect was usually structured so a lighter shade was on the inner part of the lips, and a darker shade was on the outside, either in the form of another shade of lipstick or as the wearer's lip liner. While ombré styles have had a resurgence in recent years — spanning from lipstick looks to black ombré nails to black and brown ombré hairstyles — a lipstick professional has seen that other lip trends are more popular in 2023.
A Lip Lab color expert weighs in
Beth Milligan works at the lipstick company Lip Lab. With Lip Lab, you can create custom lipstick by choosing a color, finish (matte, sheer, etc.), and scent. Milligan suggests what lip looks to try based on Lip Lab customers' requests. Milligan told PureWow that nude lipsticks are trendy right now. When choosing the right nude lipstick, the shade does not need to be the exact same as your actual lip color, but it should be close. It may take some trial and error to find the precise shade that works for you and a corresponding lip liner if you want to use a lip liner as well. 
Milligan says that people are also loving nudes with rosy, pinkish undertones. However, you could go for lipstick in mauve for something a little darker and drastic. No matter which color you choose, Milligan recommends applying a gloss over your lipstick, allowing you to create your unique shade.
The above TikTok is a great example of Milligan's recommendations. Beauty TikToker @xthuyle combines a nude lip liner, peachy nude lipstick, and a shimmery gloss for a trendy, easy-to-do lip look. 
Bare skin vs. bold lips
InStyle Australia lists the "bare skin" makeup trend as a big one this year. This trend does not mean that people are foregoing makeup — instead, they are focusing less on heavy contouring and more on very natural-looking makeup. Nude lipsticks are not a requirement for this kind of makeup look, but they would match well. Tasha Reiko Brown, a makeup artist and brand ambassador for Chanel, told InStyle that anyone going for the bare look should not use a lip liner with their lipstick, further supporting the statement that ombré lips are taking a backseat.
If you are not a fan of subtle makeup looks, other trends InStyle mentions for this year include lipstick in a fun, bright coral shade or a darker, bolder color, whether that be Milligan's recommended mauve or a dark red.
Trends come and go. If you are a diehard ombré lips fan, don't feel pressured into throwing out your lip liner. But also don't be afraid to try something new, even if it's not your usual look!