Royal Expert Predicts The Two Royals Who Will Be Prince Harry's Support System During Coronation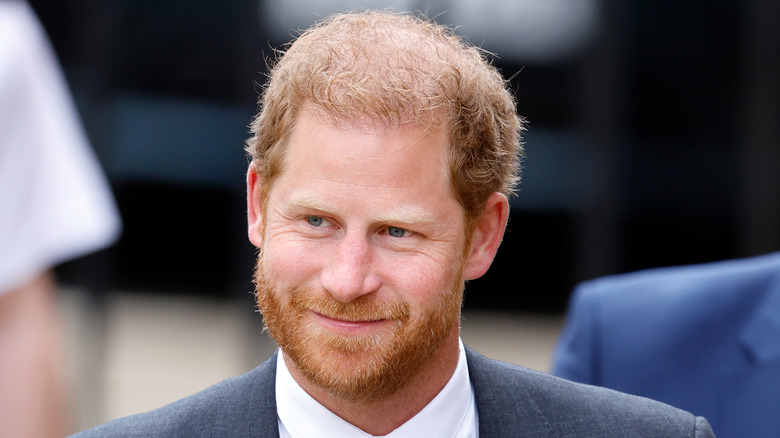 Max Mumby/indigo/Getty Images
These days, Prince Harry doesn't have as many allies within the royal family as he might like. Beyond the obvious downsides of being ostracized from his family, Harry's strained familial relationships are sure to make for a particularly awkward time when King Charles III's coronation is finally upon us. After months of awaiting an RSVP from the Duke and Duchess of Sussex, Buckingham Palace has finally confirmed Harry and Meghan Markle's coronation plans, and while their decision is probably the lesser of a few evils, it is sure to make for an uncomfortable time for Harry. The duke will attend his father's coronation, while Meghan will stay with their children, Archie and Lilibet, in California. 
The upcoming coronation is sure to be one of the most important days of Charles' life, and it's clear that even amidst their rift, Harry still wants to support his dad on his big day. Yet, despite his good intentions, Harry will have to look for allies when he arrives at the ceremony. Luckily for him, he'll reportedly have two family members to count on when the coronation is underway.
Harry's cousins will have his back
Max Mumby/indigo/Getty Images
It's clear that Prince Harry knows just how uncomfortable the coronation will be as well as fans do; all other awkward family reunions will likely pale in comparison. As a result, Harry will reportedly make a quick U.K. exit right after the coronation wraps up. Still, during the event, Harry will have to find a way to look the part of a dutiful son, since this is the first time he'll be seeing his family since the release of his polarizing memoir, "Spare," and he'll be left alone without his wife and children. 
Journalist Kinsey Schofield says that some of the younger members of the royal family are sure to keep Harry company since they're unlikely to be affected by the bad blood the way the senior royals are. "Duty is still a priority to Harry, and he feels like it is his responsibility to attend," Kinsey explained to Fox News. "That being said, expect familiar and friendly characters like cousins Zara Tindall and Princess Eugenie to make small talk with the 'exiled' prince."
Luckily, Harry has some allies going into the event, and whether it feels like it or not, his presence is wanted on the historic day. "The king does want his youngest son to experience such a significant moment in his life," Schofield said. "It was Charles' wish that Prince Harry attend." Ultimately, Charles will get his wish, and hopefully, there won't be any particularly tense interactions overshadowing the important event.