Prince Harry Will Reportedly Make A Quick UK Exit Right After King Charles' Coronation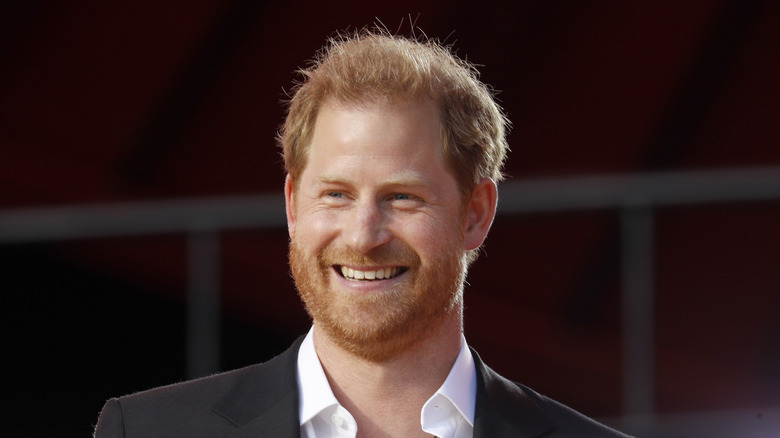 John Lamparski/Getty Images
Now that the question of Prince Harry's coronation attendance is confirmed, King Charles is looking forward to having both his children present on his big day. "The King is pleased that Harry is coming and understands why Meghan might want to stay behind with Archie and Lilibet," a royal aide shared with The Times. "There is no ill feeling. We are pleased to have arrived at a resolution."
Even though his daughter-in-law won't be there, the king gave a surprise coronation nod to Meghan Markle by including her in the ceremony's program. Besides her parental responsibilities, Meghan had some concerns about attending the historic event. "Meghan wants to be there to support her father-in-law, but at the same time, the scrutiny she receives outweighs the support," one of the Duchess of Sussex's close friends explained to People. "There's always going to be that other side challenging their reasoning, and who wants to put themselves in that position?"
While Harry's a definite for the ceremony, it appears he'll only be passing through for this visit, rather than enjoying all the festivities of the three-day celebration. This plan looks a lot like an idea from February called "Harry in a Hurry." That proposal involved Meghan Markle staying home for the May 6 event and Harry making a 48-hour U.K. trip. However, according to recent reports, Harry's visit is going to be even more of a rush.
Security concerns are leading Harry to go home sooner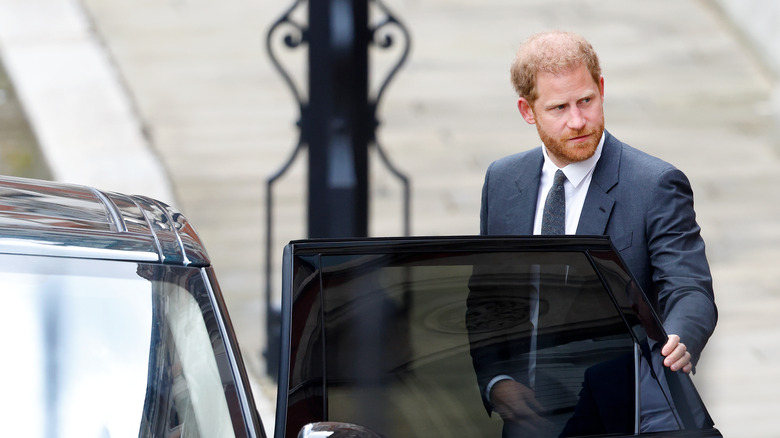 Max Mumby/indigo/Getty Images
As reported by the Mirror, Prince Harry, Duke of Sussex, is worried about how much security will be provided for him during King Charles' coronation. Once he left his role as a working royal in 2020, the duke no longer had access to the same level of safety protection. Currently, the U.K.'s Home Office evaluates Harry's visits individually and determines a specific security plan for each occasion. The duke's legal team has criticized this strategy, citing shortcomings during Harry's July 2021 visit. At the time, Harry was en route to a charity event when his vehicle was "interdicted by paparazzi . . . needlessly placing the Duke of Sussex in a dangerous situation," (per The Telegraph). While the prince is hoping to settle the security question in court, Harry's legal battle continues until a date is set for the proceedings. 
Due to these safety concerns, Harry is planning to leave directly after the May 6 ceremony. "He is not going to attend the lunch afterward, as far as we know," journalist Jennie Bond told GB News. "We're told that maybe a place will be set in case he changes his mind." In addition, Harry will also miss the May 7 coronation concert. However, if he times it right, an early departure could mean Harry will "get back to California just about in time to celebrate late in the day with his little son, Archie, whose 4th birthday it is," notes Bond.
Harry could be back in the UK over the summer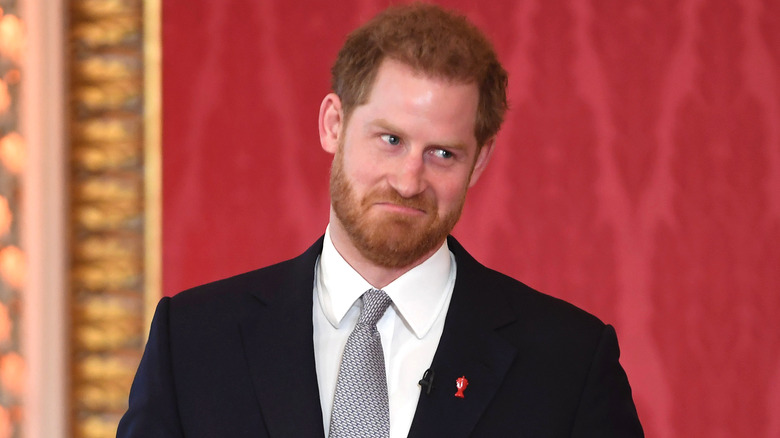 Wpa Pool/Getty Images
Although Prince Harry is keeping it short for his coronation visit, the Mirror spoke with a royal source who confirmed the possibility of a summer trip for the Duke of Sussex. Even if Harry did end up staying longer than the May 6 ceremony, there probably wouldn't be an opportunity for any deep conversations with family. "It wouldn't be sensible to try and shoehorn that into a coronation weekend," a royal source explained to The Times. "Harry will be back. Those talks can start later." A future visit could also include spending time with Harry's U.K. charities.
One thing that seems more certain is this future trip will be planned around one of his upcoming court cases. On May 9, days after the coronation, a trial concerning the Mirror and allegations of illicit information gathering will begin. The proceedings are expected to run six to seven weeks, and tentative schedules involve Harry providing in-person evidence in June. 
At the end of March, Harry also returned to the U.K. for a court case, but he didn't have to appear on the witness stand. This time Harry's participation will be more active. While he did have the option to provide virtual testimony, "The claimants are not applying for any of their witnesses to give evidence via video link," attorney Julian Santos told the High Court in London, per The Telegraph. Harry's part in the proceedings is anticipated to take three days.