The Streetwear Trend That Borrows Elements From The Wild West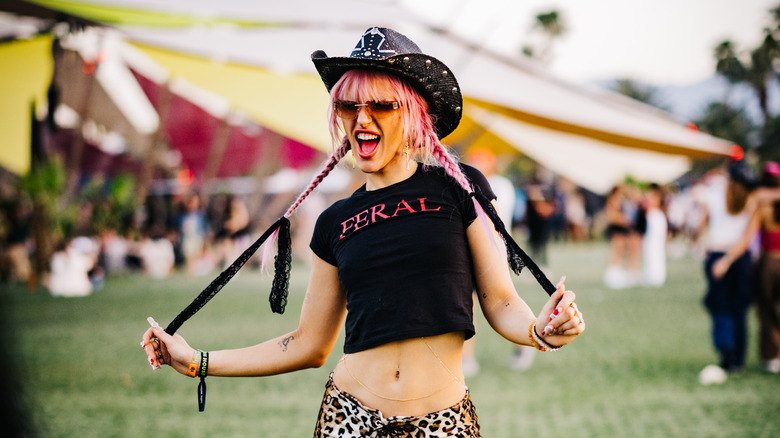 Matt Winkelmeyer/Getty Images
If you're a fan of the Westerncore fashion aesthetic, we've got good news for you: Fringe, double denim, suede, and cowboy hats are no longer just for the Wild West, but for just about anywhere. Just like how the cowboy boots trend isn't going anywhere, you can expect to see a healthy dose of all things Western both splashed across your Insta feed and out and about.
When you think of the Wild West, you probably think of classic movies and the outfits seen in them such as suede jackets, chaps, and, of course, cowboy hats and boots. While this is a component of the trend, this sub-genre of Western style is more equestrian-inspired than going all-out with an outfit that will make you look like you're ready for a lasso fight.
It's time to dust off your cowboy hat and put your best (cowboy) boot forward with these key pieces that will have you feeling like you're taking a trip to the Wild West.
Get ready to giddy up with a cowboy hat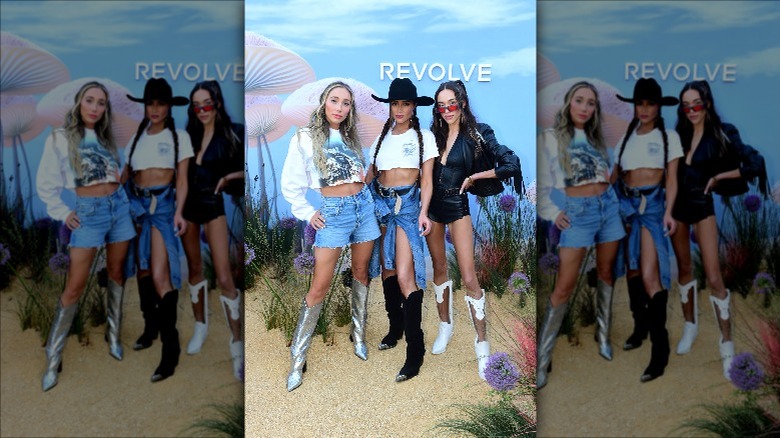 Vivien Killilea/Getty
Olivia Culpo and her sisters Sophia and Aurora brought cowboy chic to Coachella with their cowboy hats, cowboy boots, and fringe jacket Wild West looks. The thing with cowboy hats is, they can be worn in everyday life but are also perfect for festivals and outdoor events. Is the sun beating down? Your scalp won't be burned nor your hair fried with the protection of a cowboy hat: style and substance in one.
All black always makes for a cute outfit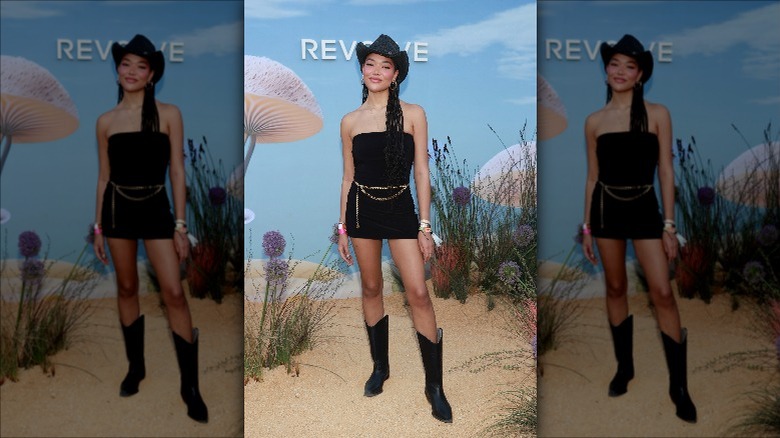 Steven Simione/Getty
Also attending Coachella was Ming Lee Simmons, who proved that a cowboy hat can be dressed up with her little black dress and knee-high boots combo. Though the boots have a cowboy feel to them, the plain black design makes them suitable for every occasion. Plus, we love the golden chain belt, which adds a subtle touch of elegance and a pop of color to this all-black look. If the weather is colder where you are, add a fringed leather jacket for additional Western flair.
You don't need to be a horse rider to pull off this look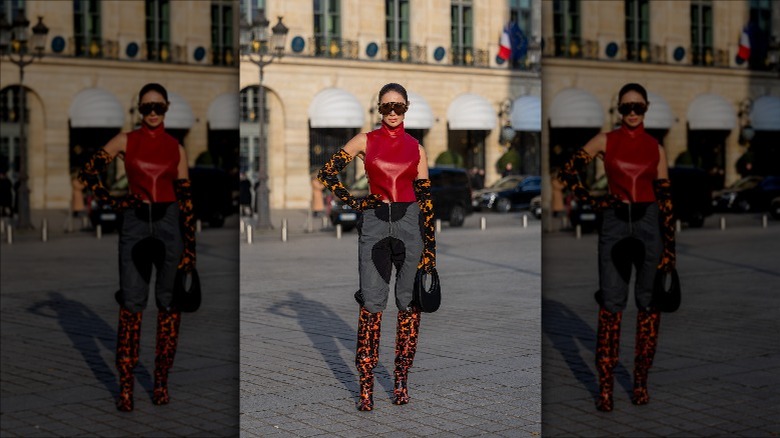 Christian Vierig/Getty Images
Not quite full chaps but not regular pants either, breech-inspired pants like the ones above are also part of this trend. The center contrast gives the illusion of chaps, but the tighter fit and the fact they are tucked into knee-high boots turns them into breech pants like the ones often seen on equestrians. If this seems daunting to pull off, go for breech-inspired pants that have a regular fit at the bottom and pair them with a t-shirt and sneakers.
You can subtly nod to the trend with small details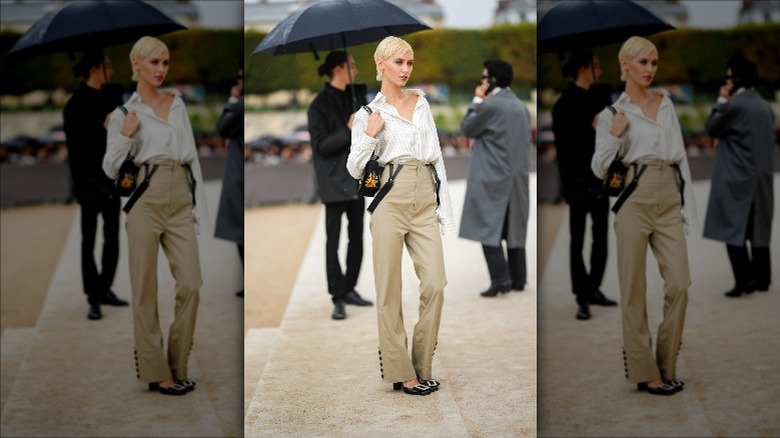 Edward Berthelot/Getty Images
Iris Law stepped out wearing these equestrian beige pants at the Dior spring 2023 ready-to-wear show. While at first glance they just appear to be regular tailored pants, they are still cowboy and equestrian-inspired because of the leather straps, which are another alternative to a Western-style belt. A more wearable version of breeches, we recommend wearing your pants with a relaxed shirt for a masculine vibe or with a bodysuit if your style is casual.
A waistcoat is a versatile piece for any wardrobe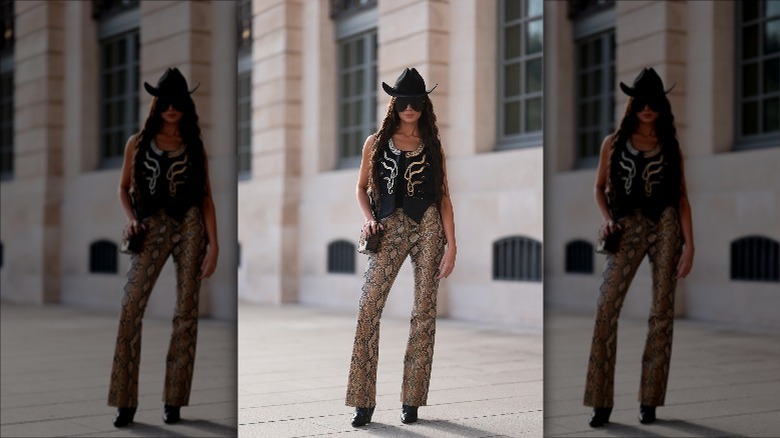 Jeremy Moeller/Getty
Vests and waistcoats are other key elements of the Wild West trend, and the stunning gold-embroidered waistcoat in the photo above is the perfect example of how they can be implemented into an everyday look. If snake print pants aren't your thing, opt for ripped jeans instead, which will provide a cool textural contrast to a leather vest. Add a cowboy hat on top, and you've got yourself an outfit any cowboy would be jealous of.
Take elements of the trend to fit your existing wardrobe
Like with all trends, you don't have to start buying loads of new clothes that you may not wear often just for this particular trend. Amelia Dimoldenberg styled her cowboy boots with a plaid mini skirt and corset-style blouse, three items that you definitely wouldn't usually pair together but that, somehow, work. Incorporating just one accessory like a Western belt, cowboy boots, or a cowboy hat is a good way to hit the trend without needing to spend any money.
A jacket that goes with everything is a must-have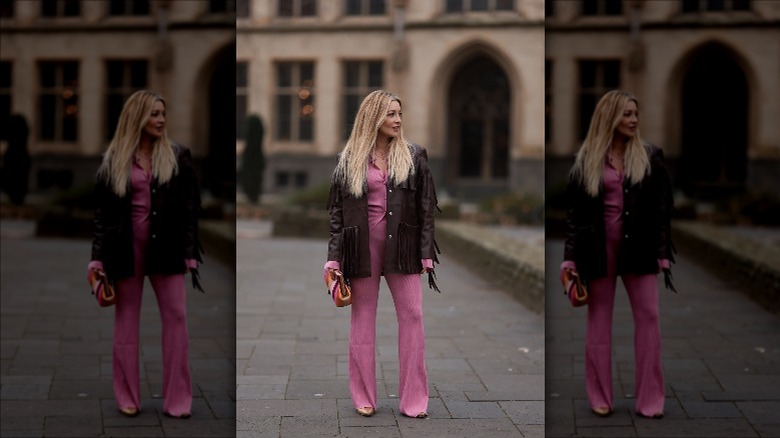 Jeremy Moeller/Getty Images
Last but not least, a fringe jacket is a staple. Whether your vibe is suede or leather, this type of jacket is full of Wild West vibes but updated for the modern age. We also love that a fringe jacket will add texture to even the most basic of outfits, meaning it really is the missing piece in your wardrobe. Go for a black leather fringe jacket if you're a fan of contemporary style, or a tan suede one if you are a fan of traditional Wild West-style.