Highlighter Isn't Just For Cheeks Anymore - Getting In On The Beauty Migration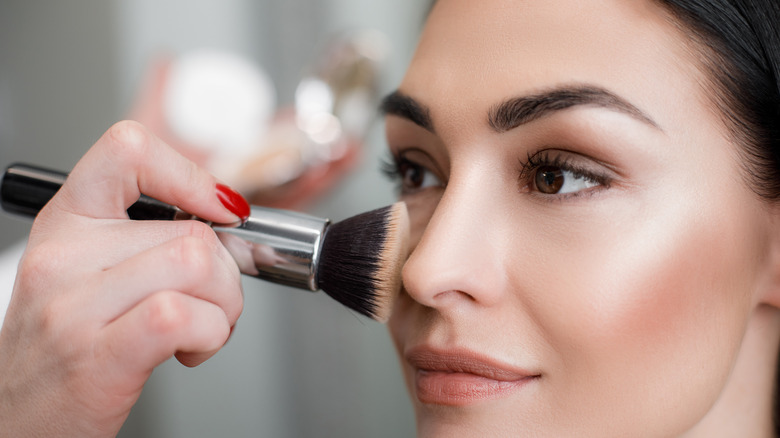 Olena Yakobchuk/Shutterstock
It never hurts to have too much glow, and for makeup fans there's the perfect solution: highlighter! (And no, we don't mean the marker variety). Highlighter has been used for years as a way to add a natural glow to your complexion, and other areas of the face needing a little TLC. For fear of tired eyes, highlighter is used on the edges of tear ducts, for an instant post-sleep glimmer. For fear of dull skin, its applied on the edge of your temples, giving you instant life to your appearance. For fear of drooping eyes,  highlighter is applied in the crooks of your eyebrows, to instantly give them lift. 
See a pattern here? Highlighter is multi-purposeful in its application areas, and its only gown from there. Highlighter is being used beyond the traditional scope of its role in a makeup routine, by being added to unsought areas on both the body and face. Plus, it's reinvention isn't just convenient, but also time-saving, as Today states. 
What is highlighter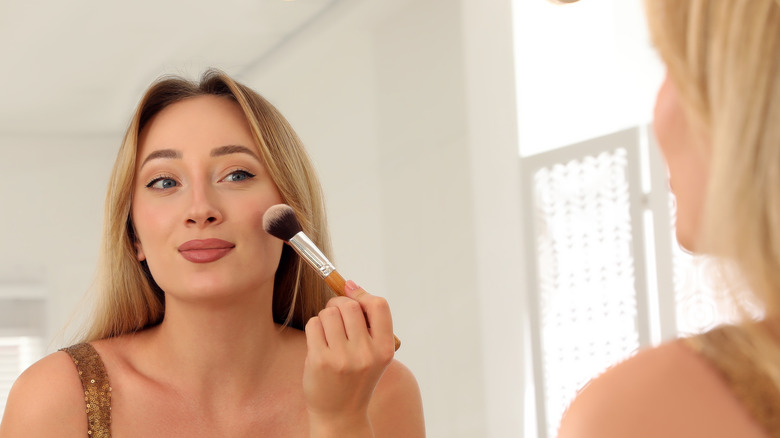 Liudmila Chernetska/Getty Images
For those who need a refresher, highlighter is makeup known to that reflect light. Traditionally the best ways to apply highlighter have been to use it on higher points of the face, or in places you want more pronounced, like your cheekbones or along the bridge of your nose. However, the rules of the makeup game are changing to accentuate comparably more dismissed areas like crevices and creases.
The bonus about highlighters is that you will never run out of supply. Many stores carry a wide array of affordably priced brands and products, which makes it effective to find the best highlighter for your skin tone. Highlighters come in several varieties, like cream and powder, and you can choose from. handful of application methods, like roll on highlighter versus a brush. Its best for oily skin types to avoid creams stick to powders, while to opposite is true for dry skin. For combination skin, either formula is predictably effective, and it all boils own to how you'd like to apply your product and where. 
The many methods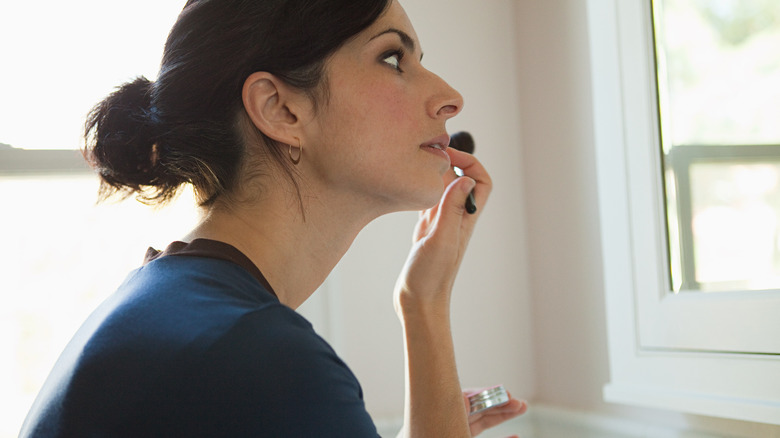 Image Source/Getty Images
Allure calls this twist on traditional highlighter applications "hidden uses" because it can be applied ulteriorly as more than just one product. For instance, you can apply your highlighter before, or with your foundation to help avoid cakiness. This method also adds an instant, shimmery complexion, giving the illusion of dewiness. Or, you can use the product stand-alone as your eyeshadow base, which instantly accentuates the eyes and makes them pop. Another popular twist is to mix it with your favorite lip gloss for extra sheen.
Highlighter has also been reinvented to give the appearance of fuller facial and body features. Apply highlighter above your lips to make them look plumper. You can also apply highlighter below, or even above your collar bones to help increase the appearance of definition. Highlighter is never as it seems: instead, it's chameleon-like and can compliment any individual, no matter where they choose to apply the product.