The Young And The Restless' Joshua Morrow On His Most Out-Of-Character Story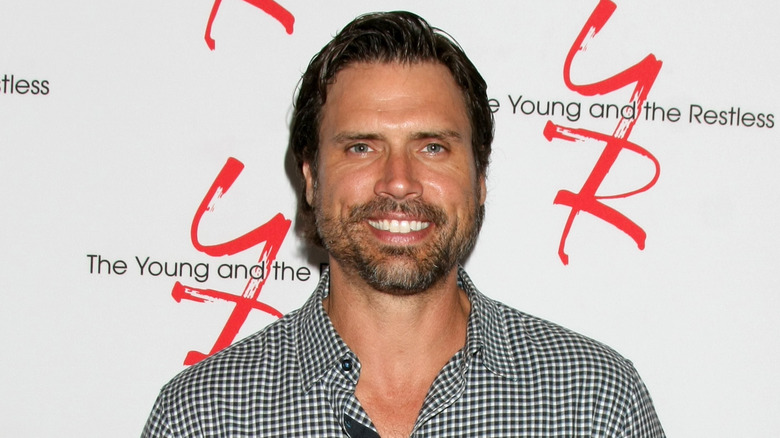 Kathy Hutchins/Shutterstock
Although widely considered a generally good guy, Nick Newman (Joshua Morrow) has had his share of trouble on "The Young and the Restless." The son of ruthless business magnate Victor Newman (Eric Braeden) and Nikki Newman (Melody Thomas Scott), Nick has been embroiled in several dramatic stories over the years. He's been in many love triangles with his brother Adam Newman (Mark Grossman) and has even been arrested for murder several times, although the charges in each case were eventually dropped. He was once even framed for being a drug dealer but managed to get out of that one as well.
Nick had been at odds with his father on and off for years, and at one point he created his own company called Dark Horse to compete with his father's business, Newman Enterprises. When Victor confronted J. T. Hellstrom (Thad Luckinbill) for abusing his daughter Victoria Newman (Amelia Heinle), J.T. tossed him down a flight of stairs. J.T.'s actions would get more dangerous, and he was eventually believed to be dead. In one of the strangest "Y&R" stories, Nick donned a J.T. mask and terrorized his father. He was angry with Victor because he'd continually put him and Victoria at odds, and also claimed he would take Nick's son, Christian.
The truth was eventually revealed, and J.T. was proven to be alive. Nick and Victor have since buried the hatchet, but Morrow had some interesting reflections on that storyline.
There's one Young and the Restless story that didn't sit well with the actor
Soaps asked Joshua Morrow about the many stories he's been in on "The Young and the Restless," and while there weren't any that he didn't like when Nick Newman wore a mask to impersonate J. T. Hellstrom, the actor felt it was out of character for Nick. "It was the one time I really found myself thinking, 'I just don't buy [Nick] would do that,'" Morrow stated.
While Morrow felt that Nick's anger toward Victor Newman was justified, he didn't believe that his character would do such a thing because it would affect his other relationships — like the one with his sister Victoria Newman. Morrow explained, "Other than his children, there isn't anyone he wouldn't lay his life on the line for more than Victoria. I just didn't grasp why they thought Nick would go to these lengths to torture his family," adding, "It just didn't feel like it really felt Nick's character." Despite his misgivings about the story, Morrow was pleased with the final result, remarking, "The way they shot that and laid it out was all very technical and it looked so cool on air."
Morrow went on to say that if there was only one storyline in his decades-long career on "Y&R" that he didn't care for, in his book that's a win, and he praised the writers for their excellent work.