How To Avoid Damage After Dyeing Your Natural Hair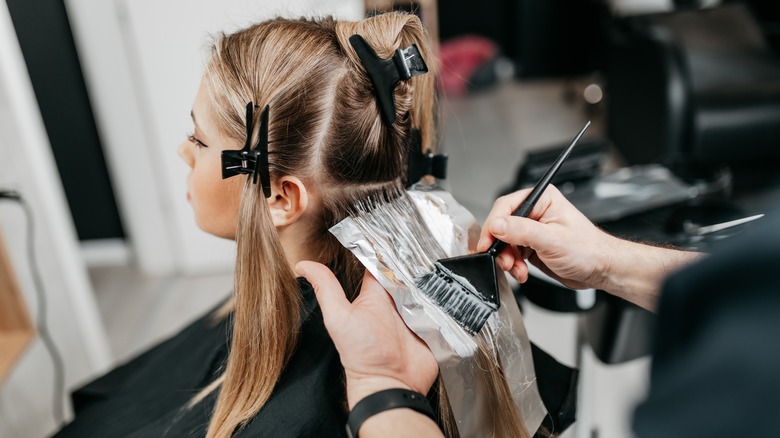 hedgehog94/Shutterstock
Changing your hair color is an exciting and fun way to freshen up your look. Still, it's a big change that can completely transform your style, so don't make this decision lightly. Whether you're looking to rock Emma Stone's iconic red hair or want to brighten things up with Billie Eilish's iconic alpine blonde locks, there is an endless selection of gorgeous colors you can choose from with the guided help of your hairstylist.
If you're thinking about dyeing your natural hair, it's important to take some necessary steps and precautions to prevent your hair from becoming damaged in the aftermath. Hair dye has ingredients like peroxide which can dry out and damage hair. According to Pantene UK, after repeated color sessions, your hair becomes weaker and prone to breakage. Fortunately, there are some things you can do to reduce the damage your hair experiences. Here are some tips to keep your dyed tresses thick, strong, and healthy!
Book a consultation with your hairstylist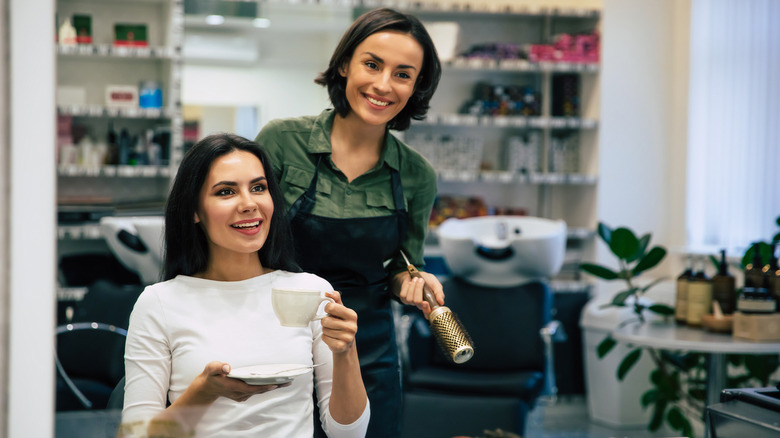 Olha Povozniuk/Shutterstock
Although you can dye your hair at home, we recommend booking an appointment with a professional hairstylist — especially if you haven't done a DIY color before. If you've never dyed your hair before, you'll want to talk to a professional with valuable knowledge about which shades to choose and how quickly (or not) you should lighten or darken your hair. Book a consultation with your hairstylist to discuss your hair goals in detail. Show them a few inspirational photos of the color you're looking to transition to so that your hairstylist gets a visual image of your desired color. 
This is the perfect time to ask your hairstylist any questions you have surrounding how many sessions your hair color will take or discuss what colors would work best with your skin tone. A professional will be able to give you honest advice and guide you through the process of dyeing natural locks.
Prepare your hair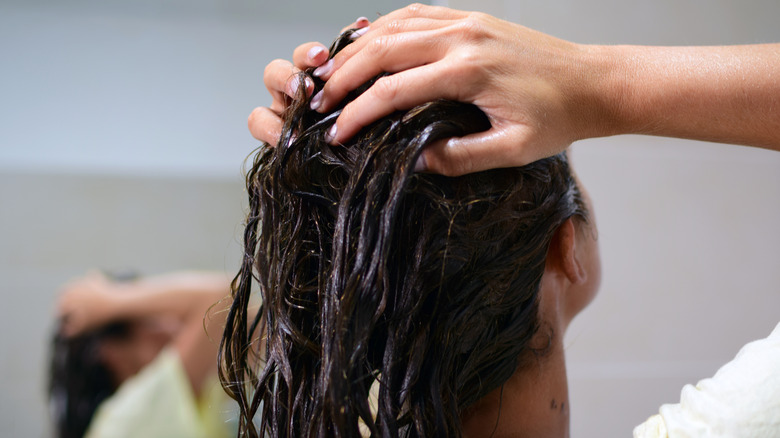 Adam_lazar/Getty Images
Before heading into your appointment, make sure that your hair is in the best possible shape. Going into your color appointment with strong hair will prevent breakage and will leave you with healthier, smoother locks. The day before your appointment, treat yourself to a hydrating and strengthening treatment. We recommend K18's Leave-In Molecular Repair Mask, which uses peptide technology to keep your hair smooth and strong. This is also a great leave-in treatment to use post-color, as it's designed to repair damage from bleach, color, chemical services, and heat.
You can also try the Olaplex No. 3 Hair Repair Protector, an at-home treatment that relinks broken disulfide bonds caused by chemical, thermal, and mechanical damage. This treatment will restore your hair's smooth and shiny appearance and strengthen your tresses so you won't have to worry about walking out of the salon with dry and damaged hair post-coloring.
Take it slow when going lighter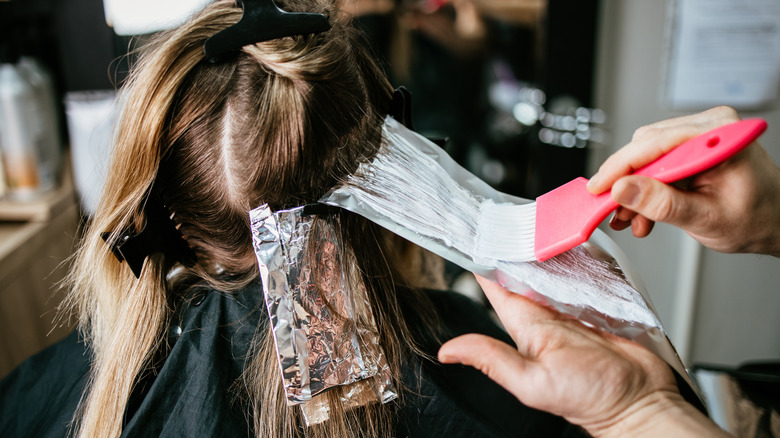 Duxx/Getty Images
When you're going for a lighter look, it's important to set realistic expectations. Be patient with the process. It may take a few sessions for your stylist to get your hair to your desired shade. Rachel Redd, a professional colorist and Redken x Mizani brand ambassador, told InStyle, "When determining how many sessions are needed to lighten hair, you have to consider the natural hair color level, the current hair color level, porosity, and density of the hair."
If you're looking to lighten your locks, you will more than likely cause more damage than if opting for a darker shade. Make sure you take the process slowly and don't schedule sessions too close to each other so your hair has time to repair itself. After dyeing your locks lighter, give your hair some extra TLC. Chase Kusero, star hairstylist and co-founder of IGK Hair Care told Vogue, "Treat hair weekly to a heavy-duty mask in [the] shower, take a break from heat tools and wear your natural texture to allow hair time to heal."
Avoid washing your hair often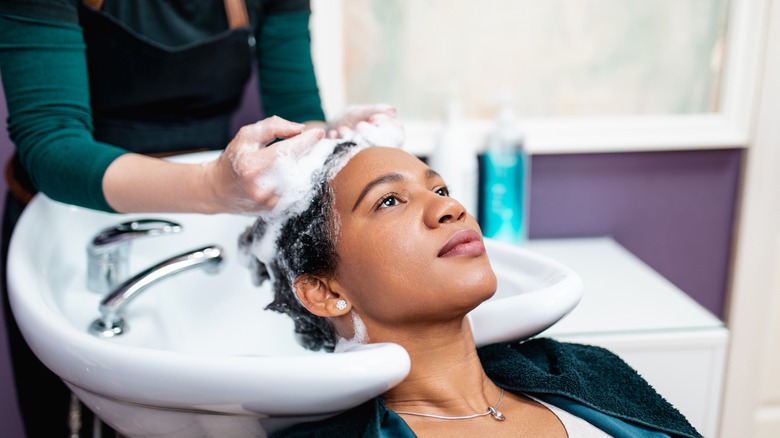 hedgehog94/Shutterstock
After you first dye your hair, avoid washing your hair too often. The more you wash your hair, the quicker your vibrant color will fade to a dull tone, resulting in you having to see your stylist more frequently for touch-ups. Following your hair coloring appointment, you should wait at least 72 hours before washing your hair. If you wash your hair sooner, you also risk the coloring fading earlier than it otherwise would. Try to wash your hair two to three times a week at most. If you struggle with greasy or oily-looking hair, opt for a dry shampoo instead. 
We recommend the Living Proof Perfect Hair Day Dry Shampoo to help absorb excess oil and give you a clean feeling and looking hair. Try the Amika Perk Up Dry Shampoo to keep your hair clean for longer. This dry shampoo is talc and aluminum-free, giving the hair volume and shine while removing excess oils.
Use products formulated for colored hair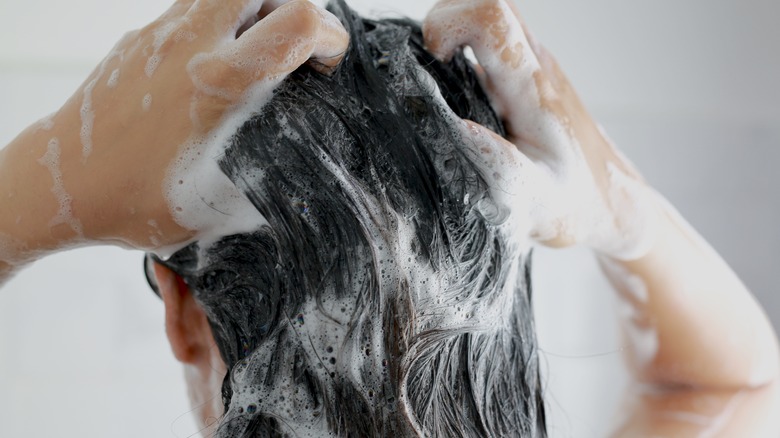 fongbeerredhot/Shutterstock
When you do wash your hair, opt for choosing a hydrating and color-safe shampoo. Meaghan Vinci, a hair assistant told Byrdie, "Use really good shampoo and conditioners at home. You must take care of your hair in between appointments for it to look its best (and stay healthy)." We recommend the Pureology Strength Cure Strengthening Shampoo for Damaged Color-Treated Hair. This sulfate-free shampoo works to heal damaged hair and will leave your mane feeling strong and soft. 
To prevent hair color fading as much as possible, there are certain ingredients you should look out for when buying your new haircare staples for your colored tresses. Chase Kusero told Vogue "Sulfates serve to give shampoos a bubble lather, but they end up removing too much oil from your scalp and hair and can contribute to dryness." Also, avoid sodium chloride as this ingredient dries out hair and speeds up the fading process.