General Hospital Star Sofia Mattsson Is Ready To Give Birth To Baby Number 2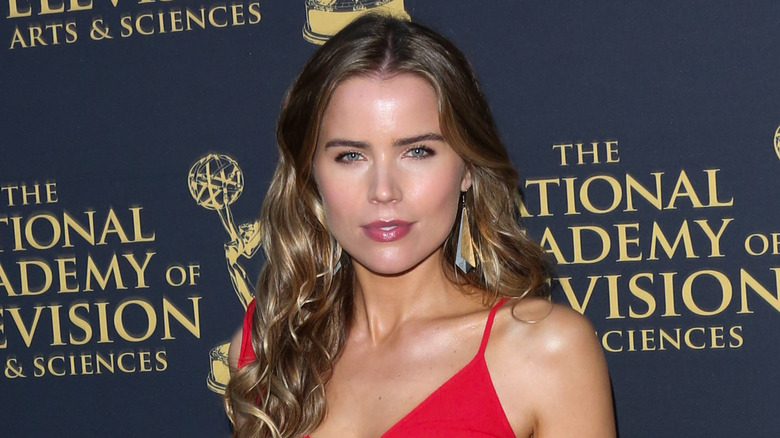 Paul Archuleta/Getty Images
Trigger Warning: This article contains references to child loss.
"General Hospital" fans had their hearts torn out during the sad and gut-wrenching story of little Liam's death in December of 2021. Sasha Gilmore (Sofia Mattson) and Brando Corbin (Johnny Wactor) were happily anticipating the arrival of their bundle of joy, but when the baby became brain-dead because of lack of oxygen due to placental abruption, the expecting parents had to make the unthinkable decision to take him off life support. Sasha had previously battled drug addiction, and after Liam's death, she had several public breakdowns. Her husband Brando was also later murdered by the Hook killer, and fans have been distraught over Sasha's eternal misery on the show.
In June 2021, while Sasha was looking forward to her future with Brando and their baby, Mattson happily revealed to the world that she was pregnant in real life. She posted a picture of herself with her baby bump on Instagram, writing: "BIG things happening!! So happy and excited to finally share this (almost ready to pop) bump with everyone!! Kept it a secret for a while to not spoil anything for 'GH' viewers, but now that Miss Sasha Gilmore's pregnancy is in full force, I can finally share that I'm so grateful to be sharing this pregnancy journey with her!"
While Sasha didn't have a happy ending with her pregnancy, Mattson and her husband, Thomas Payton, welcomed their first child into the world in August 2021 and now have another milestone to announce.
Costars and friends alike were happy for Mattsson
"General Hospital" star Sofia Mattson posted a fabulous picture of her with her newest baby bump on social media, saying, "Many of you guessed it already... Baby girl due in May." Costar Josh Swickard (Harrison Chase) responded with, "Gah!!!!!" to which Mattson replied, "So many fun playdates ahead!!!" Swickard recently announced the birth of his second child with his wife, Lauren Swickard. Many other costars sent congratulations, including Avery Pohl (Esme Prince), Katelyn MacMullen (Willow Tait), and Tabyana Ali (Trina Robinson), who posted, "YOU ARE GLOWING!!! I'm so excited for you." Tanisha Harper (Jordan Ashford) simply stated, "Beauty!!!" Former "GH" costars Briana Nicole Henry (ex-Jordan Ashford), Johnny Wactor (ex-Brando Corbin), and Briana Lane (ex-Brook Lynn Quartermaine) also gave their congrats.
Even actors from "The Young and the Restless," Brytni Sarpi (Elena Dawson) and Courtney Hope (Sally Spectra), shared their happiness for Mattson. One observant fan responded with, "So happy for you, and yes, we were all guessing that you were pregnant again. You wear it well, though. Wishing you a healthy, happy little baby girl" Another follower ecstatically wrote, "You look absolutely beautiful. I am so happy for you, your husband, and son. Congratulations!" An admirer lovingly replied, "We all knew because you truly 'glow' when you're pregnant. Congratulations on your new little love."
As the heartfelt responses to Mattson's announcement roll on, we'd also like to wish her congratulations!