People Are Using Eyelash Glue To Keep Their Bangs In Place. Is It Safe For Your Hair?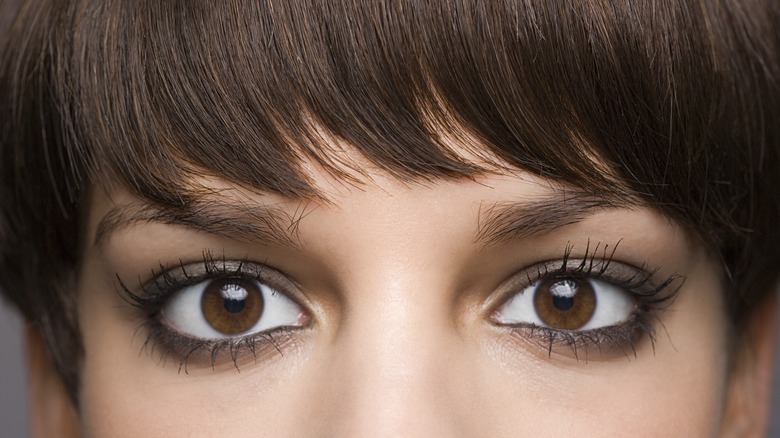 Image Source/Getty Images
Much of Hollywood is a dazzling illusion, an illusion that inspires fans to recreate looks and feel glamorous. For as long as there's been a red carpet, beautiful stars to walk it, and crafty makeup artists to create the ultimate in beauty, there have been styling and makeup secrets.
Some of those secrets leak out, and TheThings Celebrity channel on YouTube recently captured a whole series of red carpet tricks. You may already know that actresses add chicken cutlet bra inserts, butt pads, body tape to smooth out bumps, and facelift tape to define cheeks or alter eye shape.
And with nearly 20 million viewers watching an event like the Oscars, makeup artists do whatever it takes to present a flawless look, knowing that flash photography can be harsh if the makeup is wrong and that wind can wreak havoc on an otherwise perfect hairstyle. That being said, a lesser-known stylist trick is to use eyelash glue to keep bangs in place. The trend is also showing up all over social media. But is gluing your bangs to your skin also safe for your hair?
How are people using eyelash glue on their bangs?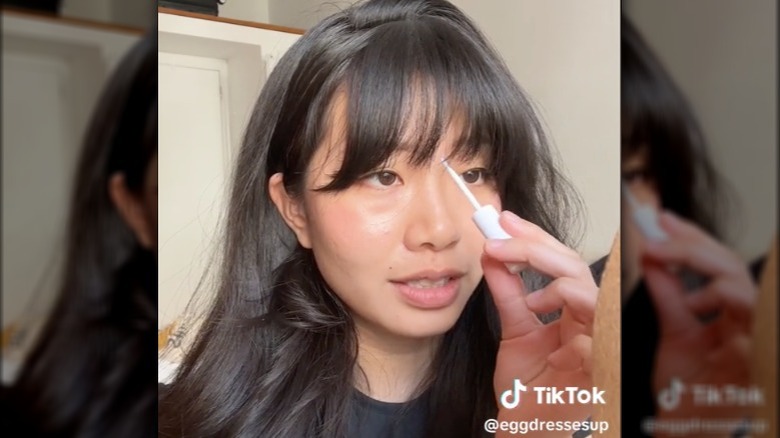 TikTok
Waterfall bangs are the latest hair trend, an edgy, piece-y look that's part of a bangs renaissance. They're everywhere, and given how universally flattering they are, it's easy to see why. Of course, when the wind blows as you step outside, you'll want to keep your look intact.
If you don't normally use false eyelashes, you may not know that eyelash glue comes in clear, dark, and white, although the white glue dries to a clear finish. Get the clear or white version and apply little dots to your forehead, lightly pressing the end of your bangs to the glue. You might want to only glue the bangs across your mid-forehead, but not the bits on the far left or far right — let those swing naturally so you don't look like a store mannequin.
The Paris Lash Academy says the glue dries quickly, within seconds. Although they're referencing eyelashes, they add that the glue starts to crumble after four or five wearings. For your bangs, we'd translate that into a few days.
How to safely remove eyelash glue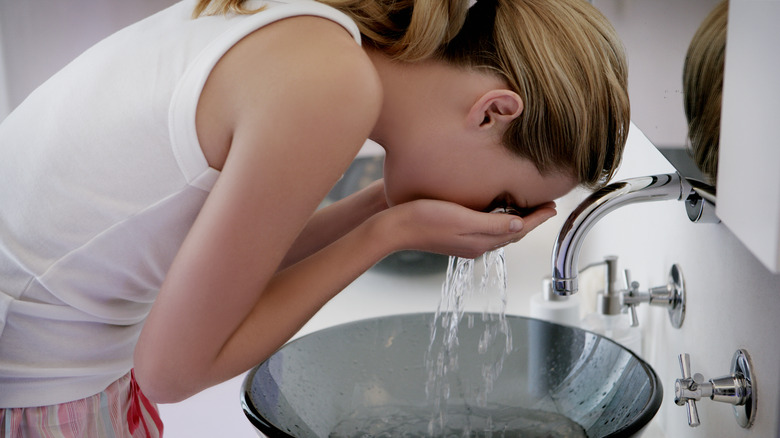 Jupiterimages/Getty Images
Eyelash glue is meant to be used on the skin, so it is safe when used that way. The question is, how safe is it for your hair? The answer depends on how often you use this hack (not too often is our recommendation) and how thoughtfully you remove the glue from your skin and hair.
If too much glue coats your hair and you're not getting rid of it, and because glue buildup hardens everything it touches, you're hair is likely to break. Just as you would when removing the glue from false eyelashes, soak a cotton ball in an oil-based makeup remover and saturate the glue points on your forehead. Be gentle and move the cotton ball around to loosen the glue, then directly swipe the ends of your bangs too. Consider timing your glue-removal operation with a hair wash.
Jump into the shower and while you're washing your hair, give a little extra attention to your bangs to rinse away the oily makeup remover. This may be obvious, but to prevent breakage, don't yank your glued bangs off your forehead or get frustrated and cut them. We hope it doesn't come to this, but the best way to fix terrible home cut bangs might be to see a stylist. If you're on a special date and need to feel relaxed about your look, gluing your bangs is a fun trend to try.