What They Don't Tell You About Living In An HGTV-Renovated Home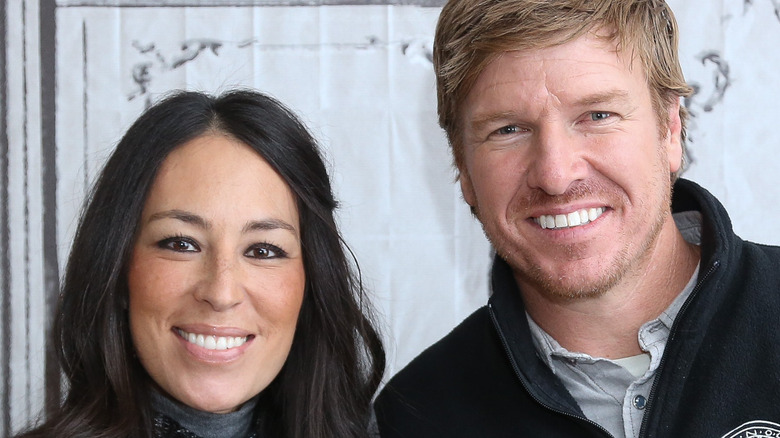 Rob Kim/Getty Images
From the beginning of HGTV's reign as the ultimate resource for home renovation, the shows have inspired homeowners to take on many kinds of DIY projects around the house. Even those early days of the network featuring shows you forgot about like "Room By Room" and "Designed to Sell" had viewers wishing they could live in a house designed by the channel's impressive team of renovators. Sure, a few of these episodes have ended in tragedy, but the majority of makeovers have left all of us jealous.
As the network grew in popularity, the hosts of the shows also became famous. Few have struck gold like Chip and Joanna Gaines, who have created a lavish lifestyle empire. From selling branded items in Target stores to running their streaming channel, the Magnolia Network, the pair have been a powerhouse after the success of their show "Fixer Upper."
Many viewers have dreamed of living in a house they restored, but what comes with living in a "Fixer Upper" success-story home? Some struggles come along with appearing on an HGTV show, and the residents are dropping all the details.
Homeowner deals with passionate fans
Living in a home renovated by the stars of "Fixer Upper" may not be all it's cracked up to be. During the show's inaugural season, Chip and Joanna Gaines fixed up the home of David Morrow. He continued to live in the home but was in for a surprise following the success of the show. He told his local newspaper, the Waco Tribune-Herald, that the site of his home became a tourist attraction for HGTV fans. "They're mostly women in their 50s and tend to be big 'Fixer Upper' fans," he shared.
He found that living in a home that was featured on HGTV can lead to a lack of privacy. Often, Morrow would have fans of the show taking photos of his home. He had to deal with constant drive-bys, with people slowing down to take a look at his house. However, it didn't end there. He told the Waco Tribune-Herald that he even had more gutsy fans knock on his door and ask for a tour of the interior. 
Some residents enjoy the fanfare
While some inhabitants of homes that "Fixer Upper" made famous are bothered by the attention they receive, others have used it to their advantage. According to Insider, taking a trip to Waco, Texas could land you the chance to stay in one of these homes. Some of these homeowners have placed their "Fixer Upper" on Airbnb, allowing fans to stay in a house they saw on HGTV. It's no surprise that some of these listings come with a big price tag, but if you're a dedicated enough fan, it may be worth the splurge.
Other families who have been on the show have taken the opportunity to show off their digs for tourists, providing walk-throughs of their homes. The constant attention that may come with living in a home featured on HGTV may not be for everyone, but some have made it work to their advantage.