How To Style Your Hair If You Are Trying Out A Fairycore Aesthetic
Move over, cottagecore: there's a new aesthetic in town. Characterized by glitter and ethereal beauty, fairycore is all the rage on TikTok. Fairycore fans evoke the supernatural with each look, often incorporating pointy ears, fairy wings, and flower crowns into their outfits. Though each individual puts their own unique spin on the "fairy" look, the aesthetic usually involves flowing, whimsical dresses, drawing on the maxis and florals of boho chic's past.
Clothes, however, are only one component of the perfect fairycore look. You could have a closet chock full of bright colors and a jewelry box stuffed with mushroom necklaces, but what good is it without a cute hairstyle to tie it all together?
Any girl who has the relatable struggles of getting ready knows just how essential a good hairstyle is to any outfit. Fairycore is no exception. Whether your hair is long or short, kinky or straight, we've got some hairstyle tips that'll make your inner fairy sparkle.
Pixie cut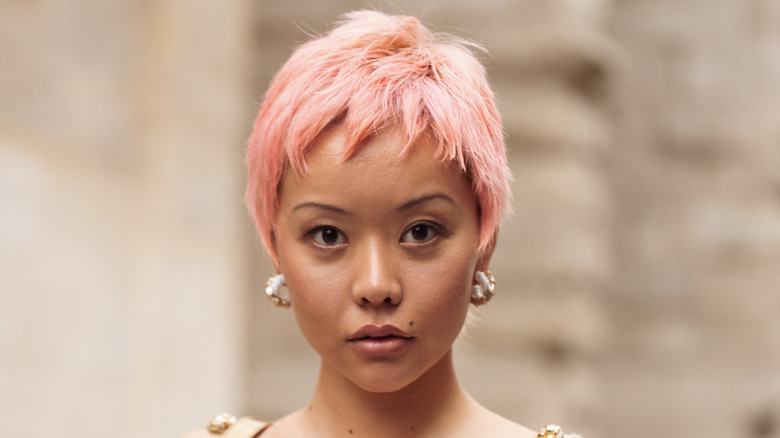 Raimonda Kulikauskiene/Getty Images
It's in the name. A style you might think is hard to pull off, pixie haircuts perfectly embody that carefree, whimsical aesthetic that fairycore emulates. Sure, they're not for everyone but don't write it off just yet. By adding a flower crown, a few colorful clips, or even just letting it be, you'll look like a fairy in no time — or should we say pixie? Either way, you're bound to look super cute and confident. Pixie cuts give women a youthful, gamine look that's very compatible with the fairycore aesthetic.
Messy waves
The messy, "indie sleaze" look has been enjoying a renaissance as of late. Its carefree vibes align well with fairycore's whimsicality. This hairstyle works best for those with straight or wavy hair. It's a pretty versatile style, and works well with longer hair, from shoulder-length to waist-length. The idea is to look effortless, so there's no need to add any hair accessories, though a headband or bandana could totally work with this. If you go down that route, try out headbands with floral patterns or sequins.
Two long braids
This hairstyle is ideal for those with long hair. Tying your hair with ribbons instead of barrettes, which you can find at your local craft store, will elevate the hairstyle and make it more fairy-like. White lace ribbons might be your best bet — they have a romantic feel to them and match just about anything. Light pink can also work well, for those who want a softer look. Add a flower crown to tap into your inner fairy princess.
Two half braids
If braids aren't your thing, these could be a great alternative. Start out by making a braid as usual and tie it after a few loops, letting the rest of your hair hang like a pigtail. You can also complete this look with ribbons or eye-catching barrettes. This is a cute, simple style that's ideal for those who aren't as skilled in the hairstyling department. If you want to up your game, though, you can try this look with a French or a fishtail braid, starting off at the top of your head, and leaving the rest in a pigtail.
High pigtails
This hairstyle is a classic and always makes the wearer look adorable and sweet. This style works especially well on those with bangs. To mix it up, leave a couple of locks of hair out of the pigtails to frame your face. You can also mix and match your barrettes, trying out different colors to match your outfit. If you want to go a little wilder, try barrettes with designs or charms. Flowers are a great pick for fairycore, but anything that sparkles will do just as well.
Teddy bear buns
Teddy bear buns are a fun hairstyle that can work for everyone. They look extra cute on girls with kinkier hair. If your hair is on the curlier side, use teddy bear buns to your advantage and play into that volume and wispiness. Once your hair is styled, you can add pretty hair accessories to it, like hair pearls or multicolored bobby pins. Fun is the first rule of fairycore, so whatever you decide, make sure you have fun with it. 
Half ponytail
This is one of the more casual, low-maintenance styles on this list, so if you're on the go or have little experience with hair styling, this could be for you. You could leave it as is, especially if you prefer a simpler style, but if you want to spice it up a bit, try a cute clip. Instead of tying it up as usual, you can clip it in the back with a butterfly-shaped clip. This will give it the fairycore effect, with half the effort. Add some flowers for some extra fun. 
Low messy buns
This is another easy style, which works best for wavier hair since it lends this hairstyle a messy-chic look. It can also work well for straight hair. If you love the look of buns, but can't seem to get the teddy bear buns to look quite right, low buns could be for you. To even it out up top, try adding a colorful headband or some funky clips. You'll also want to leave some hair out to frame your face.
One long braid
This style looks most whimsical on those with long hair, particularly waist length and beyond (though you could always add hair extensions). Remember Rapunzel's iconic look from "Tangled?" This is who you'll want to channel when you're trying out this style. Go wild with the accessories — add flowers, hair pearls, you name it. Be careful though: you'll want to tie the braid extra tight to make sure that none of them fall out in the process. If you're feeling daring and want to go the extra mile, add a tiara.
Flipped half ponytail
The flipped half ponytail is elegant and simple, though it requires a bit more skill than a regular half ponytail. Ideal for those with straight or wavy hair, this hairstyle is pretty self-explanatory. You start off by doing a regular half ponytail, flip it up, and pull it through the pony. Since the hairstyle is eye-catching as is, there's no need to go crazy with the hair accessories, though a few hair pearls here and there could do the trick.
Natural curly hair with clips
Since curly hair already has that cute and carefree fairycore vibe, there's no need to style it any more than you want to. A few clips can do the trick. Position them on one or both sides of your face, so that they're instantly noticeable. Make sure to pick bright colors; pinks, greens, and yellows work especially well, though they aren't your only options by any means. Bonus points if they're shaped like butterflies or flowers, or sparkle in the sunlight.
Half braids, half buns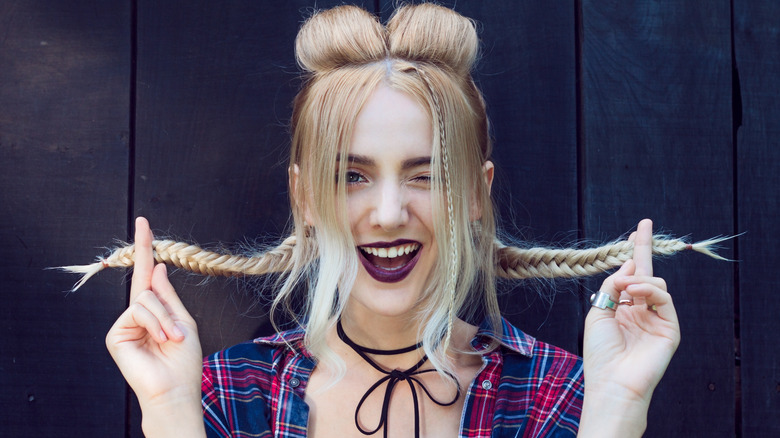 Ander5/Shutterstock
This is a funky, otherworldly hairstyle that's bound to turn heads. Tie the top half of your hair into two teddy bear buns, split the bottom half into two halves, and tie each side into braids. It may take some trial and error, but once you've got it, you're good to go. This hairstyle looks best if you leave some hair out to frame your face. Since you'll be using multiple barrettes, feel free to mix and match.
Mini braids with ribbons
Try this simple trick to spice up your regular, everyday hair. Start by tying braids to frame your face, and weave multicolored ribbons throughout them. You can also tie multiple little braids throughout your hair, for a more textured and varied effect (though you might want to ask a friend for some help with that). Still, it's not necessary — the two simple, colorful braids framing your face are enough to give you the ideal fairycore look.
French braid
This hairstyle is a timeless classic. You might need to look up a few tutorials to fully grasp it, but once you do, you'll never want to give it up. Lucky for you, these braids tend to be on the tighter side, so any hair accessories you decide to add will stay put. Of course, French braids are beautiful all on their own, but if you're looking to add a little fairycore pizazz, try strategically placing little flowers throughout it.
Curly hair with flower crown
Similar to frizzy hair with clips, this look requires minimal effort and is perfect for those with unruly hair. Fairycore is all about lovingly embracing your wild side: own those curls. Topping them off with a flower crown totally completes the fairycore look you're going for. Flower crowns can be bought at local craft stores, or made from your own backyard. Though it's great to find one in colors that match your outfit, a white flower crown can match just about anything.