Heading To A Baseball Game? Your Guide To Looking Stylish Yet Practical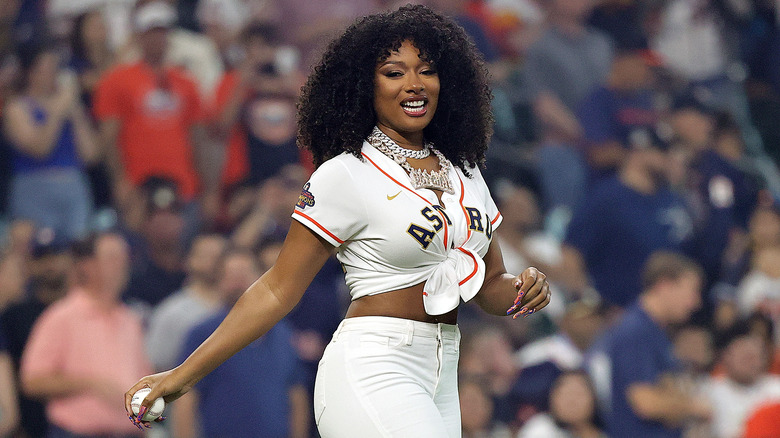 Bob Levey/Getty Images
We may receive a commission on purchases made from links.
Celebrating baseball season with cold drinks and a hot dog, nachos, or other baseball-friendly snacks is a fan-favorite pastime that deserves just as much love as the game itself. Games typically happen starting in the spring and going into fall, making the stadium the perfect venue for our favorite warm weather looks. 
The possibilities are seemingly endless when it comes to your baseball game fashion. For starters, baseball caps aren't just for baseball anymore, and if we're taking fashion icon Vanessa Hudgen's relationship with MLB player Cole Tucker into consideration, the stands are ready for our freshest looks. However, form and function play equally important roles in enjoying all the bells and whistles of the experience. And whether you're a long-time fan of the sport or it's your first game, after applying sunscreen and staying hydrated, the outfit you choose can make or break your day at the ball park.  
Rep your team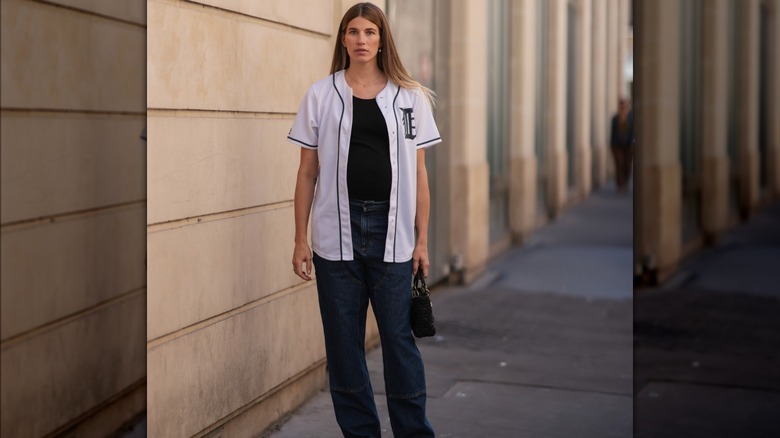 Jeremy Moeller/Getty Images
If you really want to cosplay baseball while sitting pretty in the stands, grab a team jersey to pair with a low-effort tank or tee. Stylist Caroline Vazzana told The Zoe Report, "I'd add a T-shirt for the team playing, so then you look like you fit in but it's really just part of the look!" The oversized, unbuttoned look keeps things cool and casual, but if you want a bit more skin to show, grab a smaller jersey that lets your waist peek out when you stand to cheer on your team. 
Go for a graphic tee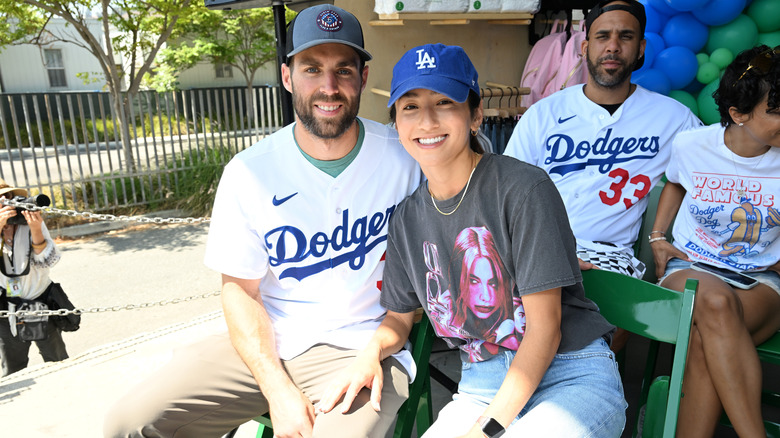 Michael Kovac/Getty Images
A cool graphic T-shirt — maybe cropped or French tucked into the front of comfortable jeans — is a classic look for any daytime spectator sport. A cute baseball cap with the team's logo or initials will help make sure everyone knows who you're rooting for, but your clothes can express your other areas of interest, like favorite bands or artists. You can skip the team repping if you have yet to pick a side, but your outfit can still say plenty about you.
Protect yourself from the elements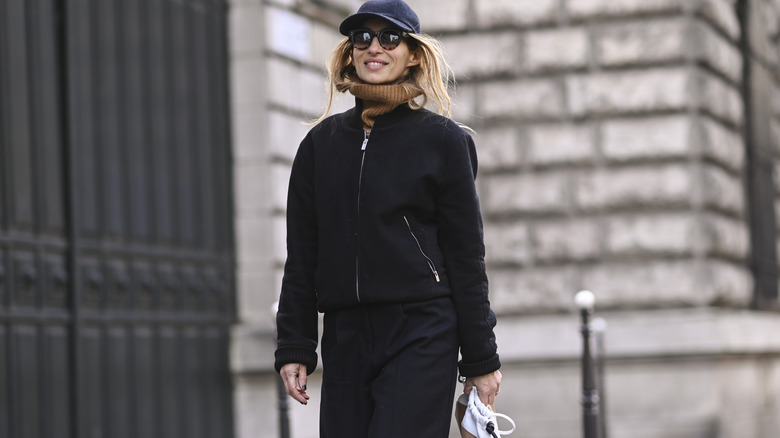 Daniel Zuchnik/Getty Images
If you're headed to a game in cooler weather or a chilly night game under the lights, make sure you bring layers to bundle in. For a daytime game, a nondescript baseball cap can protect you from the sun, plus give you the undercover vibe, à la Joe Goldberg from "You." Or, if you're looking to sport a bold print, you can go for a throwback tie-dye bucket hat to add some extra fun to your look. 
Comfy shoes are a must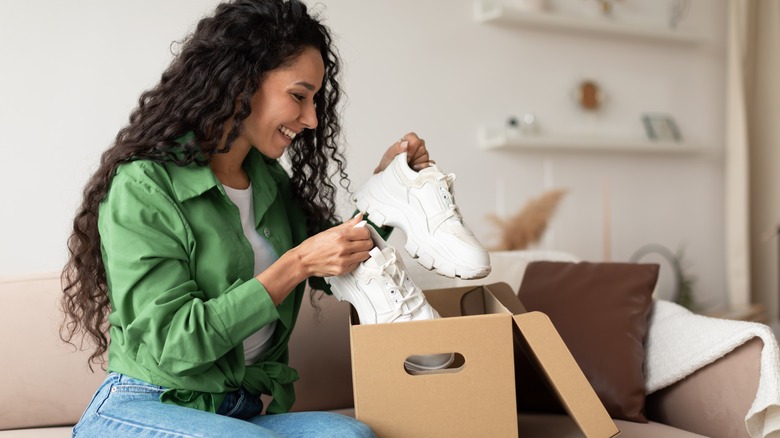 Prostock-studio/Shutterstock
When you're spending a day standing up frequently to cheer on your favorite team, make sure to bring shoes that are practical to make sure your day is all fun and no pain. The white Erika sneakers from Target are fashion-forward and convenient while adding a few inches of height. You can also go sporty chic with some Adidas court sneakers, a basic with a splash of color that are adaptable for pretty much any outfit.
Layer in style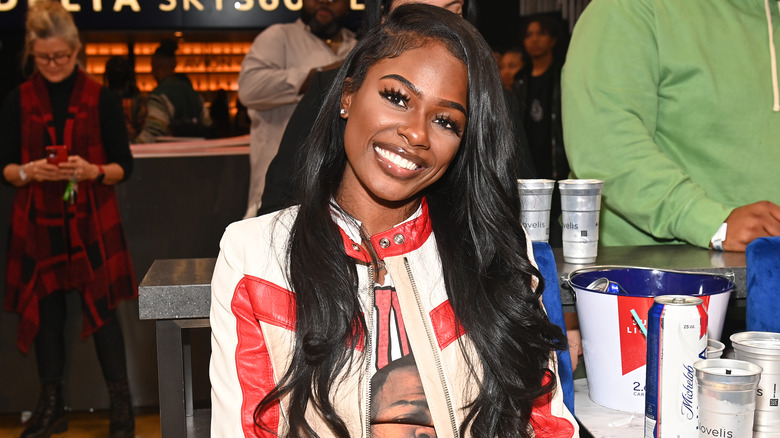 Paras Griffin/Getty Images
For a chilly night game under the lights or early in the spring season when the weather hasn't warmed up yet, you'll probably want a fashionable way to stay warm. A bomber jacket is perfect to pair with a baseball cap for laid-back boss vibes, plus you'll have another layer to coordinate with the rest of your outfit. Fashion editor Kendall Becker told The Zoe Report, "I love the idea of integrating a jacket — I think this is an easy yet cool way to feel 'sporty' without wearing literal team attire."
Lean on your basics
Your baseball game fashion is ultimately a reflection on your personal style, and it can be a paired down version of your favorite looks. Fashionista Kendall Becker told The Zoe Report, "I recommend a 'less is more' approach — forgo complicated pieces and stick to interesting basics." She added, "This is an easy way to still feel 'fashion' without feeling like you're turning unwanted heads with an over-the-top outfit." Keeping things basic lets your pieces shine without making them the star of the show.
Sunglasses are a statement piece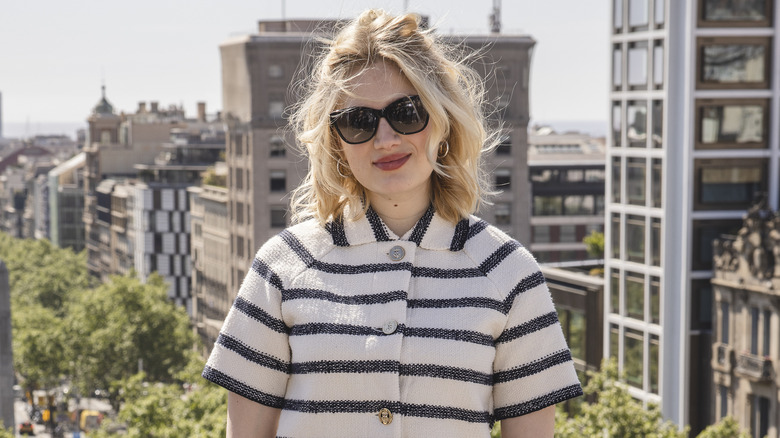 Cesc Maymo/Getty Images
Especially if you're sitting in the nosebleed seats, it may be hard to keep up with the game if the sun is in your eyes. To avoid the glare, grab a pair of stylish sunglasses to complete your look, and they're also the perfect excuse to skip eye makeup if you're not in the mood. Go for an optimistic yellow with a pair from Jenny Bird or keep things mysterious with a pair of classic black shades.
Lounge wear isn't out of place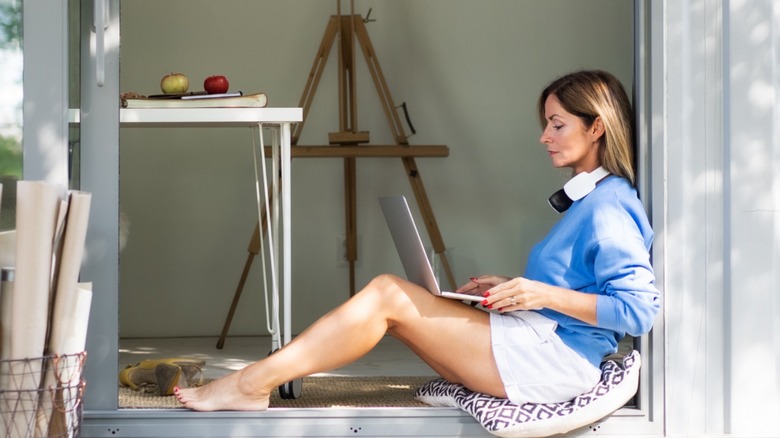 Halfpoint/Getty
Anytime you've signed up to attend a recreational event that can go on for hours, it's your right to wear clothes that allow you to stay both comfortable and cute. Lounge shorts from Land's End give the soft energy we'd sport at home, but paired with sneakers and your favorite baseball tee, they level up to summer wear. And don't be afraid to get creative — a T-shirt or casual button-up maxi dress might also fit the lounge wear bill, plus they score you good ventilation on a hot day in the stands.
Jorts are always a go
Vintage jorts are a hit when it comes to warm weather activities. Whether you're on bleachers, grass, or sand, jorts are resistant to wear and tear, plus they're cute with pretty much any top and shoe choice. Whether you prefer dark wash or light, the ripped or put together look, jorts won't let you down when it comes to staying fashionable while protecting your thighs from too hot seats. Plus, if you have an old pair of jeans that have gone out of style, you can reinvent them with just a good pair of scissors.
It's an opportunity to mix things up
Most importantly, events like baseball games are fun and low-risk moments to try a new flavor of look. Fashion editor Kendall Becker confirmed with The Zoe Report, "I think this is a great opportunity to try out growing trends like the utility pant, wide leg jean, or cutout knit top." So whether you're dressing up a favorite crop top with boxy shorts or pairing combat boots with a T-shirt dress, it's your time to play ball.