Blend, Set, And Bake Your Concealer For A Flawless Finish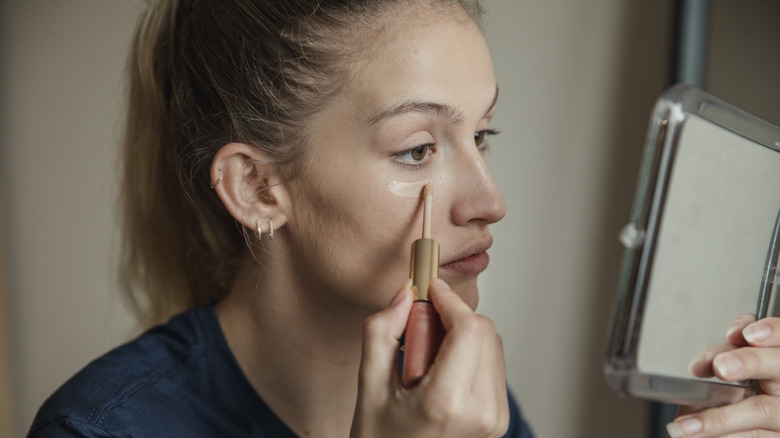 Dglimages/ Getty Images
Imagine this: You spent close to an hour doing your makeup. You've artfully applied your concealer, contour, bronzer, and blush. Everything about your smokey eye is perfect, from its brow to its winged tip. Finished with the look, you step back and admire yourself in the mirror. After snapping a selfie or two, you walk out the door feeling like the 12 out of 10 you are. And then, an hour and a half into your night out, you take a trip to the bathroom, and the reflection you saw before you left no longer appears in the mirror. Your once-perfect concealer is now creasy, greasy, and smudged.
If you've experienced this, we absolutely sympathize. There is nothing that can deflate our confidence like a melted concealer. Thousands of TikTok users were relieved when makeup influencer @paintedbyspencer shared a solution to prevent this and fix concealer creasing under your eyes. In this TikTok, Spencer explained, "All you've got to remember is this: blend, set, bake."
Prep and blend your concealer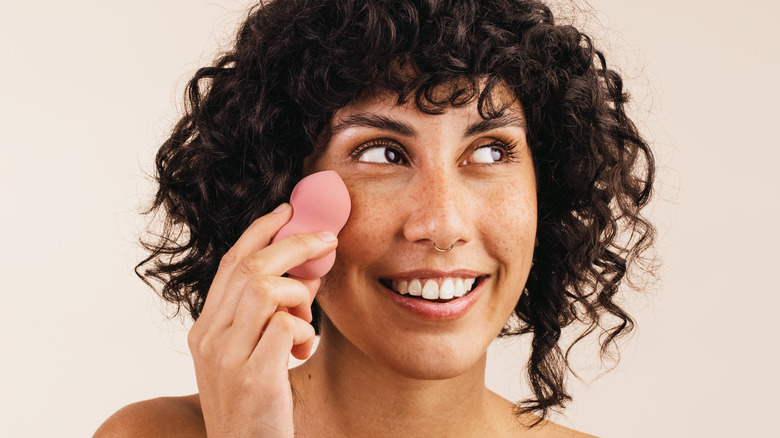 Jlco - Julia Amaral/ Getty Images
Considering @paintedbyspencer's "blend, set, bake" tutorial got over 223K likes, the beauty creator definitely did something right. Over 900 people replicated his technique in a video using Spencer's audio. Many other makeup artists find this same process essential to avoiding a concealer horror story, but before you even get to the blending step, New York-based celebrity makeup artist Lisa Aharon told Byrdie that you must prep the eye area with a moisturizing primer. "Keeping the under-eye area moist and hydrated is crucial to avoid the appearance of dry, crepey skin."
Once your eyes are hydrated and primed, you're ready to blend concealer into your undereye. Makeup artist Nina Ubhi walked through the blending step in her YouTube video: "I'm going to get my beauty blender, and I'm gonna go right under the eye with the tip of the beauty blender to make sure that there are no creases." Then, she warned, "If you don't do this and you go in with the setting powder, you're setting creases."
Set and bake your concealer
Once you've taken a close look at your undereye and ensured you don't have any pesky creases, you'll want to grab your setting powder. At this point, some people may want to marinate their concealer to get the most out of their product, but marinating is an optional step for this method. In the tutorial, @paintedbyspencer tells viewers to use "loose setting powder." He shares, "It's translucent, and I'm lightly going to press that into the concealer to set that into place and to mattify it."
Setting your concealer is like preheating the oven; once that's done, you can start to bake. However, baking concealer is a lot different from baking pastries. According to @paintedbyspencer's tutorial, you'll want to press makeup baking powder into your concealer so it can "brighten up that inner corner of the eye, and it's also going to lock this makeup into place all day long." Per Spencer's advice, "Leave this powder on for at least five to 10 minutes [...] then I'll take a brush and gently start wiping this powder away." Once you see the flawless finish this technique gives your concealer, "blend, set, bake" will become a non-negotiable part of your makeup routine.