How To Wear A Crop Top When You Have A Shorter Torso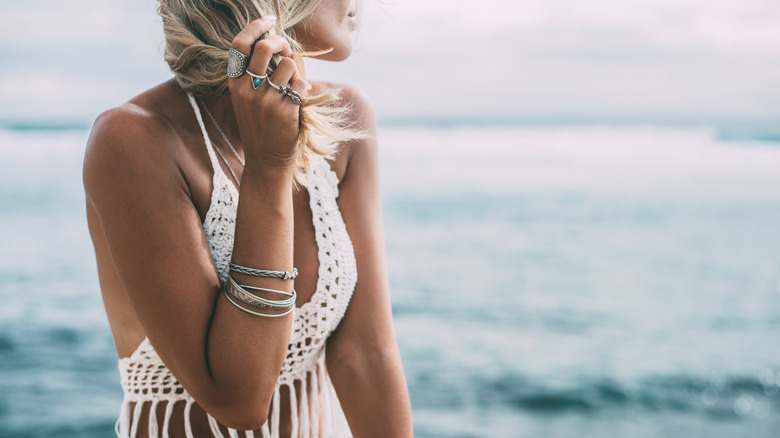 Alena Ozerova/Shutterstock
As summer nears, crop top season is officially approaching. This style of shirt has been popular for decades but has changed in recent years. For example, the extreme cropped long sleeve crop tops are a favorite among Gen Z. 
If you're like us, you've probably been searching for the trendiest way to wear crop tops while making the most of your figure. But depending on your body type, the crop top may seem like a fashion staple not meant for you. That is not true. 
With the evolution of the body positivity movement, it's more clear than ever that clothes are meant to fit you — you aren't meant to fit the clothes. Figuring out what kind of clothes look best on you can be a great way to boost your confidence. If you have a shorter torso, you can also rock the crop top trend with these simple styles.
The sporty solution to crop tops if you have a short torso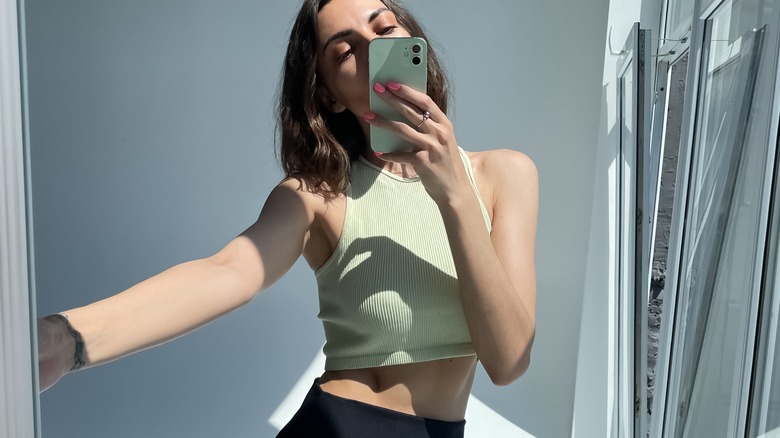 KK_face/Shutterstock
If your torso is short compared to your legs, some crop tops may end up looking like your average blouse or T-shirt. Yet, crop tops come in many styles. One solution to this issue is to wear a workout crop top — aka a sports bra. Even if you are not exercising, the workout crop top can be a stylish addition to your outfit. 
"I love the idea of wearing an easy little crop with your favorite pair of worn-in sweats rolled down at the waist, '90s style — or really big, slouchy, boyfriend jeans [with] cute boy shorts underneath that peek out the top," said stylist Felicity Sargent (via Well+Good). But this shirt isn't just perfect for lounging. Pair the workout crop top with a flannel or cardigan, jean shorts, and sandals for a cute and casual spring outfit.
A fancier crop top option if you have a short torso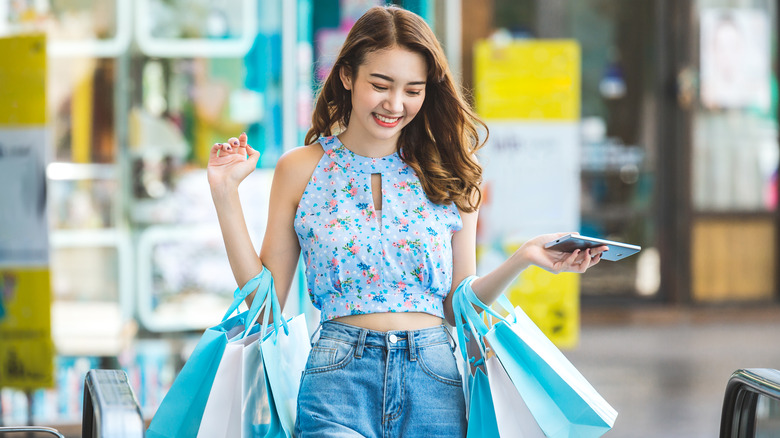 Peera_sathawirawong/Getty Images
A cropped shirt can still be an elegant featured part of your warm-weather outfit. Don't be fooled: You can make the crop top appropriate while staying with the trends. Consider the Meg Flutter Sleeve Smocked Top from Altar'd State for a picnic-ready, open-back crop top. Since this blouse hits right at the ribs, it will work well if your torso is not very long, allowing for some of your midriff to show off without feeling too scandalous. Another more modest take on the fancy crop top is the Fitted Floral Print Crop Blouse from Rihoas; like the other crop tops we have mentioned, this also falls around the ribs.
Just because you have a shorter torso does not mean that you cannot rock the crop top trend. Whether you're looking for a casual, sporty option or a more modest, elegant style, you can look great in one of these crop tops.