Lipstick Isn't Ideal For A Trip To The Beach - Here's What To Try Instead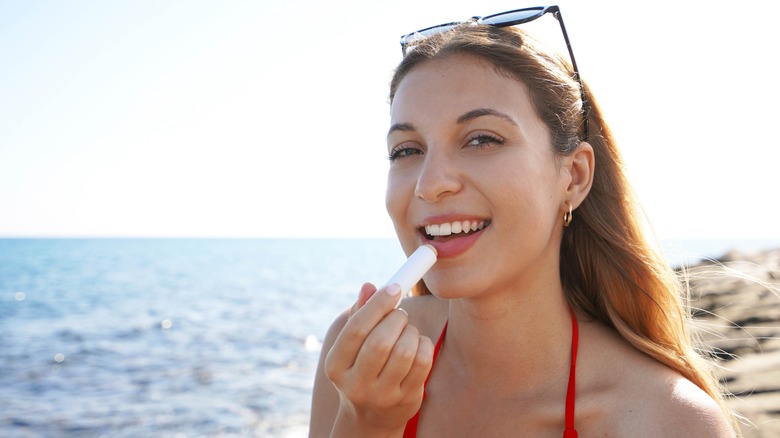 Zigres/Shutterstock
We may receive a commission on purchases made from links.
Summer is fast-approaching, and there's so much about the warm weather months to look forward to. Whether you're a true beach baby who spends as much time as you can with your toes in the sand, or you've just got a beach weekend getaway planned, spending some time by the sand and surf is a highlight of many folks' summers. With bathing suits, coverups, the perfect pair of sunnies, some serious SPF, and your fave de-frizzing hair product, the accessories we need for a day at the beach are very different from our regular day-to-day looks. Still, just because the beach has its own set of requirements when it comes to our aesthetic, doesn't mean that we don't want to look our best or abandon our style altogether.
Makeup can be one of the toughest parts of our look to adapt for the beach. When salt water, and sunscreen, and sweat mix with foundation, mascara and contour, things can get messy, and carefully executed makeup looks can fall apart. That's why pared-down makeup routines and  'clean-girl' beauty trends reign supreme on beach days. But, what lipstick is the best to pair with a beach-ready makeup look? Well, the key to the perfect beach lip look actually isn't lipstick at all.
Balms and stains
Lipstick is a makeup staple for many of us, but it's not the best pick for the beach for many reasons. Lipstick can be sticky, messy, and extra smudge-able in sand and surf, and bold, opaque lipstick can look out of place with a pared-down makeup look. Yet, even though you're at the beach, you can still make your pout pop and create a makeup look that feels complete. 
First and foremost, you should always exfoliate your lips and apply an SPF lip balm. Yes, your lips can get sunburned, too — especially if you're lying out in the sun. Start your lip look with an SPF, like this Salt & Stone lip balm. For your lip color, you should choose a tinted lip balm or a lip stain. A tinted lip balm like this Burt's Bees option will have the same gentle moisturizing effect as lip balm plus a bit of color. This will make for a subtler lip shade that isn't as easily smudged or dried out as lipstick. 
Lip stains, like this L'Oreal Paris option, are also great picks, as they'll leave your lips looking and feeling naked but with a bit of color. If you're a fan of a glossy lip, opt for a lip oil, rather than a traditional lip gloss. No one wants sticky lips when their hair is blowing in the wind and there's sand everywhere. Lip oils are less sticky, longer-lasting, and will keep your lips moisturized.
Choose your shade wisely
While choosing a lip balm or lip stain over a normal, opaque lipstick is a great step toward making sure that your lips are beach-ready, there's another important factor to consider: color. As much as we love a red lipstick or a deep, vampy pout for some occasions, it can look too saturated and over the top for the beach. Furthermore, when our lipstick smudges or wears down, we want the messy parts to be as subtle as possible. In the same way we want to wear lighter nail polish colors when we know our nails are likely to chip, wearing nude or lighter lipstick shades when we know our makeup may smudge is key to looking effortless and put-together without a mess.
This doesn't mean that all beach-ready makeup looks have to be neutral or that all lip colors should be nude. Pinks, berry shades, or neutral colors that are slightly deeper than your lip's natural shade will enhance your lips while still jiving with a no makeup makeup look. Snag a shade like this in a tinted lip balm for a barely-there lipstick alternative that can give you a 'your lips but better' look. You can also pair one of these lip products with a matching lip liner to give your lips a little extra oomph. Add some heavy-duty sunscreen and your favorite shades, and you're all set for a day of relaxing in the sun.