The Bag Trend That Is Straight From The Stables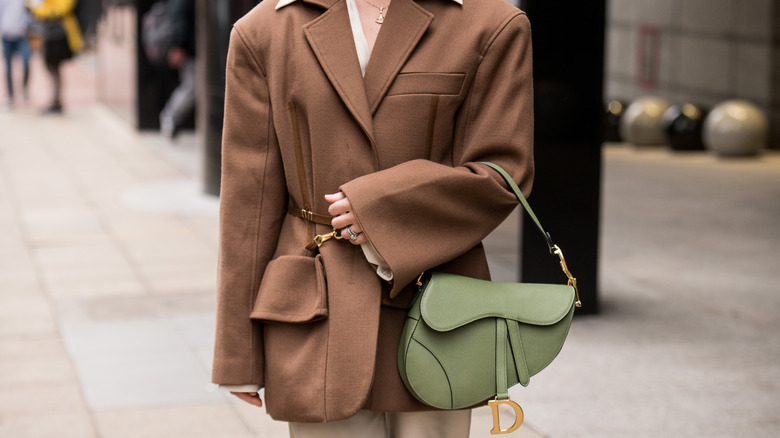 Kirstin Sinclair/Getty Images
Most fashion accessories typically become fleeting trends that vanish as quickly as they came into the scene, but, there are those that become iconic staples that never go out of style. 
The saddle bag is a classic, fashion-forward, and functional accessory that is seen as a luxurious way to elevate an outfit. It was one of Carrie Bradshaw's most iconic bags in the series "Sex and the City", and it has been a wardrobe staple ever since. The equestrian-inspired bag typically features a curved body that mimics a saddle, a fold-over flap, and a crossbody strap, but it can also be worn casually on the shoulder or propped on the arm. 
"Debuted in Dior's Spring Summer 2000 collection by John Galliano, the Dior Saddle Bag was immediately embraced by top celebrities like Beyoncé, Paris Hilton, and Carrie Bradshaw in Sex and the City," Elizabeth Layne, Chief Marketing Officer of Rebag, tells Harper's Bazaar. The fashion accessory is super versatile and can be worn throughout all seasons. And these are the trendiest ways to style your saddle bag for a fashion-forward look.
Match it to one element of your outfit
You don't have to match your saddle bag to your entire outfit, but you can match it to one element of your 'fit to curate a more uniform, balanced look. If you match your saddle bag to one piece of your outfit, you can have fun with the rest of the colors in your ensemble and don't have to worry about clashing colors. To recreate this 'fit, match your saddle bag to your trousers and pair them with a ruffled top for the perfect going-out look.
Style it with jeans and sneakers
The saddle bag is a super versatile accessory that doesn't have to be saved for fancy outfits or glam nights out. You can seamlessly wear it with your casual and sporty pieces for an effortless chic 'fit, so style your saddle bag with a pair of denim jeans and sneakers to elevate a simple, casual look. The jeans and sneakers will give it a sporty aesthetic, and the bag will add that much-needed luxurious glam. To dress up this outfit, put on a pair of wedges or heels and add an accessory or two.
Drape it over the shoulder with a dress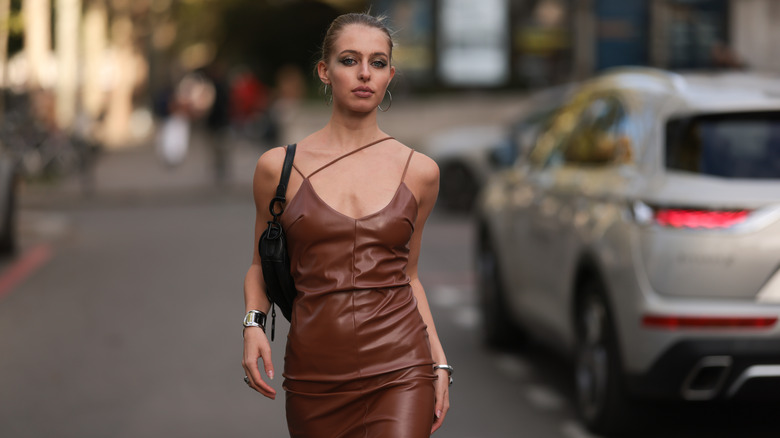 Jeremy Moeller/Getty Images
For date night or on nights when you have an event planned that you need to get dressed up for, use the shorter strap to wear your saddle bag on your shoulder. This will keep your look simple and glam without taking attention away from the main staple. Wearing a saddle bag crossed over your body will only distract from your overall outfit and end up covering your dress in an unflattering way.
Hold the strap for a casual chic look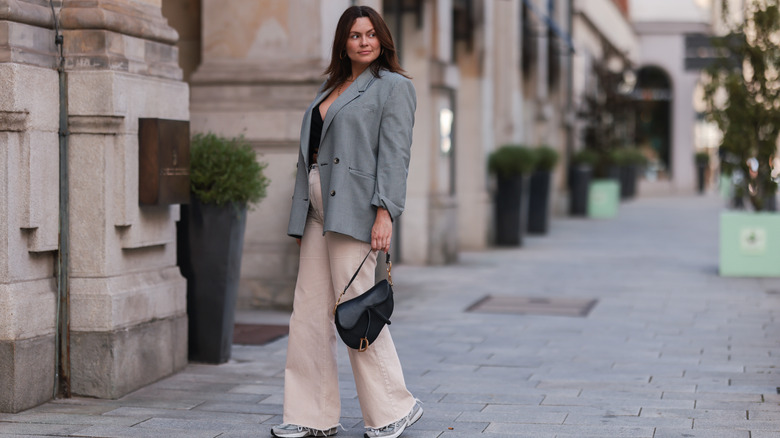 Jeremy Moeller/Getty Images
When you're mixing and matching outfit pieces to curate a casual chic look, the saddle bag is the perfect accessory to add to tie the outfit together. Hold the strap of the saddle bag or wear it on your shoulder for stylish comfort. To recreate this 'fit, pair your jeans with a pair of sneakers and add a blazer to layer your look. The blazer will dress up the ensemble and give you a cool-girl style.
Opt for a mini saddle bag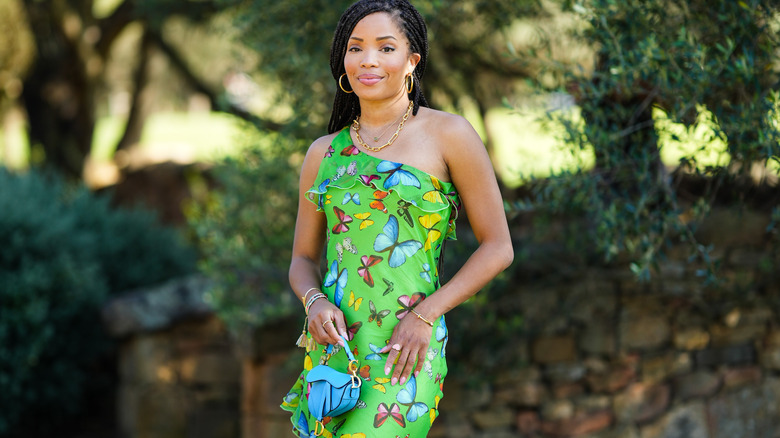 Edward Berthelot/Getty Images
If you want your luxurious saddle bag to be styled as a simple accessory rather than a statement piece that stands out, opt for a mini saddle bag. It's just as fashion-forward and still packs a punch without outshining your main look. This is the perfect bag to wear when you're styling a bold, daring, or eye-catching dress that you're looking to draw attention to. To recreate this aesthetic, wear a colorful, vibrant dress and pair a mini saddle bag that suits the color scheme of the dress. 
Wear it with a matching set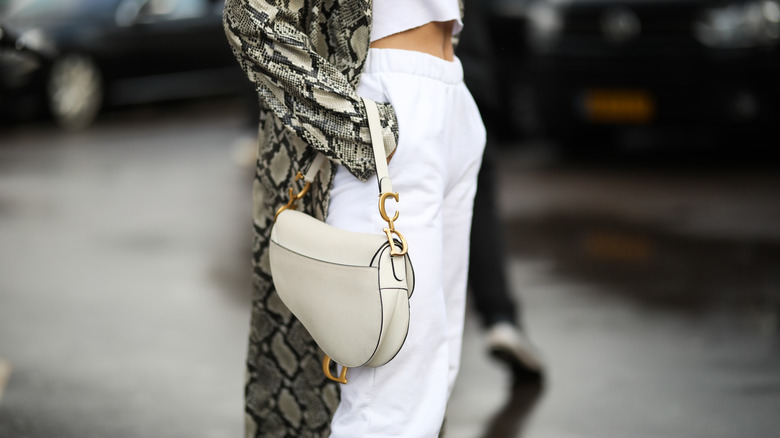 Jeremy Moeller/Getty Images
Who says matching sets are reserved for cozy days at home? Achieve the perfect balance between dressed up and casual-chic with this fabulous outfit idea. Team your saddle bag up with a matching tracksuit set to create a cozy and comfortable but high-end-looking outfit. If you want to keep things casual, wear a pair of sneakers with your track pants. To elevate your outfit, slip on a pair of heels for the ultimate street style.
Style it with layers
Jeremy Moeller/Getty Images
No matter what time of the year it is, you can always find a trendy way to work in a saddle bag. For an outfit with a few layers, hold the saddle bag by the strap, especially when you're wearing bulky sweaters, scarves, or jackets. It can be tough to wear a saddle bag on your shoulder when you're wearing multiple pieces, and it doesn't always compliment the 'fit well. For a balanced, put-together look, match the saddle bag with an element or two from your outfit.
Create a contrast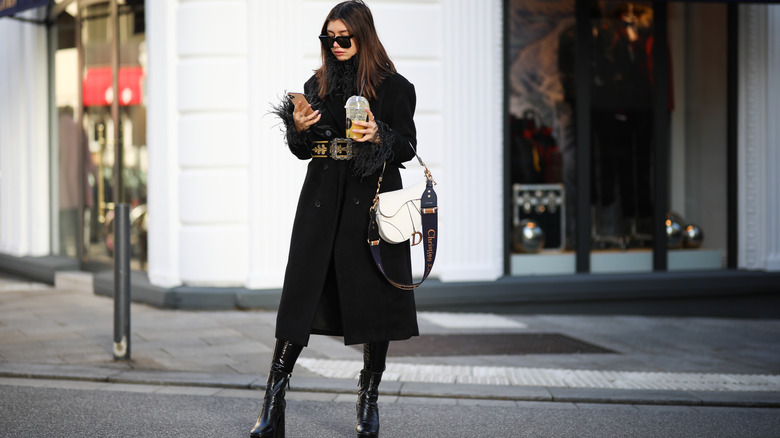 Jeremy Moeller/Getty Images
When you're wearing one color or a certain color scheme, style your saddle bag to create an eye-catching contrast. If you're sporting an all-black outfit, a white or cream saddle bag will stand out against the black and elevate your look. You can also have fun with bold colors and choose a vibrant, colorful saddle bag that will really stand out and make a statement against your monochrome outfit. If you're wearing an outfit in a bright color, we recommend pairing it with a neutral, black, or white saddle bag.
Wear it across your body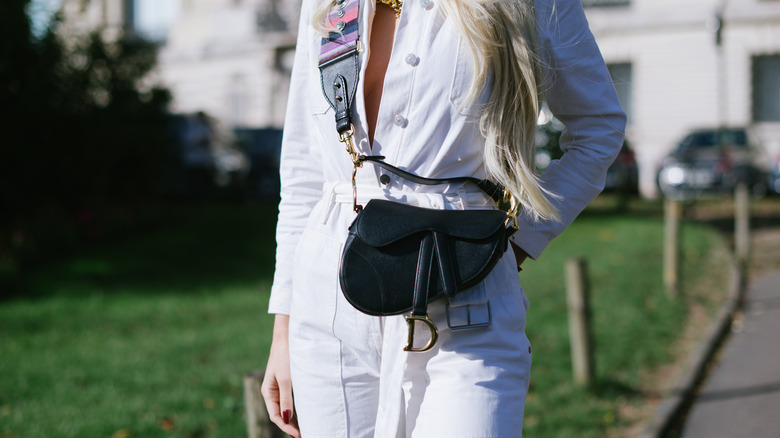 Vanni Bassetti/Getty Images
When you're out and about or on the go, the best way to style the saddle bag is by wearing it as a crossbody. It's one of the best crossbody bags that looks great with a casual outfit rather than a dressed-up or fashion-forward ensemble. Wear your saddle bag across your body for a convenient, hands-free fashion accessory that makes traveling, running errands, or being out for the day comfortable yet stylish. This is the perfect 'fit for when you're traveling and want to stay organized without compromising your style.
Style it with a puffer jacket
The saddle bag can be worn all year long regardless of the season. Style your purse with a puffer jacket to create the ultimate chic outfit for chillier days. The puffer jacket is one of the most classic and timeless pieces you can own and it can be worn in so many different ways. You can opt for a long puffer jacket, a bomber jacket, or a shiny cropped puffer jacket like in the photo to recreate this casual but hip 'fit.
Wear it with a super casual 'fit
The saddle bag pairs perfectly with a cute but casual 'fit and gives it that luxurious element it's missing. Match a cute floral or flowy top with a pair of flare denim jeans and sneakers for a comfy, day-to-day look. You can even opt for a pair of baggy denim jeans, which are having their moment right now and are a statement-making piece on their own. Complete the outfit with a saddle bag for a totally on-trend style.
Embrace the equestrian style
The equestrian style is all about looking like you've just left the barn, with beige tights, knee-high boots, white shirts, and polos defining the style. According to Hello Magazine, Kate Middleton, Reese Witherspoon, Kendall Jenner, Bella Hadid, and Kaley Cuoco have all been seen sporting the equestrian style. To recreate this look, style a black turtleneck with beige tight pants or equestrian-style leggings and your saddle bag to complete the ensemble.
Experiment with colors
Christian Vierig/Getty Images
While monochrome outfits are stylish and sleek, it can be fun to get creative and experiment with different colors in your outfits. Add some bold and eye-catching colors to your 'fit for a look that will have all eyes on you. To nail this trend, we recommend choosing pieces that have limited designs and patterns to avoid clashing and creating an unbalanced ensemble. Experiment with various shades and colors, and finish off the styling with a black or white saddle bag to balance the colors out.
Have fun with plaid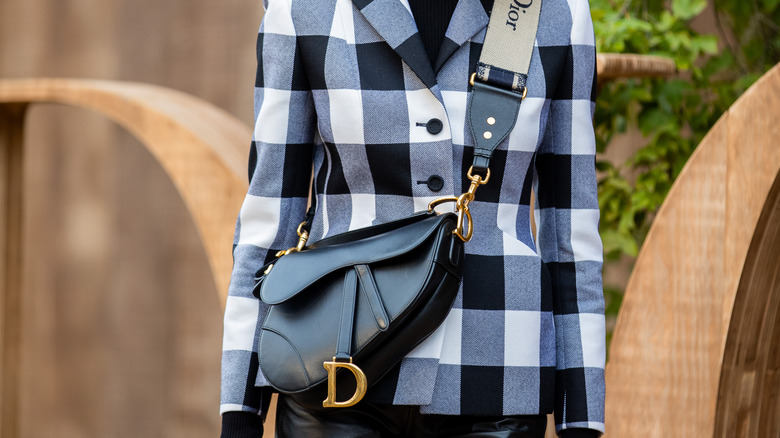 Christian Vierig/Getty Images
Plaid is back, and we're itching to try the reemerging trend. The pattern isn't just for oversized shirts and casual outfits, it can be styled to look chic and classy. For a more glam-appropriate outfit, we recommend wearing a plaid blazer with trousers, or a plaid skirt with a turtleneck or basic top for a sophisticated and haute couture 'fit. Add a black saddle bag to tie the outfit together for a sleek cool-girl look.
Saddle bag with a design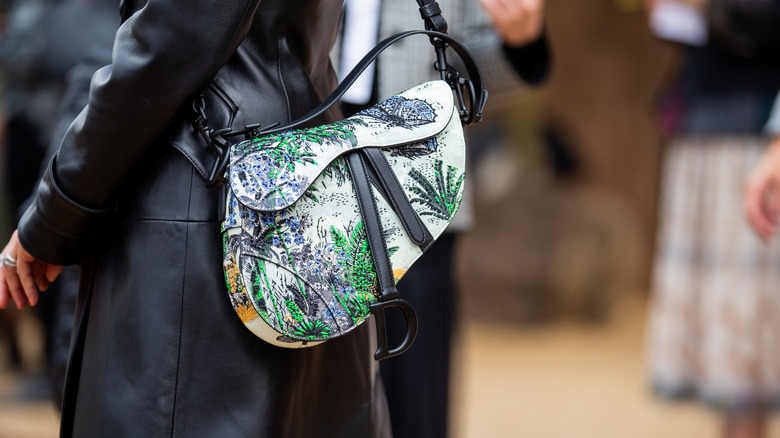 Christian Vierig/Getty Images
There are fewer things as bold and stylish than a luxurious saddle bag with a colorful design. While saddle bags in a solid color are easy to match with, if styled right, a saddle bag with a design can be the fashion accessory that completely transforms your outfit. When styling a saddle bag that features various colors or a design, opt for a monochrome ensemble to create an elegant look. We recommend wearing solid colors like black, gray, or white, depending on the colors of your bag.
Hold it for an ultrachic look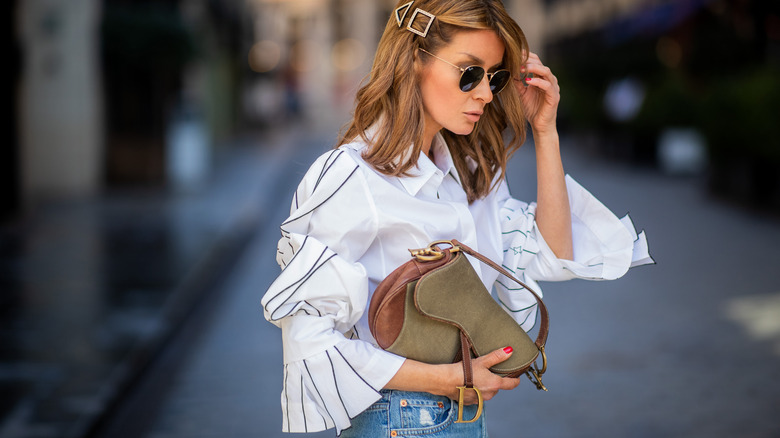 Christian Vierig/Getty Images
If you really want to bring attention to your gorgeous saddle bag, keep it in your hands for the ultimate effect. Hold your saddle bag when wearing a casual-chic outfit to effortlessly elevate the look. The saddle bag also functions as a clutch, so on nights when you're glammed up for an event in a sleek dress, use it for a unique, luxurious touch. This looks best with smaller saddle bags, as it could look awkward when your bag is too big. 
Pair it with a romantic summer dress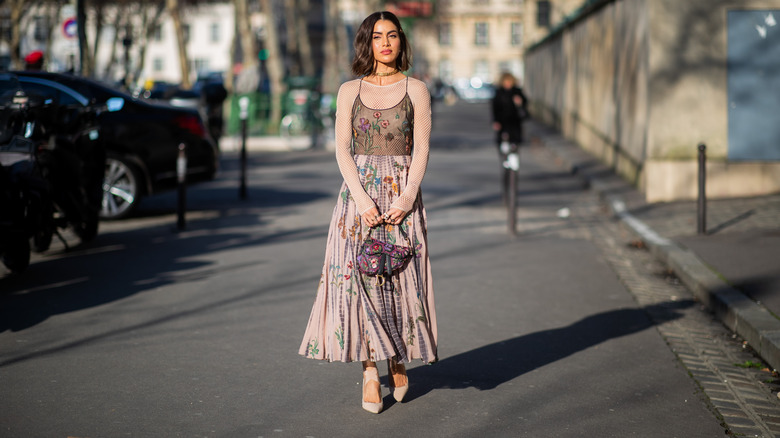 Christian Vierig/Getty Images
There is nothing that captures the essence of summer more than a romantic dress. Put on something flowy and style it with a saddle bag. The bag can be in similar colors to your dress, or in a matching pattern like in this outfit. To elevate the 'fit, slip on a pair of wedges or heels for an ultrachic style. If you're going for a look that's comfortable and casual, put on a pair of sneakers, flats, or sandals to tie the look together.
Style it like a belt bag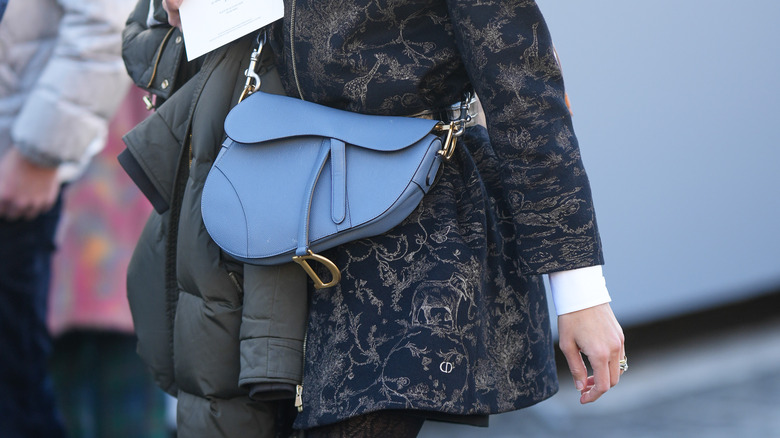 Edward Berthelot/Getty Images
According to New York Magazine, the belt bag has made an iconic comeback and is a must-have in your closet that's both practical and fashionable. While belt bags are a trendy staple everyone is loving right now, they're not the most high-fashion and luxurious bags out there. By shortening the crossbody strap on your saddle bag and wearing it across your chest, you can make it look like a luxe, classy belt bag.
Wear it like a '90s shoulder bag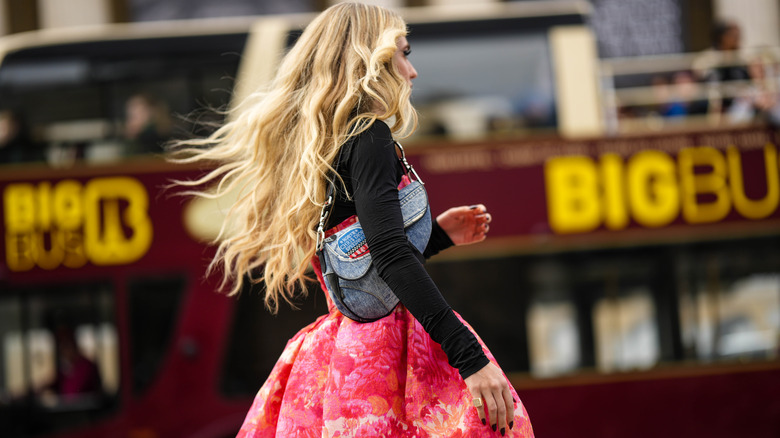 Edward Berthelot/Getty Images
Shoulder bags were everywhere in the '90s and they're currently making a noteworthy comeback. Celebrities like Gigi Hadid, Kendall Jenner, and Kaia Gerber have been seen sporting this throwback trend, showing us that we'll be seeing much more of it in upcoming fashion. Wear your saddle bag using the shoulder strap to recreate this iconic shoulder bag style. The shorter the strap the better, as you'll want the bag to sit high up against your shoulder to get this look just right.
Go for a neutral bag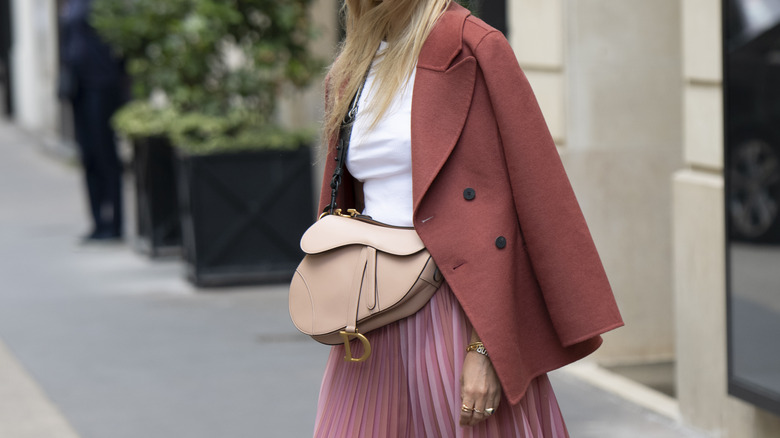 Kirstin Sinclair/Getty Images
Keep things simple and minimalistic with a neutral saddle bag. The neutral saddle bag is one of the most versatile fashion accessories because it goes with everything. Whether you're rocking a sleek black or monochrome outfit, or a pastel-colored look featuring a variety of colors, the neutral saddle bag is the perfect accessory to match. This go-to bag embraces minimalism and a soft, elegant look that will go with all of your yearly outfits.
Have fun with neon colors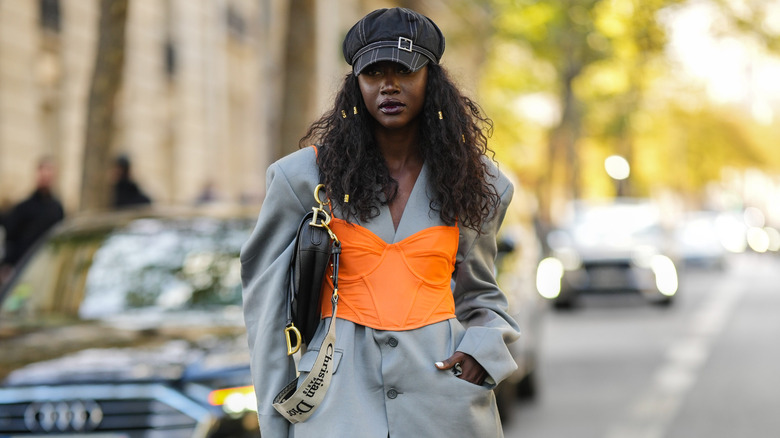 Edward Berthelot/Getty Images
For a more bold and daring outfit, pair your saddle bag with a look that has neon colors. If you don't want to make a statement with your saddle bag, you can still do so with your outfit while rocking a black or white purse. To copy this 'fit, add a cute neon piece to your monochrome clothes, and style it with a classic black, cream, or white saddle bag that won't clash with the funky colors.
Break up a black and white outfit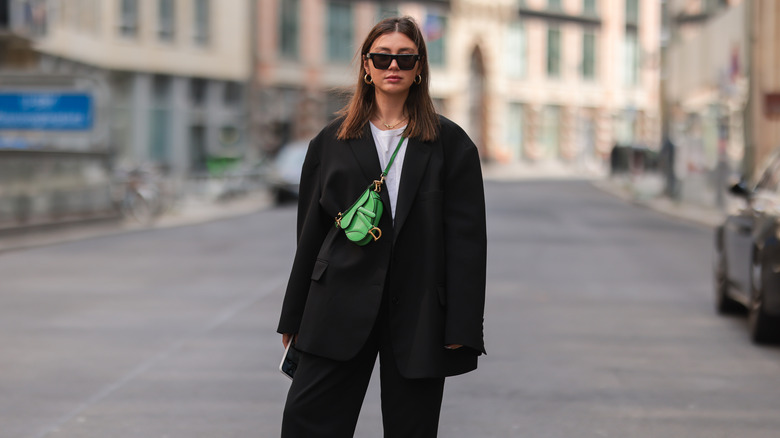 Jeremy Moeller/Getty Images
Black and white is a classic color combination that makes any outfit look effortlessly sophisticated and elegant. To add a bit of dimension to the ensemble, add a pop of color with a vibrant saddle bag. You can go for an ultra-mini saddle bag to recreate this look, or opt for a bigger bag that will truly stand out and bring some color to your 'fit. Feel free to experiment with different shades and colors that suit your personal style.
Style it with a pant suit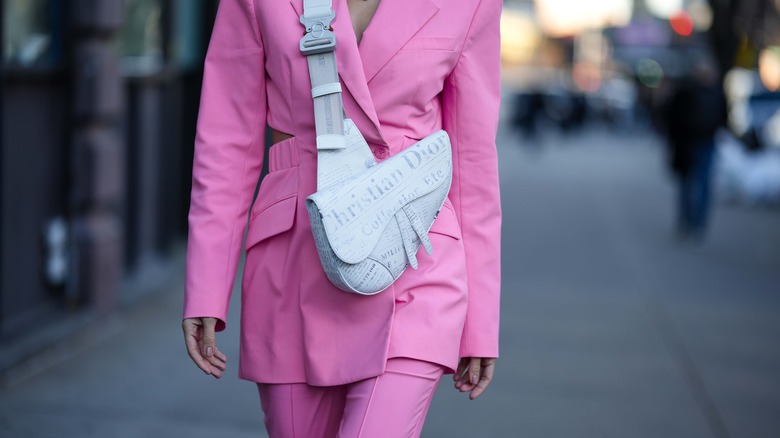 Edward Berthelot/Getty Images
An oversized pant suit is a closet essential everyone needs in their wardrobe. Emily Gordon-Smith, a content director at trends-intelligence agency Stylus, tells Elle Canada: "Easy volume with a casual quality is the key to this silhouette's success — nothing like the confined, restrictive tailoring of traditional officewear or historic '80s-influenced power dressing. The soft pantsuit can take you from brunch to the boardroom and is highly forgiving." Add a saddle bag to your suit for a classy and elegant outfit that's perfect for any occasion. 
Wear it with layers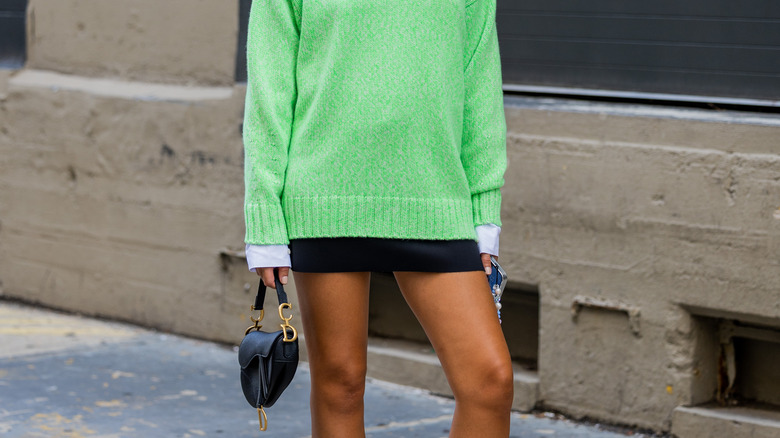 Christian Vierig/Getty Images
Layering is a go-to move for spicing up an outfit and creating a unique, dynamic look. Whether you're styling a casual outfit or a look that's dressed up for an occasion, you can layer your clothes and add a saddle bag to complete the aesthetic. To copy this casual but chic style, match the color of your saddle bag to one of the layers of your look. Put a jumper over a white dress shirt and add a black skirt with sneakers.
Style it with an all neutral look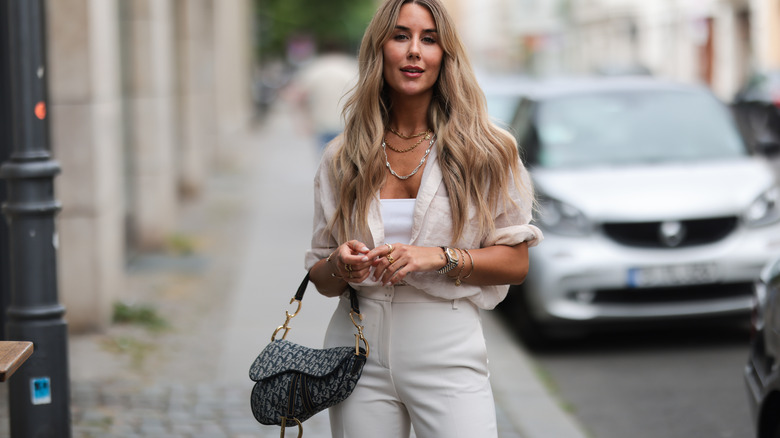 Jeremy Moeller/Getty Images
Rather than rocking a neutral saddle bag, why not decorate your all-neutral outfit with a cute, patterned saddle bag? Neutrals are all about embracing minimalism and simple-chic vibes. Your saddle bag, on the other hand, can elevate and revamp a casual outfit. We recommend choosing a bag that's in a fun, bold color that creates a beautiful contrast with your neutral ensemble. Or, opt for a bag that has a stylish, sleek pattern for a sophisticated look.