The Young And The Restless Icon Eric Braeden Explains Cancer Diagnosis In Emotional Video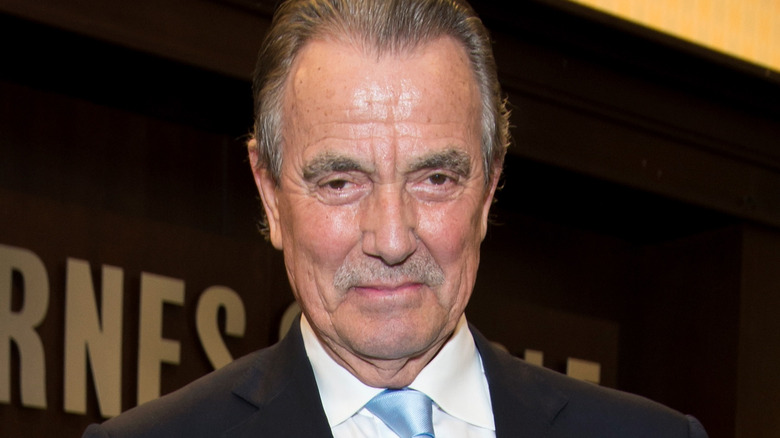 Tara Ziemba/Getty Images
For over 40 years, Eric Braeden has played Victor Newman on "The Young and the Restless," and few faces in daytime television are as iconic as his. Braeden, 82, has spent decades shaping Victor into the soap opera's leading man, frequently caught in dramatic affairs with his longtime love Nikki Newman (Melody Thomas Scott) and sometimes paramour Ashley Abbott (Eileen Davidson) while overseeing his family's empire. 
Victor has been married tons of times and has four children. Like any good soap opera character, Victor has also died more times than makes sense, only to return as a force to be reckoned with in Genoa City. In his role, Braeden has faced many health emergencies, having undergone numerous assaults, a heart transplant, and even poisonings. Now, the actor has revealed health issues of his own, frequently updating fans on social media. 
On April 21, 2023, Braeden shared a 13-minute video to his Facebook page revealing that he's currently battling cancer. "If you're seeing me a little under the weather, yeah, I have been," the daytime TV icon acknowledged. "But I will lick this. This bastard ain't gonna get me — I'm gonna get it. All right? I'll be in top form again soon." Evidently, just like his fan-favorite character won't be beaten, Braeden isn't going down without a fight.
The actor discovered the disease after having knee surgery
Eric Braeden opened up about his cancer journey with fans in an emotional video, noting that some watching might even find the details helpful. Following knee replacement surgery, the "Young and the Restless" star experienced problems with his prostate. "I think this might be good for some older guys who may or may not listen to this. It'll happen to them," he explained. "Your prostate grows as you grow older." The actor received treatment to improve urination, during which a specialist at Cedars-Sinai Hospital in Los Angeles examined his bladder and discovered cancer. 
Braeden then underwent surgery to remove a tumor from his prostate and urethra surgery to relieve pressure in the area. However, high-grade cancer cells subsequently showed up in his biopsy results. Braeden, who recently celebrated the 50th anniversary of "The Young and the Restless," assured his followers he's undergoing immunotherapy treatments, taking it easy, but still working — something he finds great joy in. 
"It distracts me. I love acting. I love knowing I entertain people," Braeden enthused. Likewise, he told fans, "I love your support — it means a lot." The actor, who also had a role in one of the biggest box office successes in history when he portrayed John Jacob Astor in "Titanic," originated the role of Victor Newman in 1980.