How Can You Detangle Already Damaged Hair Without Making It Worse?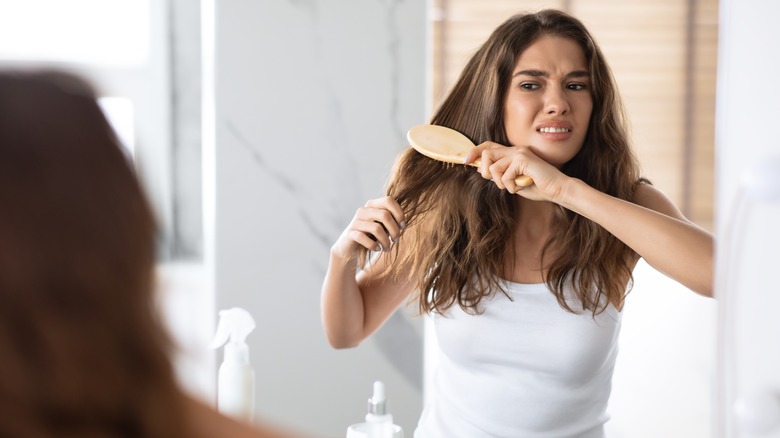 Prostock-studio/Shutterstock
No one wants to have damaged hair but with the hustle and bustle of daily life combined with the availability and ease of using hot tools, some damage may be inevitable. Having a good hair care routine helps guard against brittle hair, split ends, dry ends, and hair breakage.
"The most common causes of heat damage include chemical processes such as color and chemical relaxers, as well as heat damage from using hot tools daily" stylist Susan Ford told Real Simple. "Environmental factors, such as hard water, UV rays, and even extreme cold, can also cause damage."
When hair is damaged, any styling such as applying heat or dyeing your hair must be done with the utmost care. Even simple grooming habits like brushing need to be done carefully. If hair is damaged and needs to be detangled, it calls for the utmost care and patience to minimize already damaged hair from getting worse.
Start with a leave-in detangler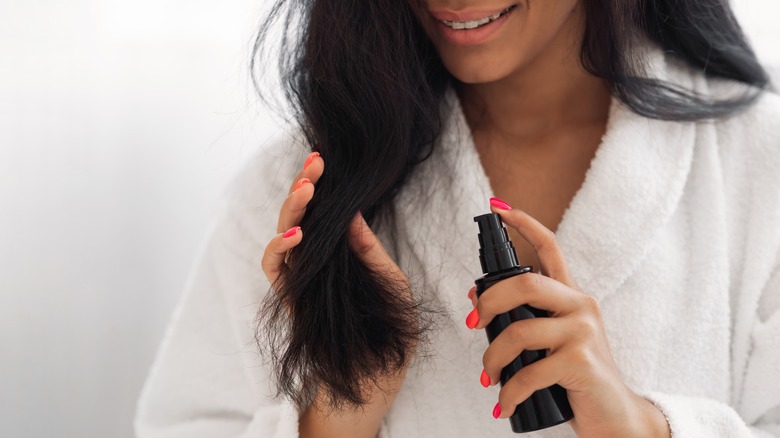 Prostock-studio/Shutterstock
When detangling hair that is damaged, it's vital to not do anything that contributes to its vulnerable state. Once damaged, hair can easily break due to its loss of strength and luster.
If your hair is very tangled, apply a leave-in detangler or use a detangling spray to prep the hair before you attempt to detangle it. "A detangler is a leave-in conditioner that contains a variety of oils for hair hydration," explained celebrity hairstylist Andrew Fitzsimons to Good Housekeeping. "It is used to smooth your hair cuticle by filling splits and breaks, reducing friction between strands and making tangles more manageable."
Detanglers will not only help remove tangles but leave hair stronger and moisturized. Choose a formulation that is geared toward your specific hair texture, whether fine, thick, straight, curly, or wavy. With the right leave-in detangler, you may find that the knots untangle themselves with ease. Start out by running your fingers very gently through the knots, before you use a brush.
Brushing out tangles in damaged hair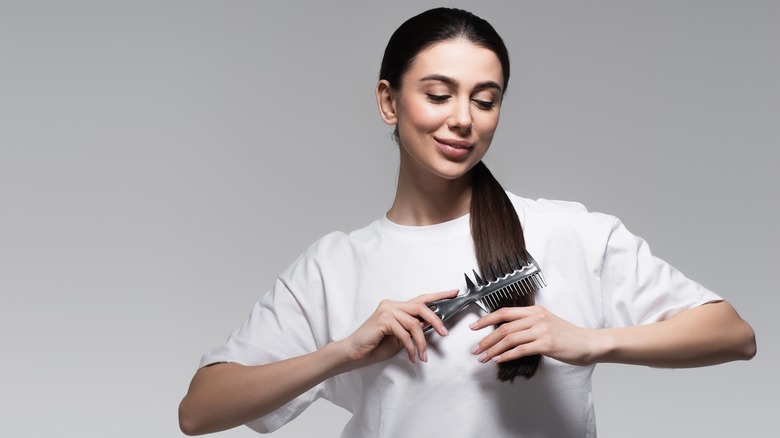 LightField Studios/Shutterstock
According to the American Dermatological Association, everyone, even those with healthy hair should only brush their hair to style it and not to reach some kind of brushing quota. Furthermore, when you brush, you should never tug at it.
When attempting to detangle already damaged hair, you want to split the hair into sections so you can focus on one section at a time, as per Garnier. Then start by brushing from the bottom using a wide tooth comb which will offer less opportunity for getting stuck and causing further damage. Begin with the ends and very slowly inch your way up. Never begin at the top of the scalp as that will ensure more tangles, and breakage, and possibly leave you with your brush getting stuck midway down.
Once tangles are out, make sure to regularly use a hydrating mask to keep hair nourished and fortified. Also, every 4-6 weeks, go for regular trims at the salon to remove split ends.