Bust Out Your Fav College Sweatshirts For An Effortless Street Style Look
When you feel like staying cozy and comfortable but don't want to compromise your stylish outfit, there's a trendy fashion staple you can wear that will give you both cozy and chic. The college sweatshirt is quickly becoming a street style go-to that everyone is buzzing about. It's a versatile staple item that can be styled with just about anything — from a midi skirt or cargo pants to baggy denim jeans, there are endless options for styling this classic layering piece. The collegiate aesthetic has been trending this season and many are pulling out their old sweatshirts from their closets and giving them a fresh breath of life with trendy, fashionable outfits.
Fortunately, your pullover doesn't have to be a comfy piece you wear only when lounging at home or studying in the library. We've rounded up the best ways you can achieve an effortless street style look with your favorite college sweater.
Blazer and legging combo
Keep things comfy and casual with this sporty but chic combo. The leggings and sneakers give this outfit a laid-back feel while the blazer dresses it up to create a balanced, effortlessly stylish outfit. To recreate this look, opt for neutral colors and mix them with white and black to fit the style you're going for. To add more glam to the outfit, add a few accessories like chunky hoop earrings, a purse, and a few necklaces.
Style it with oversized trousers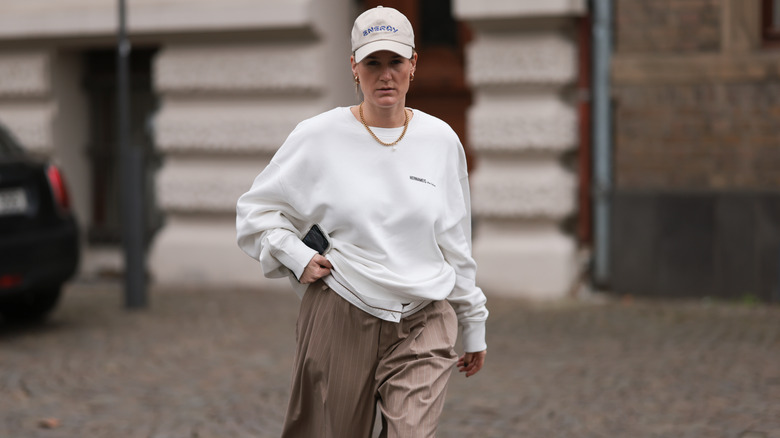 Jeremy Moeller/Getty Images
Baggy pants are a major trend that has quickly taken over social media, with #baggypants on TikTok racking up over 47 million views. Oversized trousers are having their own moment right now, and are the perfect versatile piece that can be worn to elevate a basic outfit. Style your college pullover with a pair of oversized trousers for the perfect outfit that's comfortable, edgy, and makes a statement. Experiment with different color combinations for a vibrant outfit, or stick to neutrals for a toned-down style.
Pair it with more fitted trousers
Not a fan of the oversized, baggy trouser look? You can still sport this chic and edgy style with a minor adjustment. Swap out the baggy trousers for fitted trousers that show off your curves and balance out the baggy sweatshirt. By pairing your college sweatshirt with fitted trousers, you'll have an outfit that's sporty on the top and dressed up on the bottom, creating a funky balance of sophisticated and casual. Complete the look with a pair of loafers or sneakers, depending on what style you're going for.
Oversized trench coat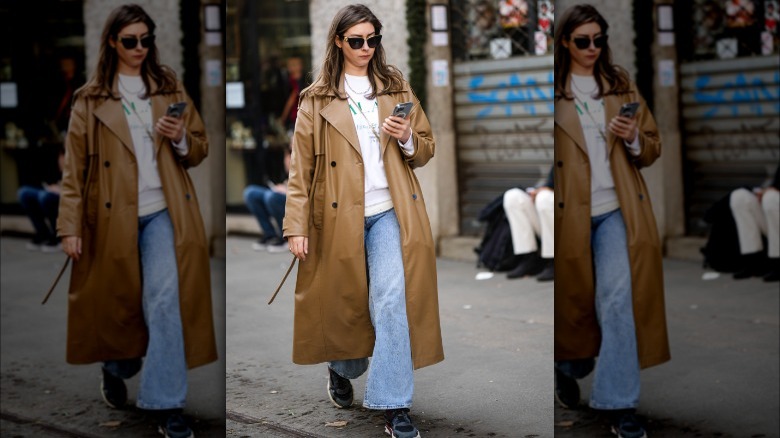 Edward Berthelot/Getty Images
An oversized trench coat can elevate any outfit, which is what makes it the perfect piece to style with your college jumper. Pair your sweatshirt with a leather trench coat — it can be brown, black, or any other shade. With this look, you can wear any color college sweatshirt so long as it doesn't clash with the color of your trench coat. To jazz up the look, add some of your favorite accessories, making it your own.
Dress it up with heels and a purse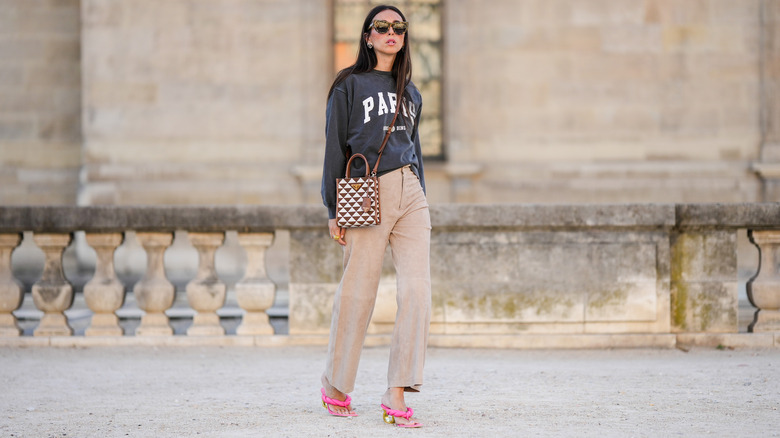 Edward Berthelot/Getty Images
While a college sweatshirt is often considered a laid-back, casual closet staple, there are plenty of ways you can dress it up. Glam up your outfit with a pair of heels and a cute purse. To recreate this iconic outfit, put on a pair of neutral, beige pants and pair them with a kitten heel in a color that pops. Shorter heels will give this look a more cool-girl aesthetic and keep you comfortable through the day.
Style it with fitted jeans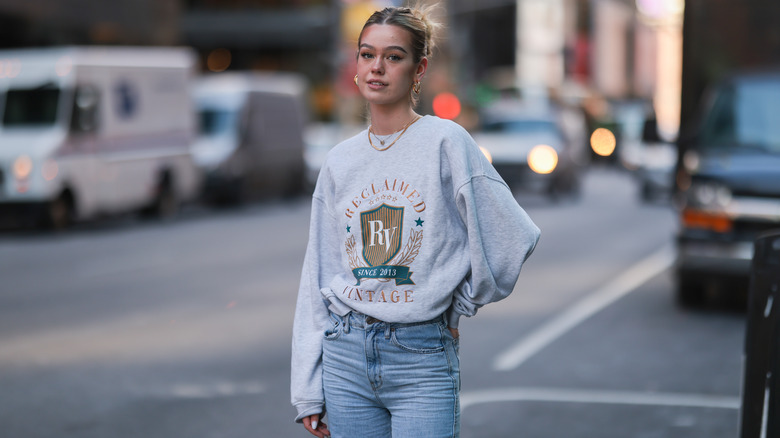 Jeremy Moeller/Getty Images
Looking for an effortless way to create a cute look with your college pullover? Throw on a pair of form-fitting denim for a timeless outfit that's perfect for low-maintenance girls and still makes a statement. Fitted jeans are making their way back into our closets, and are once again a staple wardrobe piece that will elevate your outfit. For an every day look, style the outfit with a pair of sneakers, and to dress things up, put on a pair of strappy heels for an evening out. 
Create a matching set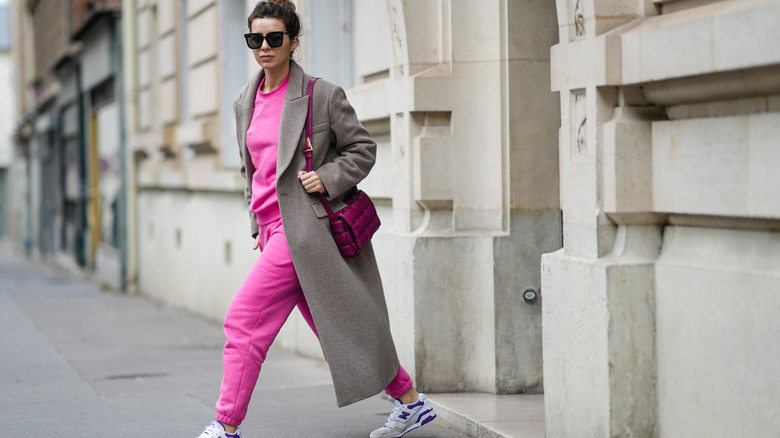 Edward Berthelot/Getty Images
You can't go wrong with a matching set. It can be thrown on last minute when you're tight on time and need a quick go-to outfit. You can also mix and match your set pieces with other tops and bottoms. Find track pants or sweatpants that match the color of your college sweatshirt, and style them with comfortable sneakers for running errands or walking around the city. You can dress up the set with an oversized trench coat or blazer to take your outfit to the next level.
Rock a pair of biker shorts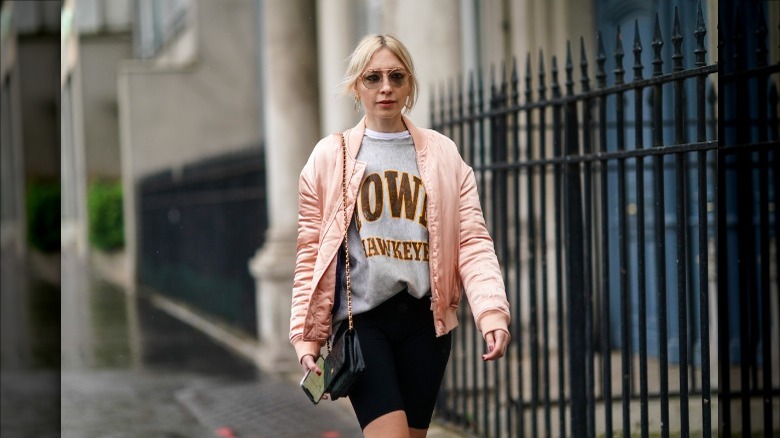 Edward Berthelot/Getty Images
Biker shorts are the ultimate closet essential that you can pair with your college jumper. They bring a sense of nostalgia with them, as they were a viral fashion staple in the '90s and were sported by the most notable celebrities. This classic outfit is also known as Princess Diana's signature look as she was often seen wearing various college sweatshirts with biker shorts. This look is moody, chic, and stylish while still keeping things classy.
Wear it with a belt bag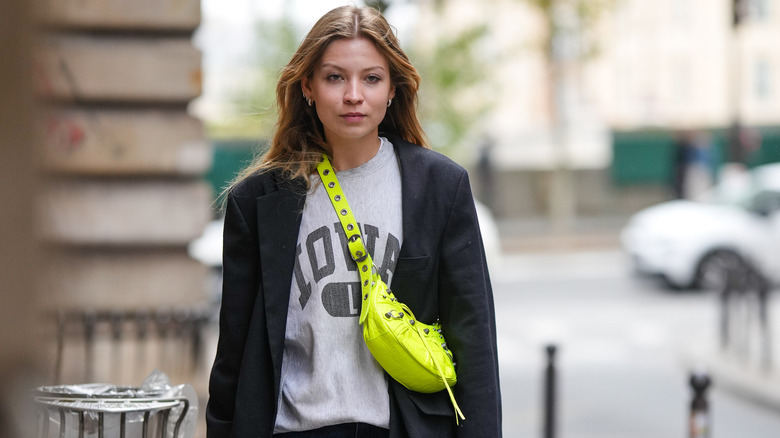 Edward Berthelot/Getty Images
Belt bags have been trending and it seemed like at one point, everyone had the viral Lululemon belt bag. Pair your classic college sweatshirt with a cute belt bag for an athletic style. If your sweatshirt is in a bright or vibrant color, wear a neutral or black belt bag to avoid any clashing. If you're wearing a neutral belt bag, throw on a funky, colorful bag over it for an eye-catching look.
Style it with a puffer jacket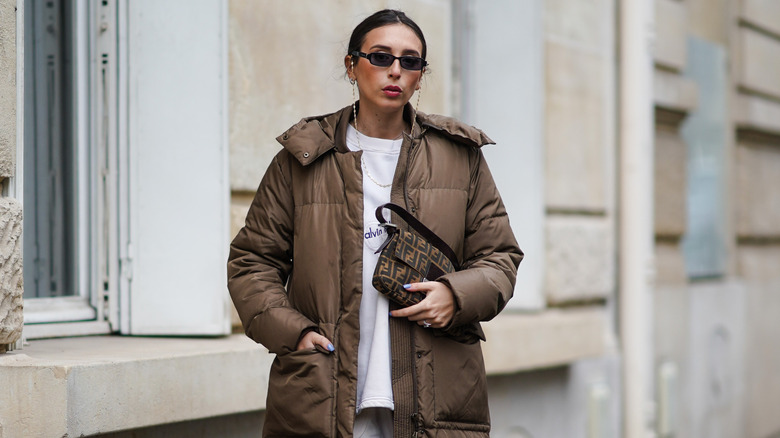 Edward Berthelot/Getty Images
Just because the weather is colder (depending on the time of year, of course) doesn't mean your style has to take a backseat. Don't compromise your outfit on cooler days and instead, throw a classic puffer jacket over your college sweatshirt for ultimate warmth and style. Puffer jackets have been trending for the past few years and are showing no signs of slowing down yet. You can opt for a cropped, shorter puffer jacket or go for a longer, knee-length jacket to stay extra warm.
Go for a baggy jean look
Just like baggy trousers and cargo pants, baggy denim jeans have become an iconic closet essential that everyone is wearing. It seems that Gen Z has declared that skinny jeans have been replaced by baggy denim, which is the new fashion staple everyone should have in their wardrobes. When it comes to styling baggy clothes for a flattering fit, the college pullover is the perfect piece to reach for when curating a chic outfit. Style your sweatshirt with a pair of baggy jeans for a super trendy look. 
Pair it with a baseball cap and coat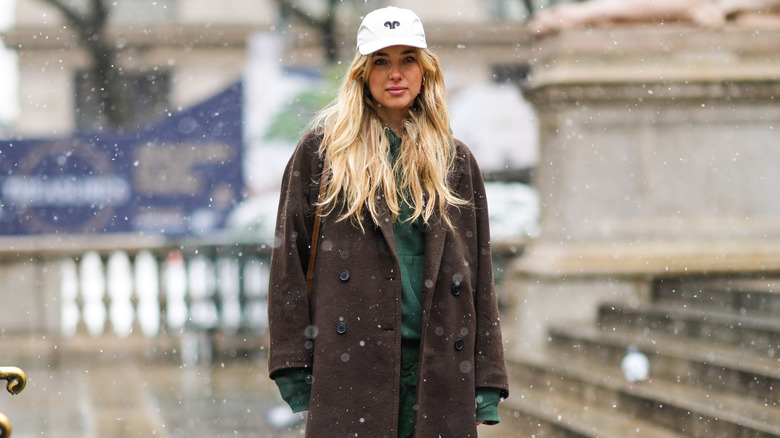 Edward Berthelot/Getty Images
For colder days when you still want to rock a stylish look, put on your favorite sports cap with an oversized trench coat or puffer jacket to keep you warm. This outfit gives off an "I woke up like this," effortless vibe. Have fun combining different designs and patterns depending on your mood — you don't have to follow any color scheme to nail this outfit, and you can feel free to get creative.
Style it with army pants
Army pants are everywhere this season and we're not mad about it. They're casual but trendy and will work with just about any top. Regardless of what type and exact shade of army pants you have, they will look great with any color college sweatshirt for a flattering outfit. Complete the outfit with a pair of sneakers and a jacket over the top if the weather is cooler. To recreate this outfit, stick to beige and neutral colors for a soft-girl look.
Drape it over your shoulders
For that awkward weather that hangs in between cool and warm, drape your pullover over your outfit. Wear a basic tank top in a neutral shade under your sweatshirt, and drape the sweatshirt over your shoulders for when you get warm and need to cool off. Rather than having to carry around your sweater, use it as a stylish accessory that gives your outfit a trendy, layered feel with the sweater over the shoulder look. 
Sport it with leggings and a headband
The headband is one of the trendiest hair accessories of the season and has even been seen sported by stylish celebrities like Bella Hadid, Nicola Peltz, Kendall Jenner, and more. Pull together a relaxed fit with your college pullover with a pair of comfortable leggings and a headband. The versatility of this outfit creates a look that appears put-together for a low-key day, grabbing coffee with your friends or taking the dog for a walk.
Wear it with the viral flare pants
The yoga pants with a v-shaped front and flare or skinny bottoms went viral and became a wardrobe essential everyone was after. The pants became so popular they've sold out nearly a dozen times (via Seventeen). These sleek, comfy yoga pants are the perfect bottoms to wear with your college sweatshirt for an easy outfit you'll love to wear on any day out. @anabelle_ussher shows us you don't have to wear the exact same shade of pants to match your crewneck for a cute look.
Wear it with cargo pants
Baggy cargo pants completely took over the fashion world with celebrities like Zendaya and Hailey Bieber being spotted sporting the trendy pants. Cargo pants are the celebrity-approved closet staple to wear when you want to stay comfortable but don't want to sacrifice your style. Paired with a college sweatshirt, you'll have an outfit that's edgy and grunge-chic. Tuck your sweatshirt in slightly for a cropped look, or tuck the front of it into your pants.
Match your sneakers
Have some fun by matching your college crewneck with a pair of trendy sneakers. Colorful sneakers have been all the buzz in fashion, and what better way to wear them than by creating a matching look? Complement your sweatshirt with a pair of sneakers that are similar to, or the exact color of it. You can dress the outfit down with a pair of baggy jeans, or add some glam to your outfit with a loose, black skirt.
Wear it over a white dress shirt
Wear your college sweatshirt on top of a basic white dress shirt. This fit is the perfect blend of business casual and cute and is super easy to copy. To recreate this style, put your crewneck over your basic dress shirt and pull out the collar on both sides, the cuffs, and the bottom of the shirt. This will give your outfit a layered and elevated look that's on trend and can be worn in any season.
Layer with a turtleneck
This is another fashionable and unique way to seamlessly create a layered outfit. Wear a turtleneck of your choice — it can be in any color or design, and then throw on your college sweatshirt over it. Make sure that the turtleneck is pulled up to your neck so that it sticks out from the hoodie. You can also pull the ends of your sleeves out to give your outfit a bold and funky edge to it.