Best Perfumes With Vanilla Notes In 2023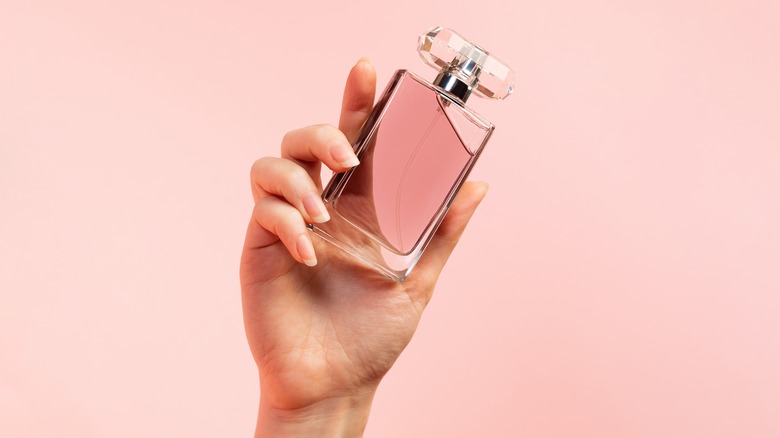 STEKLO/Shutterstock
It can be argued that perfume is an art form, much like painting or photography. In every fragrance is a meticulously crafted story; its notes evoke different emotions, sensations, and memories. Perfume has been used since at least ancient Egypt: It's believed that Queen Cleopatra and Pharaoh Hatshepsut were so fond of perfume that they were buried with it. It's easy to understand why. Perfume has the unique ability to transform your mood with a simple spritz, and it gives wearers the ability to express themselves without saying a word.
When it comes to the vast gamut of perfume notes, it's safe to say that vanilla is a favorite for many. The sweet, confectionery scent has been used in fragrance for decades. These days, vanilla is used in tons of perfumes, both high and low-end, due to its sweet and comforting scent and its ability to blend well with other notes. Despite the fact that vanilla perfumes have been around for over a century, perfumers are constantly creating new and exciting vanilla concoctions. We're here to take a look at 13 of the best vanilla perfumes to try in 2023.
Vanilla 28 by Kayali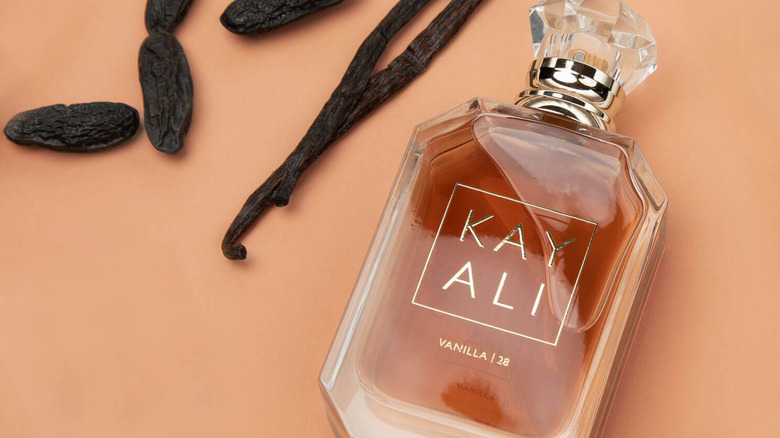 Huda Beauty
Hailed by many as the ultimate vanilla perfume, Kayali's Vanilla 28 is a must-try for those who love the sweet scent. Created in 2018 by Gabriela Chelariu, this perfume includes notes of jasmine, tonka bean, brown sugar, musk, patchouli, and vanilla orchid, among others. What makes Vanilla 28 special is how well-balanced the fragrance is: While some vanillas may lean too syrupy sweet, the vanilla note in Vanilla 28 is perfectly countered by notes of amber, musk, and patchouli. This creates a grown-up and elegant vanilla: "The perfect warm and spicy fragrance," according to Sephora beauty director Melinda Solares (via InStyle).
But don't just take it from us. Fragrantica reviewers also love the sweet and slightly boozy scent. One user wrote, "It's pure brown sugar cake vanilla drops with a little white flower. Intoxicatingly feminine. Like all Kayali perfumes it doesn't smell designer, it's more niche and original, but not too complicated, but also not too simple like a body spray." Other reviewers agree that this perfume doesn't try too hard to include out-there or lesser-used notes, instead utilizing well-loved classic scents like amber and patchouli. It all culminates in a scent that's hard not to love. And, according to Fragrantica's trend chart, people really do love Vanilla 28; it has continually grown in popularity since its release and is more popular than ever in 2023.
Eau Duelle by Diptyque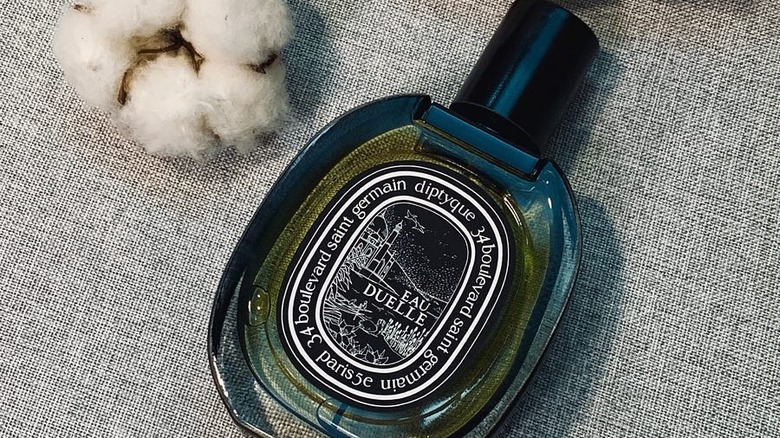 Instagram
Aromatic and complex, Eau Duelle is a spicy vanilla perfume that is significantly less gourmand than other vanillas on this list. While many vanilla perfumes rely on heavy sweetness, Eau Duelle does the opposite, utilizing bourbon vanilla, rock rose, spices, and ambroxan to create a perfume that is both light and complex, sweet and spicy. Diptyque's website describes the fragrance as such: "An ode to travel and vanilla. Along the spice route, the vanilla at the heart of Eau Duelle takes on new aromas: luminous, addictive accents of calamus and dark, smoky nuances of cypriol. Traveling through time and over borders, Bourbon vanilla from Madagascar reveals itself between darkness and light."
Though the brand paints a gorgeous picture of Eau Duelle, perfumers' visions don't always translate to buyers. In this case, though, it appears that the "darkness and light" of Eau Duelle shines through. One Fragrantica reviewer described the fragrance as follows: "It's spicy, it's warm, it's clean, it's musky, it's airy, it's sexy, it's inviting YET mysterious, it's vampiric, it's sultry ... A dream, really! Just utterly perfect. It does have an old library vibe as some have mentioned. Not to mention that it's suitable for any season and unapologetically unisex." The only potential downside to Diptyque's Eau Duelle? It's definitely on the pricier side, with a 75 milliliter eau de parfum running for $220. But for those who are looking for a soft, unique vanilla fragrance, this one may be worth saving up for.
Pistachio by D.S. & Durga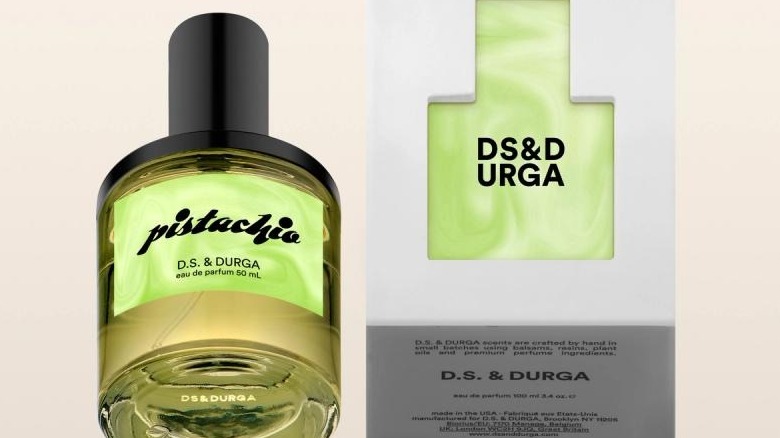 D.S. & Durga
You wouldn't necessarily think to associate vanilla with pistachio, but D.S. & Durga combined the two into an unforgettable sensory experience with their new Pistachio perfume. Launched in 2023, this sweet and nutty fragrance features a lush vanilla crème that makes the perfume uniquely green and gourmand.
According to the D.S. & Durga website, Pistachio is comprised of notes of pistachio, roasted almond, cardamom, patchouli, and vanilla crème; notably, pistachio is included in the top, base, and heart notes, making it undoubtedly the star of the show. But the vanilla crème is what brings some distinct sweetness to this rich and woody scent. Reviews for this fragrance are mixed; some people were expecting a perfume called "Pistachio" to be extra-sweet and creamy, like a pistachio dessert, and were disappointed to find a much more earthy and complex scent. But for those looking for a vanilla perfume that tends more toward a fresh, green, woody feel, Pistachio may be the perfect choice.
Vanille Antique by Byredo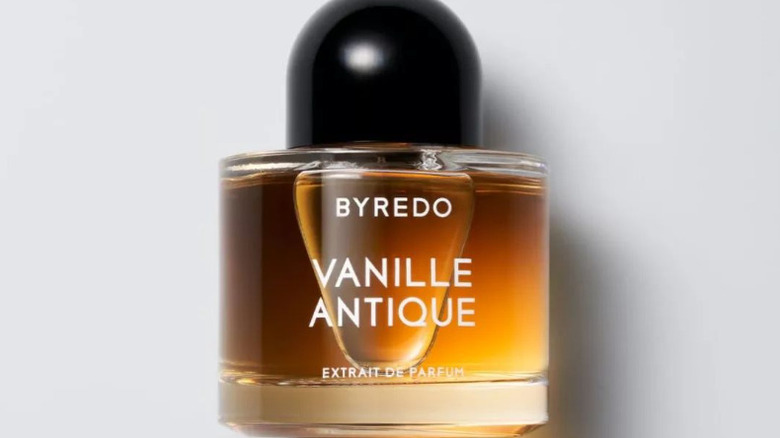 Instagram
Launched in 2022, Vanille Antique is a newer fragrance by Byredo that is for men and women. It has top notes of plum and musk, middle notes of white wood and labdanum, and base notes of amber and vanilla. As you may have gathered based on the main notes in Vanille Antique, this fragrance is a woody, slightly fruity, and decidedly androgynous scent. One of the most unique things about Vanille Antique is that it's made from extracts, which have a higher concentration of perfume oils. This means it has great lasting power, but remains a soft and subtle scent that sticks close to the skin. Tynan Sinks, a writer for Byrdie, tried Vanille Antique and wrote about his experience: "The fragrance sits close to the skin and is detectable only, almost, with skin-to-skin contact, which is an unexpected choice. As a vanilla apologist, I would have preferred something stronger. Still, you realize it's worth the chase when you can smell it."
Moody and long-lasting, Vanille Antique is a unique, complex, and versatile fragrance. It resists trends, which makes it timeless, and will appeal to the vanilla lover who shies away from the cupcake-iest interpretations of the classic scent.
Annabel's Birthday Cake by Marissa Zappas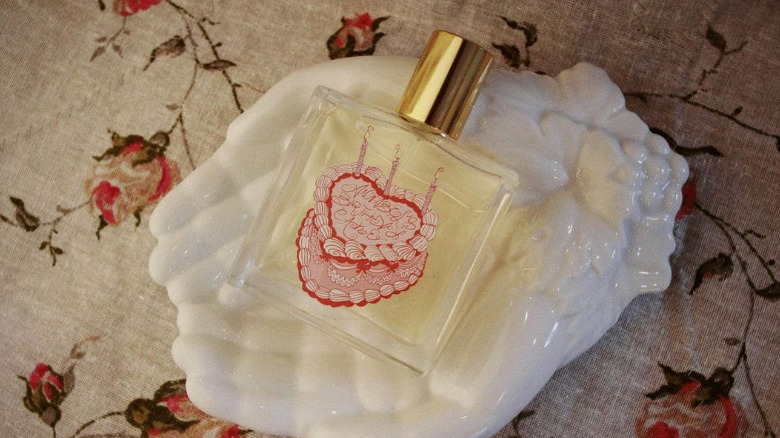 Instagram/Marissa Zappas
It's safe to say that indie perfumers sometimes focus more on creating interesting perfumes than they do on creating wearable perfumes. But we'd say Marissa Zappas' fragrance, Annabel's Birthday Cake, is the perfect mixture of intrigue and wearability. With notes of fluffy vanilla cake, lemon sugar, candied rose petal, roasted tonka, tuberose frosting, and balloons — yes, that's right, balloons — this perfume is sweet, a bit strange, and as addictive as, well, birthday cake.
The perfume, which was inspired by astrologer Annabel Gat, intends to transport wearers to the sunnily optimistic birthday party of their dreams. It smells sweet and nostalgic, but not at all like a teen's syrupy body spray. Rather, it's complex, layered, a bit odd, and altogether fascinating. In her review of the fragrance, writer and perfumer Olya Bar wrote, "In the pool of indie fragrances that I often find too eccentric and borderline unwearable, Marissa Zappas' Annabel's Birthday Cake stands out as both frivolous, flirtatious and playful as it does proper and even pure and virtuous" (per CaFleureBon). Bar added, "Annabel's Birthday Cake has an innocent tutu-like texture yet with a voluptuous and sensual character. Trust me, you'll want to take a bite out of this cake." We couldn't agree more.
Sci Fi by Ellis Brooklyn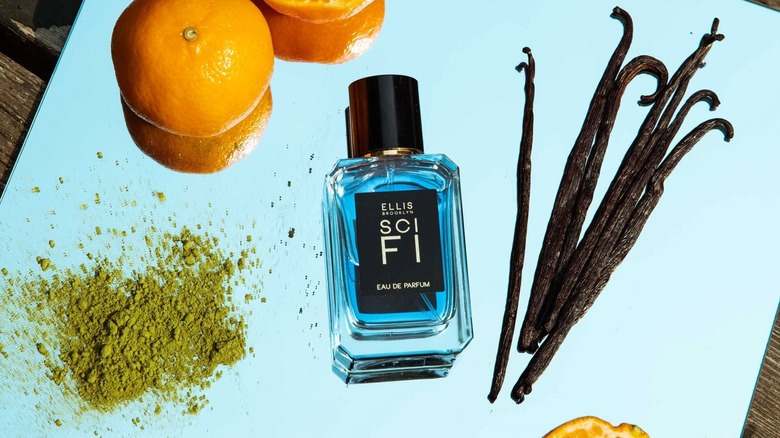 Ellis Brooklyn
Fans of fresh or green scents may usually avoid vanilla fragrances, but Sci Fi offers the perfect combination of refreshing fruitiness and creamy sweetness. Ellis Brooklyn launched Sci Fi in 2017, and the company's website describes the fragrance as a one-of-a-kind encapsulation of the genre for which it is named. "Sci Fi," the site promises, "will change what you know about vanilla-based fragrances."
Sci Fi does indeed manage to offer the soft comfort of vanilla fragrance alongside a sharper, citrusy orange and green tea combination. The result is a perfume that is sweet, but also slightly bitter, with intriguing fruit and floral undertones. According to one Fragrantica reviewer, "In the summer, this perfume smells like a creamsicle. In the winter, it smells a little more cozy and green, like a welcoming tea shop with plants in the windows and pastries on the counters. It's always pretty." Reviewers also note that the staying power of Sci Fi is decent, with many still smelling the perfume after four to six hours of wear.
Cheirosa 71 by Sol de Janeiro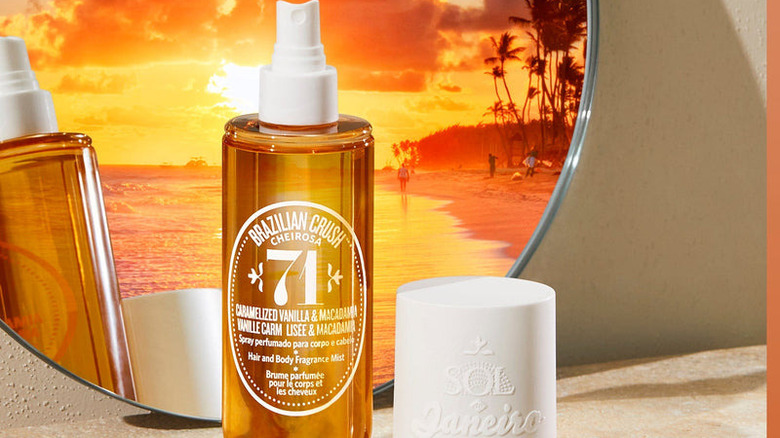 Sol de Janeiro
If you've spent any time on the perfume and beauty side of TikTok, we're guessing you've seen the buzz about Sol de Janeiro's hair and body sprays, with Cheirosa 71 being the most popular by far. It's easy to understand why the fragrance has repeatedly gone viral: it's a summery, tropical vanilla that is deliciously gourmand, with notes of vanilla, caramel, white chocolate, sea salt, macadamia, and coconut blossom. If you want to smell like a literal snack, Cheirosa 71 is the scent for you.
As one enthusiastic Sephora reviewer wrote, "Smells like the inside of a cookie store! I'm really surprised how long this lasts too. I smell it all day!" Other reviewers agree that Cheirosa 71 is shockingly long-lasting and absolutely delicious-smelling. Body sprays aren't always known for their staying power, so we're impressed that this one is a winner in that regard. As a major bonus, this body spray is much more affordable than other perfumes, running at $24 for 3 ouces.
Black Opium by Yves Saint Laurent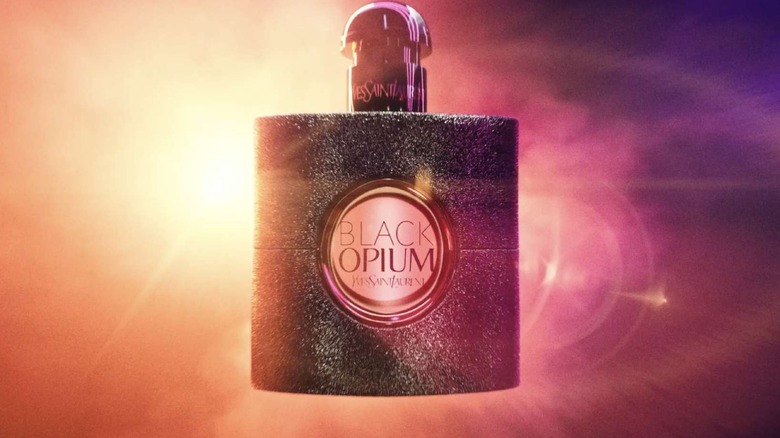 YSL Beauty
This list of vanilla perfumes would not be complete without the iconic Black Opium. Launched in 2014, this dark and sultry fragrance is as popular now as it was at its initial release, and it's easy to see why. The vanilla in Black Opium mixes perfectly with notes of coffee, patchouli, pear, and orange blossom, among others, creating a truly intoxicating scent that is at once floral, spicy, fruity, woody, and sweet -– quite a feat, to say the least.
Nathalie Lorson, the creator of Black Opium, told Look Fantastic that the scent was made to be both unique and addictive. As she put it, "There was already a lot of sweet addictions on the market, including praline and vanilla scents, so we sought something truly original ... We wanted to play with the contrast between black and white, darkness and light, so we juxtaposed the coffee with a white floral bouquet of orange flower and jasmine. ... We also added black vanilla bean and mysterious woody notes of patchouli and cedar to frame the darkness, as well as pink pepper and pear to the enhance the lightness." This scent is perfect for anyone looking for a fragrance that feels bold and hypnotic. Lorson described it as particularly suited towards independent, free-thinking women who aren't afraid to assert themselves, even when it threatens unpopularity.
Vanilla Vibes by Juliette Has a Gun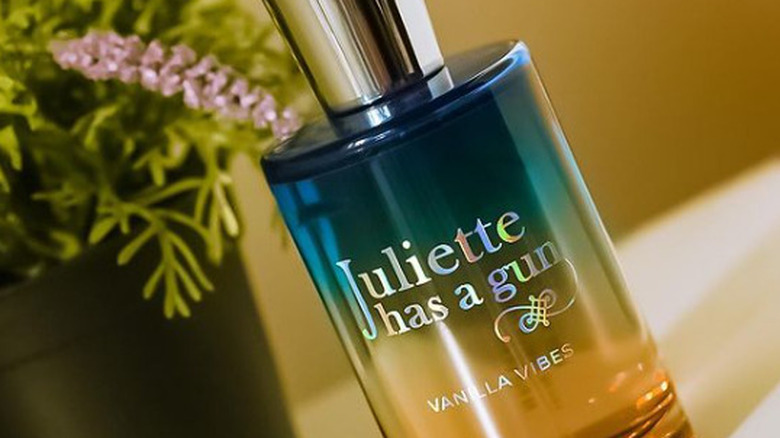 Instagram
Vanilla perfumes, especially gourmand vanillas that are dessert-like to the point of seeming buttery, are often deemed best suited for fall and winter, since their super-sweetness can be cloying in warmer weather. Juliette Has a Gun's Vanilla Vibes, on the other hand, is a quintessential summer fragrance, thanks to its top note of sea salt. This gives the fragrance a beachy, aquatic feel that makes it perfect for July.
The nautical notes of this perfume also make it slightly less sweet than other vanilla fragrances. While the cupcake lovers among us might find this disappointing, it may be a good thing for those who want a fresher, lighter vanilla scent. According to several Fragrantica reviewers, this perfume is basically the beach in a bottle. One user wrote, "Absolutely blown away. Amazing scent. Really does whisk you away to the height of the summer on the beach with a salty breeze blowing warmly. Suntan cream on hot skin. Bikini clad beach goers. Cream sodas with vanilla ice cream floats. Unisex perhaps leaning feminine but who cares? Just enjoy the trip." Grab your towel and your cover-up, because Vanilla Vibes is taking you to the boardwalk.
Vanille by Outremer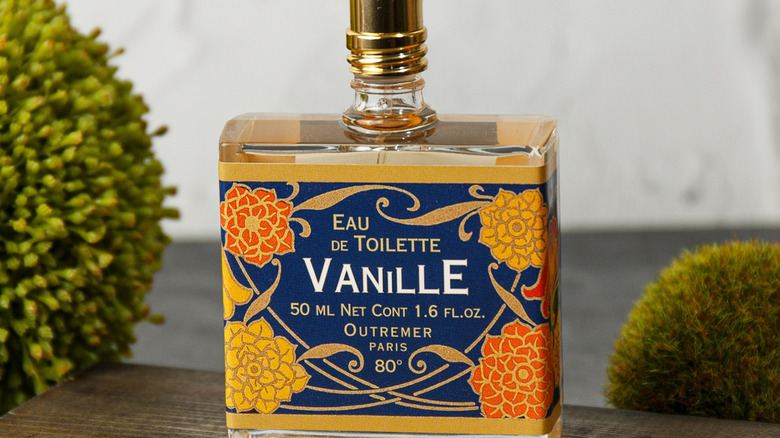 Smallflower Apothecary
Some of you may be vanilla purists, looking for perfumes that are very much centered around that classic fragrance, with few or no other notes. And guess what? Outremer's Vanille is exactly that. According to one Fragrantica reviewer, "This is the closest you will get to wearing actual vanilla extract." Some describe Vanille as being cotton-candy-esque, while others find it to be a complex gourmand vanilla with a hint of spice. If you're worried this vanilla may lean too much into saccharine territory, consider this reviewer's experience: "This smells beautiful on me without smelling childish. It's creamy vanilla caramel candy with a hint of something spice but can't put my finger on what. The mystery spicy note is what makes it more of an adult smell. Have a [feeling] this will layer great with some other things I have."
One of the best things about Outremer's Vanille? The price: Most retailers sell the fragrance for around $20. The cute art deco bottle is the cherry on top.
Memoirs of a Trespasser by Imaginary Authors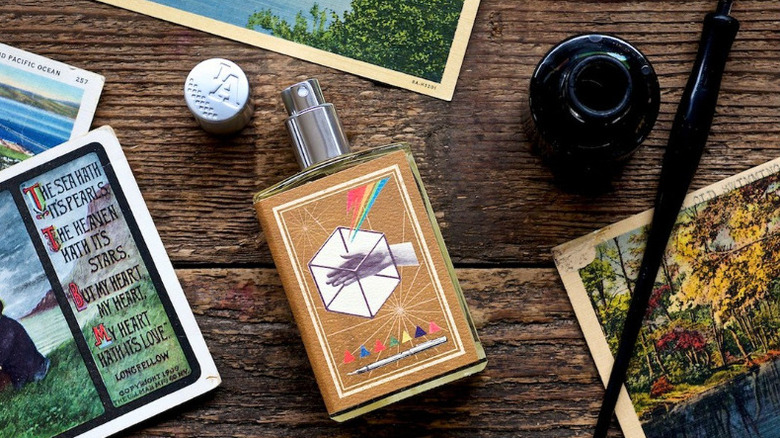 Instagram
A good fragrance should tell a story, with each note evoking a different feeling and acting as individual chapters to the proverbial book of scent. That's precisely what Memoirs of a Trespasser does: It takes you on an adventure, with the first whiff smelling like bourbon-covered-vanilla ice cream and the next smelling like something woodsy, smoky, and mysterious. It continually unfolds as you wear it, mixing with your own skin chemistry and creating something wholly unique.
But don't just take it from us. The Scentaur reviewed this fragrance and hailed it as an absolute triumph. She opined, "This is the most boozy, heady, high-quality aged sort of vanilla, with a fascinating smoky signature ... A distinctive, sophisticated, and richly comforting perfume that straddles the line between sweet crowd-pleaser and weird niche-y number."
If you're looking for a vanilla perfume unlike any other, which isn't straight sugar but absolutely is a bit complex and unexpected, Imaginary Authors has done it with Memoirs of a Trespasser. Plus, it comes in a super fun and creative bottle.
Dirty Vanilla by Heretic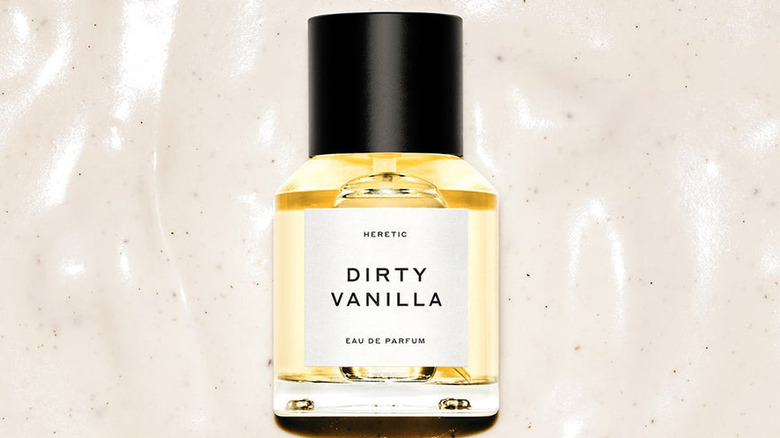 Heretic
If you like your perfumes a little imperfect — perhaps even with a bit of grit to them — Heretic's Dirty Vanilla is a must-try. This fragrance features several woody notes, including cedar and sandalwood, along with earthy notes like coriander, patchouli, and vetiver. As one Fragrantica reviewer wrote, "Dirty Vanilla is neither gourmand nor syrupy sweet vanilla. More like spice, woods, and patchouli enveloped in a [smoky] vanilla. Star anise and licorice are not listed notes but my nose picks up a root beer vibe that made me fall in love with the fragrance." The same reviewer also added that the fragrance has excellent longevity, making the hefty price tag hurt a little less.
Earthy and rich, Dirty Vanilla works well on its own, but also acts as a great base for layering other perfumes. It's not a super sweet scent, offering instead an intriguing and edgy take on a vanilla fragrance.
Torn by Henry Rose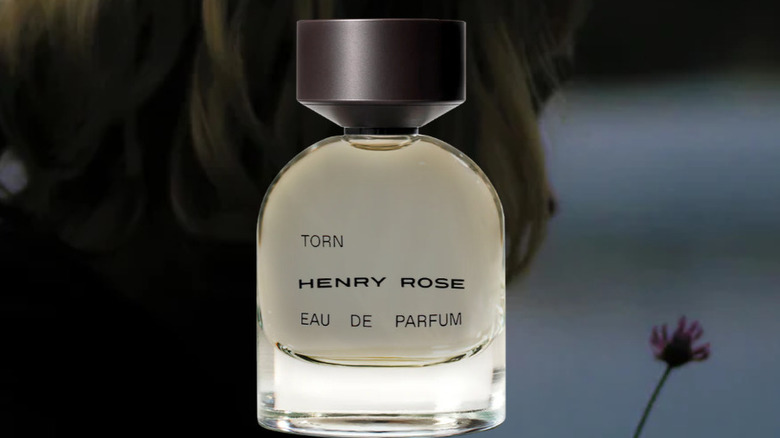 Henry Rose
If you like spicy florals as much as you like vanilla, Henry Rose's Torn may be your new signature scent. Henry Rose describes Torn as a purposefully contradictory creation, simultaneously dark, earthy, sweet, floral, and well-spiced.
The major players that comprise Torn are freesia, rose, violet, jasmine, patchouli, sandalwood, musk, vanilla bean, and praline –- overall, a list of tried-and-true scents that are crowd-pleasing on their own, but exciting and exotic when combined. According to one reviewer on the Henry Rose website, "Torn was the clear winner for me! I literally have people following me around in a drunken stupor. I smell like a snack!" Enough said.
Founded by Michelle Pfeiffer, Henry Rose is committed to using clean and natural ingredients, making this intoxicating perfume that much sweeter.