How Kate Middleton Is Prepping For Prince George's Big Coronation Role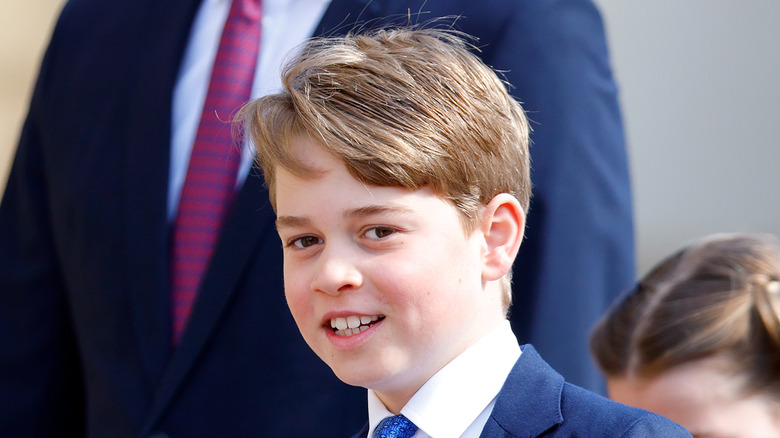 Max Mumby/indigo/Getty Images
At age nine, Prince George will break new ground with his role in King Charles' coronation as a Page of Honor. During the May 6 ceremony, Charles and Queen Camilla will each have four pages accompanying them. For Camilla, her pages are all family members: three grandsons and a great-nephew. For King Charles III, George is his only relative in the role — the other three are friends' children. Not only is George the youngest, but he's also the youngest future monarch ever to have formal coronation duties. 
Before George became a page, William and Catherine, Prince and Princess of Wales, considered whether their son should take on this responsibility. William and Kate's concerns reportedly caused a royal rift as they weighed the pros and cons of their oldest child being in the spotlight. However, now that the decision's been made, "His parents are very excited and delighted that he is a page," the Prince and Princess of Wales' spokesperson informed People.
In addition, George has demonstrated an interest in this historic ceremony. "George is very mature and already has a deep understanding of the roles of his grandfather and father, as well as his future role," an insider explained to the Mirror. "This task is a wonderful sign of the future being laid out by the king." As the countdown to the coronation continues, details are now emerging about Kate's tutorials to make sure George is ready for his grandfather's big day.
Kate's giving Prince George a virtual tour and play-acting practice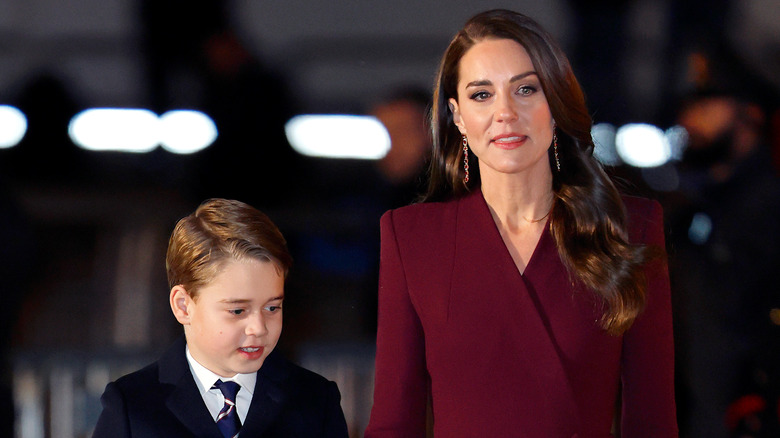 Max Mumby/indigo/Getty Images
As a Page of Honor, Prince George will help carry King Charles' royal robes during the coronation ceremony. To help George prepare, Catherine, Princess of Wales, is giving him a short course in the stages of the ceremony, which include the recognition and oath, anointing, investiture and crowning, and homage. Given that she's instructed George on tie-tying for school, Kate might also offer guidance about his coronation attire, which includes a brilliant scarlet coat, white breeches and stockings, and buckled shoes.
Since Westminster Abbey is still open for tourists, Kate can help George get familiar with the venue via a virtual tour. "If he can visualize where he is supposed to go and what to do, it will reduce any nerves he might feel being the youngest page," Ingrid Seward, editor-in-chief of Majesty Magazine told the Mirror. 
In addition, George will also be able to practice with his fellow participants at Buckingham Palace's Ballroom.  Besides those more formal practice sessions, Seward anticipates that Kate will add opportunities at home. "By making it fun and by re-enacting parts of what their grandfather will be doing both she and William hope George won't be too daunted by his responsibilities." Queen Elizabeth II made home rehearsals part of her own coronation prep, with King Charles III fondly recalling, "I remember my Mama coming, you know, up, when we were being bathed as children, wearing the crown. It was quite funny — practicing," per The Telegraph.
Prince George's page duties could extend beyond the coronation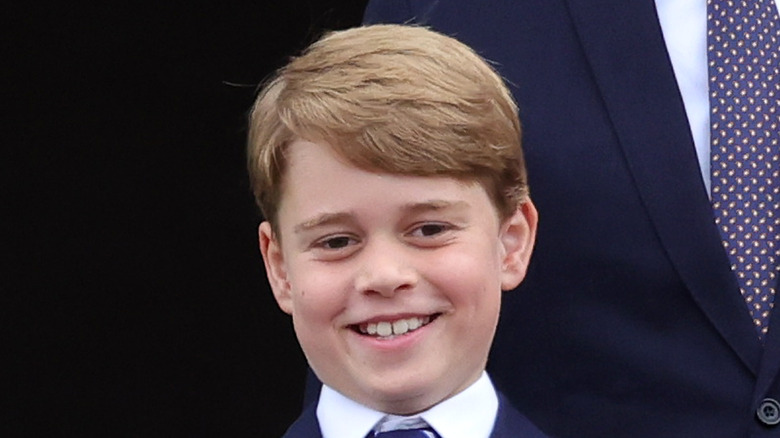 Chris Jackson/Getty Images
It's possible that Prince George could appear at additional royal events in his role as a Page of Honor. This ceremonial position often lasts for two-three years, with pages participating at state occasions to assist the monarch with their weighty royal robes. Previously, the vibrant red uniforms of the pages of honor have been spotted at the State Opening of Parliament and the Order of the Garter Service. 
However, since William and Catherine already had reservations about putting George in a high-profile role for the coronation, they may want him to resume a more normal routine of going to school and enjoying being a kid. In addition, George's role is a departure from tradition, meaning it might be a one-time occasion. According to Dr. Allan Barton of The Antiquary, "The choice of Prince George, a prince of the blood royal, to be involved in such a role would have been absolutely unthinkable a generation ago for the role assigned to him in the coronation now is a role of service." 
Whether or not George serves as a page again, Barton feels the coronation day experience will be invaluable. "One day Prince George will be walking into Westminster Abbey to be crowned himself and it's good for him to see firsthand what that involves." As second in line to the throne, George has a lifetime of varied royal responsibilities ahead of him.