How To Wear Culotte Pants With Shorter Legs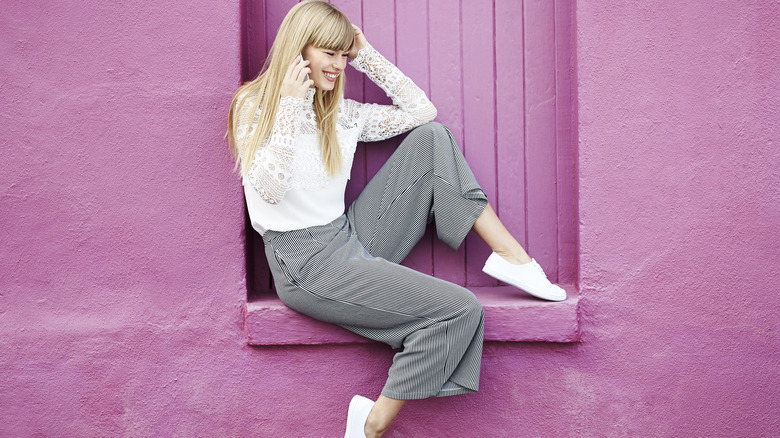 Sanneberg/Getty Images
As a petite person, you've likely heard the fashion rules surrounding what you can and cannot wear. For example, avoid low-rise jeans or drop-waist dresses that make your torso appear longer and shorten your legs. But sometimes, you need to push the boundaries to try new trends. Like culottes!
If you are not familiar with culottes, they are trousers that hit somewhere between the knee and ankle and are often cut to resemble a skirt. Wide and full, they're the opposite of slim-line pants or fitted skirts. Culottes are different from gaucho pants, though sometimes the term is used interchangeably. Gaucho pants tend to be more cropped and less flowy, appearing more like a wide-leg pair of pants than a skirt. Culottes are awesome for warm weather, especially if they're closer to knee length, thanks to their breezy, comfortable style.
If you're petite, you probably read wide pants and knee-length or lower and recoiled from the screen. Isn't the general skirt rule of thumb for women under 5'4″ to pick skirts or shorts that hit around three inches higher than the knee? Well, don't write off culottes just yet — or other trends like maxi skirts, for that matter. A few styling tips can help shorter-framed individuals pull off these French-inspired trousers.
Keep them short and sweet
To be considered culottes, the lower hem needs to fall somewhere between your knee and ankle. That leaves a wide range of lengths available for these easy-breezy pants. If you're petite, pick culottes that are on the shorter side. They should end around your knees instead of mid-shin or ankle; more like culottes shorts. Midi-culottes, hitting below the knee or almost mid-shin, make a better runner-up than maxi or long culottes.
Long culottes may drag down your frame. Instead of elongating your legs, drapey culottes hide your legs, detracting from the illusion of height. Shorter options help to pull the focus towards the upper part of your body, raising the observer's gaze. And we all know that showing off your legs can make them appear longer than if you cover them up. Treat culottes like you would a skirt, recalling why miniskirts are often the best skirt length for petite people.
Along those same lines, shorter culottes resemble a skirt or pair of shorts more than pants, making them perfect for spring or summer. But with culottes, you won't have to worry about a breeze fluttering the knee-length fabric and exposing anything because they have individual pant legs.
If you can't find them, make them
Culottes are currently trending, but that doesn't necessarily mean they'll be in stock in the petite section of your favorite store. Plus, the petite offerings usually aren't as varied in style, fabric, and color as the standard section. Just because you can't find culottes you love with a "P" on their label isn't a reason to give up.
Most things can be altered. If you're smitten with a pair of longer culottes, it's usually worth trying to alter them to be shorter. As a short-statured shopper, you're likely no stranger to hemming things, like pants or skirts, and culottes are no different. Those who are savvy with a sewing machine may even be able to do it themselves at home.
It shouldn't be a big deal if you prefer to send out for your alterations. Tailors can typically hem garments in their sleep, and a routine request like this likely won't cost a fortune. In the end, you'll have a wardrobe piece you love that is custom-made for your height.
The higher the waist, the better
We talked about high hems and hitting around knee height, but there is another line you want to be mindful of — your waist. You don't need to go super high-rise if you don't want to, but in most cases, a higher waist boosts the illusion of height. Remember when we mentioned that low-rise jeans are usually a no-no?
The same goes for culottes. High waistlines, or even those that sit at your natural waist, are often better than low rises. Instead of hugging your hips, the height flatters your figure, elongating your legs and distinguishing them from your torso. Even if you have a short torso, don't forgo a higher waist when wearing culottes.
Thankfully, most culottes are often made with a waist that sits north of the belly button. Additionally, the waist is usually cinched in because culottes have roomy, wide legs. A form-hugging waistband is another advantage for those with a petite figure.
Balance, balance, balance
Cinched-in waistlines make it obvious where your middle is, making the legs look lean and tall, especially when they're on display with your knee-grazing culottes. It's also ideal for striking the perfect balance between what you wear on top and bottom.
Generally, you'll want to keep your shirt or blouse pretty fitted. With baggy trousers and skirts, a petite profile can easily get lost. Culottes are naturally loose, so balance things out with a more fitted top.
That's not to say you can't wear an oversized sweater or boyfriend tee, though. The trick is tucking the front into your waistline. A simple front tuck while leaving the shirt tail loose in the back lets you stay comfy and breezy while still breaking up all the billowing fabrics. We love a trendy front knot for highlighting your midpoint and lengthening your legs too. Using the button-down shirt hack from TikTok, even a loose dress shirt can complement culottes. Either trick makes for a more balanced profile.
A final few tips
We've talked a lot about lines and lengths; now, onto the fun part — patterns and colors. Well, as much fun as a petite person can have with culottes, that is. Because typically, you'll want to keep your trousers pretty tame. Darker or neutral colors don't draw attention to your lower half, which is what you want when trying to pull the observer's gaze upward. Monochromatic patterns or styles are a great option if you still want to play with design. Larger prints, in general, can be hard to style on a petite frame, so stick with smaller prints. Vertical patterns can give you a nice boost in the height illusion department, too.
The last thing is footwear. Of course, high heels don't just give the illusion of height but actually add a few inches. With a warm-weather pant like culottes, block sandals, or 2000s-inspired wedge espadrilles can really set your outfit off. Still, we never want to assume all short-statured individuals like to wear heels. If that sounds like you, opt for a pointy-toed loafer or flat instead, which can also elongate your silhouette.