Taylor Cole's Unexpected Connection To A Soap Alum And Fellow Hallmark Star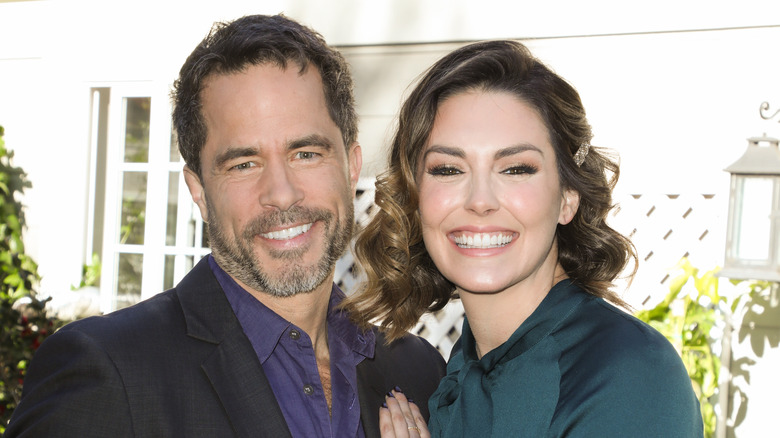 Paul Archuleta/Getty Images
Taylor Cole has been in show business for many years, and she's likely made some strong connections along the way. But one that fans may be surprised to learn about is to "Days of Our Lives" alum and Hallmark star Shawn Christian. Christian, who is well-known for playing the role of Dr. Daniel Jonas on "Days of Our Lives," is actually Cole's stepfather. Christian met Cole's mother, Deborah Quinn, while auditioning for modeling jobs. The two began dating and were married in 1996. Although the pair later divorced in 2013, Christian is still a proud stepfather to Cole, and the two share a strong bond. They even starred in the TV series "Summerland" together, as well as the Hallmark series "Ruby Herring Mysteries."
When Cole got married in 2020, Christian couldn't resist the urge to gush about his daughter on her special day via social media. "This was the greatest FATHERS DAY gift! My daughters WEDDING DAY!" he wrote via Instagram. "To see and feel the spark of your daughters story book love on her Wedding Day has ignited memories for a lifetime. SO PROUD of the amazing young lady you have blossomed into," Christian added.
Cole's Hallmark family connections don't stop with her stepfather, however. She also met her husband thanks to a role for the network.
Taylor Cole has another strong Hallmark connection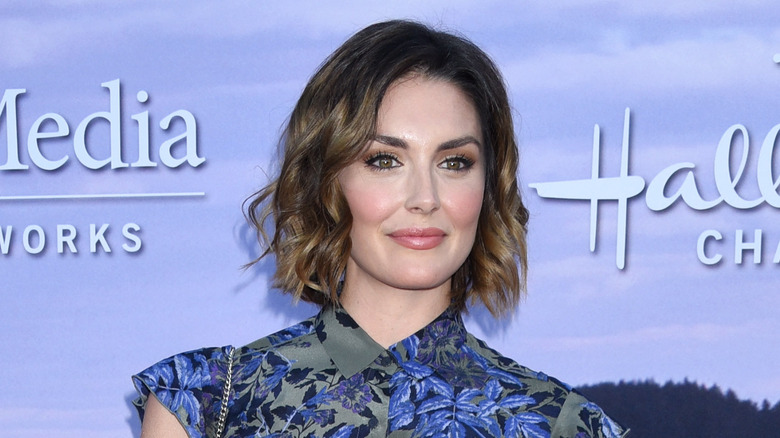 Ga Fullner/Shutterstock
Taylor Cole first met her husband, Cameron Larson, on the set of the 2020 Hallmark film "Matching Hearts," a movie that plays out much like the couple's real-life love story. In the film, Cole plays a matchmaker looking to set up a businessman with the perfect woman. In real life, things took a similar turn. "We were friends for several years before dating and I even tried playing matchmaker with Cam, attempting to set him up with a few friends of mine," Cole told People. "Luckily, similar to the movie, none of the matches worked and we both realized we were perfect for each other."
Cole and Larson planned a wedding full of friends and family members but were forced to change their plans due to the COVID-19 pandemic. Instead, they held a wedding with only their witnesses and officiant, live-streaming the event for their would-be guests. "It sounds a little cheesy, but when you know, you know, and we wanted our forever to start as soon as possible," Cole told People.
It seems that Cole has some strong connections between her real-life family and her Hallmark family, which makes her all the more endearing to fans of the network. Of course, viewers would love to see her and her stepdad Shawn Christian work together again in the future.
Taylor Cole is one of Hallmark's most prolific leading ladies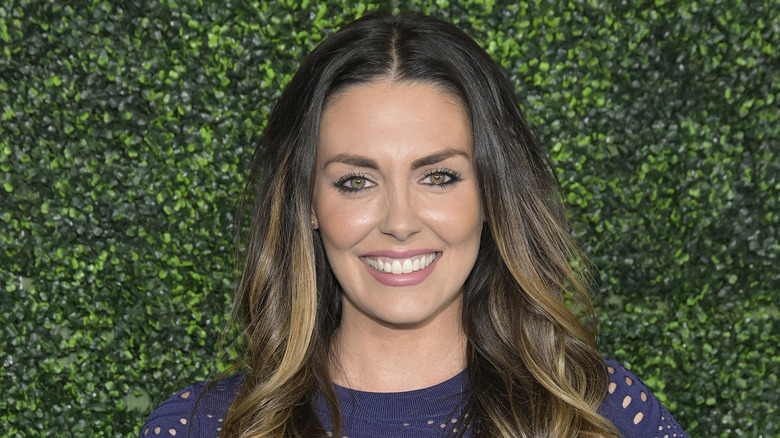 Michael Tullberg/Getty Images
For fans who aren't up to speed on all of Hallmark's leading ladies, you may recognize Taylor Cole from her roles in "CSI: Crime Scene Investigation," "Cold Case," "Heroes," "Melrose Place," "NCIS," "Entourage," "Castle," "Supernatural," and others. However, she's best known for her work on The Hallmark Channel. The actor has appeared in several of the network's TV movies, such as "Appetite for Love," "Matching Hearts," "South Beach Love," "Unlocking Christmas," and "One Winter Proposal," among many more.
Cole cemented her relationship with Hallmark in 2022, when she signed a multi-picture deal with the network. "I am beyond excited for what is in store next," Cole told Deadline. "Being able to continue creating such amazing stories is something that I hold near and dear to me. I am forever grateful for the work I get to do with Hallmark." Executive Vice President of Programming Lisa Hamilton Daly, also gushed over the company's partnership with Cole. "She brings so much joy and positivity to the Hallmark family and we look forward to continuing our work with her to create heartfelt stories that will touch our viewers," Daly said.
Of course, for Cole, Hallmark likely holds a very special place in her heart, as well as in her family.