Taylor Cole Has Hallmark To Thank For Her Marriage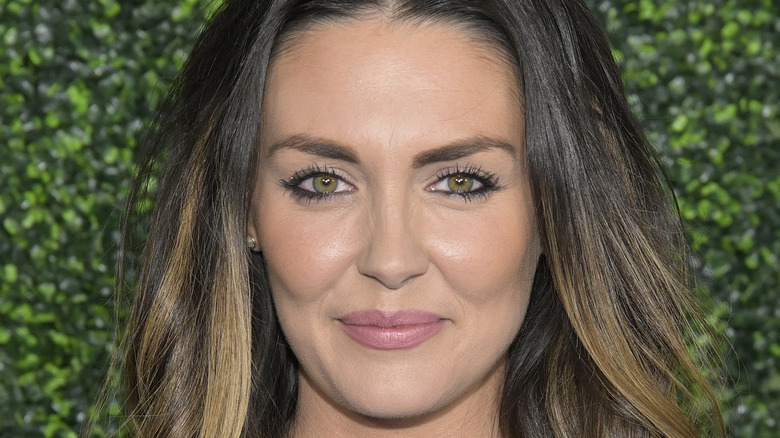 Michael Tullberg/Getty Images
After appearing in more than a dozen Hallmark Channel movies, it's hard to believe that Taylor Cole wasn't always interested in being in front of the camera. "I wasn't super excited about the world of acting," she revealed to Monster & Critics. "I was very camera shy."
Before beginning her Hallmark career, Cole took on several memorable TV roles, including parts in "Heroes," "CSI: Miami," "Supernatural," "The Originals," "Melrose Place," and "Two and a Half Men," among others (per IMDb). She has also appeared in movies including "The Green Hornet" and "Surrogates." But Cole is perhaps most recognizable for her work on Hallmark. She made her debut in 2016's "Appetite for Love" and has gone on to star in fan favorites such as "One Winter Proposal," "Christmas Festival of Ice," "The Art of Us," and "My Summer Prince," just to name a few. 
"Well, I have to say that most every Hallmark movie that gets sent my way, I almost immediately know that I want to do it because of the joy it brings everybody and you know it's going to be a happy story," she told PC Principle. "As an actor, you know you aren't going to read something that is horrific or something that won't offend anyone and you know you are going to make people happy."
And in addition to bringing her professional success, Hallmark is responsible for introducing Cole to the love of her life.
Taylor Cole met her husband on a Hallmark movie
Many wonder about the real-life partners of Hallmark stars. Well, Taylor Cole met her husband, producer Cameron Larson, on the set of a Hallmark Channel movie — although she admits it wasn't exactly love at first sight. "We were friends for several years before dating and I even tried playing matchmaker with Cam, attempting to set him up with a few friends of mine," she told People. "Luckily, similar to the movie, none of the matches worked and we both realized we were perfect for each other."
The couple had originally planned to get married in front of 100 guests in 2020, but the COVID-19 pandemic forced them to change their plans (via People). Instead, Cole and Larson, who has produced such titles as "Cranberry Christmas" and "Love in the Sun" (per IMDb), tied the knot with only their officiant and a few others in attendance, and family and friends live streamed the event. In fact, Cole had a phone attached to her right arm, with her father "walking her down the aisle" via FaceTime.
". . . we made the best of it, and it really turned out to be the perfect day — our own Hallmark version of love in the time of COVID," Cole explained to People. "We couldn't be happier and we can't wait to celebrate with our family and friends when it's safe to do so again."
Taylor Cole signed a multi-picture deal with Crown Media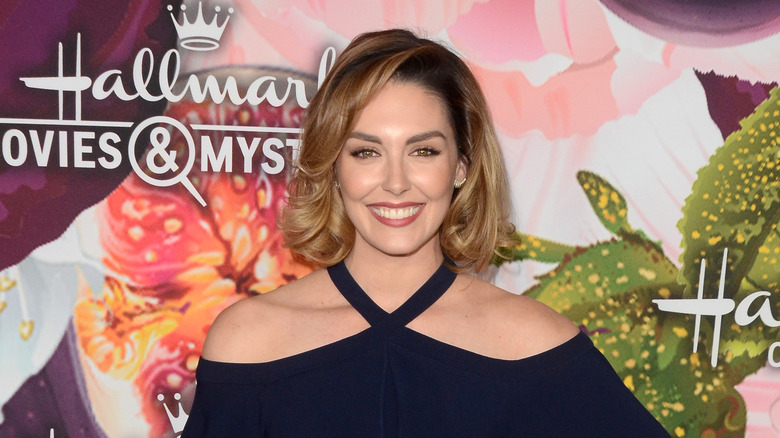 Kathy Hutchins/Shutterstock
Fans of Taylor Cole's work on the Hallmark Channel will be happy to know that the actor has signed an exclusive multi-picture deal with Crown Media Family Networks to appear in more films for the Hallmark Channel, per Deadline. "[Cole] brings so much joy and positivity to the Hallmark family and we look forward to continuing our work with her to create heartfelt stories that will touch our viewers,"  Lisa Hamilton Daly, the executive vice president of programming at Crown Media Family Networks, said in a statement.
Of course, Cole is also thrilled that she will continue to work with the network that has made such an impact on her life, both personally and professionally. She is especially excited about putting more positive content out in the world. "I want to make it a better place and if I can do it through movies then sign me up," she told Monsters & Critics. "Hallmark has that and they've really pinned down the formula to making beautiful love stories. I'm so happy and proud to be a part of it. I think that warm and fuzzy and tied to family makes it all that much more romantic."